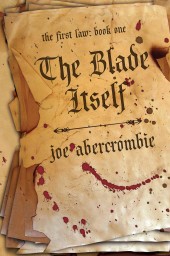 I have mentioned in past book reviews that I have read three stories by Joe Abercrombie. None of which made me stand up and take notice. Abercrombie is one of the fairly new writers of fantasy fiction to emerge in the past decade. I had been hearing varying opinions for the past six or so years on him. I have one friend who hated The First Law trilogy while a sword and sorcery writer who greatly respect told me that he though Abercrombie was the heir to the Karl Edward Wagner tradition.
Abercrombie (b. 1974) is a documentary and live music film editor according to "About the Author." The Blade Itself (2007) is his first novel. The book is 527 pages and therefore a trade paperback.
It turns out that the local library has The First Law trilogy, which is good as I did not want to buy the books. Out of curiosity, I checked out Abercrombie's website to see if he mentions any literary influences. Here is what he has to say:
"Then someone prevailed upon me to give Game of Thrones a go. Yeah, yeah, I thought, whatever. It blew my doors off. A Game of Thrones, and its sequels, seemed to bring to epic fantasy a huge amount of what I felt it had been desperately missing. There was relatively little debt to Tolkein (not that there's anything wrong with debt to Tolkein, it's just there's a shit-load of it around already). Martin's world was low on magic, low on romanticism, high on realism, very high on ruthlessness. There was no lame-ass, two-dimensional battle of good and evil. There were no lame-ass, two-dimensional characters. It was an (more or less) entirely human world, with man-made evils, very much like ours."
So, you can blame or praise George R. R. Martin for Joe Abercrombie. The Martin influence is on exhibit in the novel with the rotating chapters each covering one of four characters. Eventually, all character story lines are united towards the end. The story starts out with a hulking barbarian North Man getting ambushed by the orc stand ins- the Shanka. Abercrombie never describes the Shanka (or Flatheads as they are called). This is a recurring irritation. One could joke that never has one written so much about so little.
Abercrombie bogs downs describing minutia with a special fascination with dirt, grime, grease, feces, and urine. Meanwhile you have no idea of how the uniforms or armor are supposed to look in the civilized "Union."
The overall story moves slowly with all the bits and pieces of the characters going on. The reader is not quite sure exactly what is going on at the end of the book. It appears there is some sort of evil dark lord/sorcerer stirring up trouble as one of the plot lines.
The word building is a juxtaposition of Dark Age barbarism, late Renaissance/early Enlightenment Europe, and a vaguely Moslem or Ottoman eastern despotate. It almost reads like Abercrombie wanted to write a Rafael Sabatini story but with barbarians in it. I guess one could make the case that the Balkans or even Russia were areas of barbarism next to the Europe of Louis XIV.
Abercrombie has some good snarky dialogue when the characters are not saying "Sh*t!" or "F#ck!" The best lines belong to San dan Glokta, a former soldier and fencer, now crippled inquisitor as he thinks what he should say during a conversation. Abercrombie's characters are for the most part unlikable.
Action scenes- Abercrombie is quite good at this. That helps a lot if you are writing about swords. They are choreographed and with a nice array of weaponry.
It took me almost three weeks to read this book. Granted, I took this book out of the library right when I had a crush of paperwork including tax return forms to do so I did not have my usual allotted reading time. But, I often fell asleep while reading this book, especially the first half in the evening.
My big gripe is the novel clocks at 527 pages. My yardsticks for fantasy novels are The Broken Sword and Hour of the Dragon. If Anderson and Howard can tell those classics in 75,000-80,000 words, that is a target to aim for. Get the story moving in fewer pages. I think Abercrombie has some strong points. He also has some weak ones such as the scatology, emphasis on the wrong details, and overlong storytelling. I think with the right editor, this book could have been compressed without losing anything. And to think I used to complain about David Gemmell novels coming in over 300 pages in the 90s.
Gardner Fox would have told what went on in The First Blade in the first three chapters of a Kothar paperback. I would give this book a 3 to 3.5 out of 5 rating. As of right now, I don't see Abercrombie as the second coming of Karl Edward Wagner.