Cirsova Publishing is proud to announce that it has partnered with Michael Tierney and Robert Allen Lupton to restore and reprint Julian Hawthorne's The Cosmic Courtship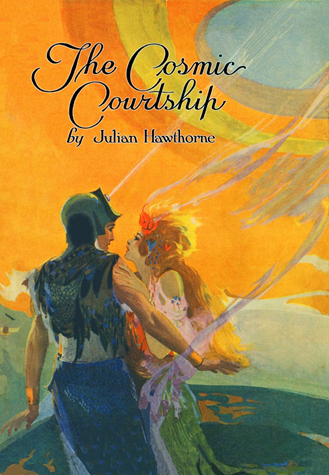 , a never-before-collected pulp Planetary Romance by the son of famed American author Nathaniel Hawthorne.
Mary Faust, a brilliant scientist, has developed a machine that can allow the conscious human soul to explore the cosmos! Her promising young assistant Miriam Mayne has accidentally transferred her consciousness to Saturn, where she falls under the enchantment of an evil sorcerer! Jack Paladin, her love, sets out after her on a thrilling celestial journey to the ringed planet! Swashbuckling adventure and high romance await in Julian Hawthorne's The Cosmic Courtship!
While most are at least somewhat familiar with Nathaniel Hawthorne as one of the great American authors, less well known is that his son Julian was an incredibly prolific writer in his own right. Julian wrote on a wide variety of subjects, ranging from literary analysis of his father's works to poetry to period romances and adventures. Late in his career, Julian even dabbled in the emerging genre of Science Fiction.
The Cosmic Courtship was serialized in Frank A. Munsey's All-Story Weekly across four issues, beginning with the November 24, 1917 issue and running through the December 15, 1917 issue. While this story has been in the public domain for some time, it has never been collected or published elsewhere until now.
---
With only a couple weeks remaining, the crowdfunding campaign for The Cosmic Courtship has smashed through its stretch goals, to include poems by Julian Hawthorne, a select bibliography of his works, a biography of Fred A. Small, the illustrator for The Cosmic Courtship, and a donation of the electronic text to Project Gutenberg. Perhaps the most exciting is the announcement of Cirsova Classics, a new imprint devoted to reprinting long out-of-print pulp stories. Julian Hawthorne's work will feature prominently in the beginning, with Sara was Judith and A Goth from Boston being among the next offerings. Both are previously uncollected works.
So, what can you expect from Julian Hawthorne? Cirsova editor P. Alexander explains:
Hawthorne was fascinated by the concepts of astral travel, out of body and out of time experiences, hypnotism, and clairvoyance.  These play a central role in several of the short stories of his that I have read and is the means by which the heroes travel to Saturn in The Cosmic Courtship.  While I have not yet had a chance to read Sara Was Judith, it's not hard to guess from the pitch that it will be about some form of clairvoyant astral discorporation.
While Steeger and other imprints are doing great work bringing the adventure stories of the 1910s, 1920s, and 1930s back in print, it is exhilarating to see Cirsova pick up some of the more neglected gems in All-Story. I am currently working on a review of The Cosmic Courtship, so expect to see more about it soon.
---
(Much of this article excerpts material from the Cirsova press release for The Cosmic Courtship.)