The East is Different
Thursday , 9, February 2017
Appendix N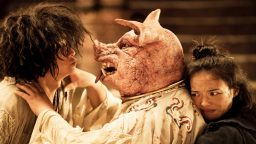 Journey to the West is an astonishing film. It simply couldn't be made here.
In the first place, the Orient lacks the sort of contempt for fairytales that is all too prevalent here. Whatever force it is that impels Hollywood revise them to fit our contemporary anti-morals, fill in touching backstories for the villains, and rewrite the protagonists to make them thoroughly contemptible… it evidently has failed to afflict the East to anything like the same degree. This film positively exudes charm and wonder.
Secondly, the East as not been aggressively secularized to the same degree as the West. The flatness you see in most American fantasy since about 1980 or so just isn't here. You get an Asian cosmology in all its glory and none of the action can be understood apart from it. Buddhist precepts are integral to the story. And the demonology is in stark contrast to our typically Catholic assumptions on how those sorts of creatures ought to function.
Finally, there's something different about the hapless schlemiel and his "strong female character" associate. I won't spoil the film by pointing out precisely what it is, but you simply won't see these sorts of characters handled in anything remotely like this fashion here in the West. It's unthinkable.
If you have a yen for taking in a movie and would like to try something different from the latest retread of the exact same plot structure you've witnessed countless times, you can do a lot worse than giving this a shot. It even has a wise old Chinese man playing the role of spiritual mentor rather than a bald Scottish woman!