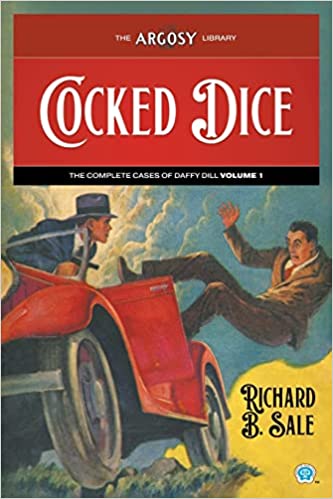 Action.
Adventure.
Weird.
Mystery
The pulps are known for many things. But with sincerity and a complete embrace of strange situations as fundamentally real, humor is not one of them.
Enter Joe "Daffy" Dill, a witty and wisecracking New York City reporter. Written by Richard B. Sale, Daffy Dill plays more with repartee than absurdity. Those who admire quick wit and clever wordplay will find amusement in Daffy's dialogue. Those searching for more overt and mocking humor set pieces, such as in MAD Magazine, The Hitchhiker's Guide to the Galaxy, and most current comedies will have find consolation among the classic hardboiled mysteries. For the question facing Daffy Dill in his first case is an absurd one:
Who would steal a dead man's brain?
True, the title, "The Fifty Grand Brain" gives about 50,000 reasons for such a strange crime. But Daffy will discover those later. First, he has to stumble into a speakeasy during a snowstorm, where a blonde doll at the bar has a whopper of a story for this reporter.
A dead mortician shot in the head at her apartment.
And while it is clear to police and newsmen alike that the woman has been set up, the only clue comes from the her overhearing the dead man's business partner talk about about a fifty grand brain. Sensing a story that would raise his pay, Daffy follows the clues to the funeral parlors, to documents that point out that an academy had paid a recently departed scientist for his brain. $25,000, but the insurance is four times more.
That kind of money is hard to turn down, and, in classic hardboiled fashion both Daffy Dill and his assistant Dinah are lured into a trap. Freedom will depend on quick wits, quicker fists, and the quickest shooting, but how Daffy makes it to his next headline will be left to the reader.
"The Five Grand Brain" is a standard mystery, with the standard Lester Dent Formula: find "a different thing for the villain to be seeking." And a mouthy reporter has been done plenty of times after (see: Fletch), so the novelty wore off long before today's reader could even find an opportunity to read this. But it's a competent tale with classic peril, written with a dash of levity at a time when weird menace was about to pick up. I am curious to see how these mysteries develop, counter to the prevalent trend of its.