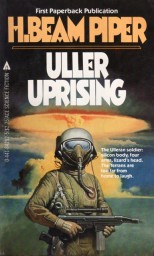 Baen Books has a brand new trade paperback anthology entitled The Year's Best Military SF & Space Opera. David Drake has an introduction wherein he cites C. L. Moore & Henry Kuttner's "Clash by Night" (Astounding Science Fiction, March 1943) and Paul Carter's "The Last Objective" (Astounding Science Fiction, August 1946) as early examples of military science fiction. I would call these proto-military science fiction stories. I would also put forth L. Ron Hubbard's novel The Final Blackout (Astounding Science Fiction, April-June 1940) as another example, though there was nothing futuristic in the story.
H. Beam Piper's Uller Uprising to me is the first modern military science fiction novel. H. Beam Piper was the Robert E. Howard of science fiction. He knew his history, human nature, and he knew his weapons.
Uller Uprising has an interesting history. It was part of a book called The Petrified Planet that included three novels. Judith Merrill and Fletcher Pratt were the other two writers. John D. Clark, PhD, famous for co-writing "Probable Outline of Conan's Career" with P. Schuyler Miller came up with the background for the planets Uller and Niflheim in the essay "The Silicone World."
Clark produced the chemistry. Piper created the natives. Uller's inhabitants are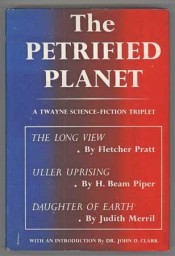 silicone based life forms, bi-pedal, four armed, and look like lizards. Piper used the Indian Mutiny of the 1850s as the basis for Uller Uprising. A corporation has partial control of the planet with its own private army and puppet native rulers.
An uprising under the control of a prophet erupts. Piper gives great detail to weapons including 15 mm machine guns, 20 mm cannons, pistols, riot maces. He describes rifles being adapted for native troops in the employ of the Uller Company. He recounts the working of air rifles used by the natives. He has crossbows and triangular bayonets. The auto-rifles have 20 shot drop magazines. This is the sort of detail he puts into the story. His military organization is laid out in detail with various native units, Uller Company Army, and Federation Armed Forces.
How does the uprising go? You will have to read the novel.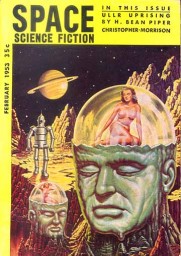 The novel ran in cut form in Space Science Fiction March and April 1953 issues. Uller Uprising was not reprinted until 1983 by Ace Books. It is hard to say how influential Uller Uprising was as it was out of print for decades. It reads like something out of Galaxy in the 1970s when Jerry Pournelle and David Drake were in that magazine. Piper's Lord Kalvan of Otherwhen and Space Viking were probably more influential. None the less, Uller Uprising is one of my favorite military science fiction novels and a real pioneer of the genre.