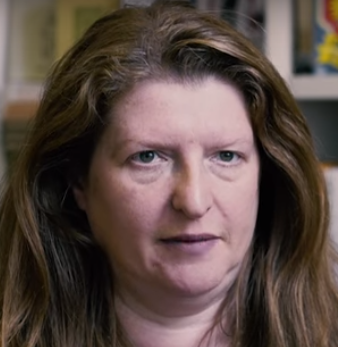 This crowdfunding pitch I came across via Cory Doctorow managed managed to lose me at the first sentence:
So Robert Heinlein is what we call one of the big three: Isaac Asimov, Arthur C. Clarke, Robert Heinlein. And those are the first people to really make science fiction work…
I suppose I should be happy with it. As much as you hear today about Mary Shelley inventing the science fiction novel, it maybe ought to be comforting hearing that people are still peddling yesterday's narrative. But am I really supposed to believe that Jules Verne and H. G. Wells failed to really make science fiction work…? That A Princess of Mars and The Gods of Mars just… didn't work…?
There are many others, to be sure… but I must say that it is particularly galling to be told that C. L. Moore failed to make science fiction work with her Northwest Smith stories. Show her work to someone that has been taught their entire life that science fiction really only started with Asimov, Clarke, and Heinlein and they're liable to feel betrayed. She's just that good.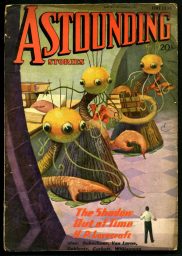 And then there's this other guy you may have heard of, H. P. Lovecraft. He is a figure so tremendously influential, he is practically a genre unto himself. You don't go into a game store and find figurines of Hari Seldon, Lazarus Long, or those pitiful alien creatures who went extinct when the Star of Bethlehem lit up the sky. No, you see games and toys and miniature figures based on the works of Lovecraft. Those other guys…? With the except of the stray Starship Troopers product, it's just not there.
I'm not sure who decided that Lovecraft doesn't count as science fiction that works… but the editor of one of the leading science fiction magazine of the thirties had no problem making him the cover story.
Evidently there's been some narrowing of the terminology. But why…? For most people, something like Star Wars is synonymous with science fiction. And it's absolutely nothing like the work of Asimov, Heinlein, and Clarke. No, it hearkens back to the work of writers like Edgar Rice Burroughs and later writers that took him as the starting point for what science fiction even was. Writers such as Leigh Brackett who would end up writing the first draft of the script for The Empire Strikes Back.
And it's not just in film that it's like this. In role-playing games, Asimov, Heinlein, and Clarke really are nothing special. The "big three" of Gamma World and Metamorphosis Alpha are Andre Norton, Brian Aldiss, and Sterling Lanier. The "big three" of Traveller are guys like H. Beam Piper, E. C. Tubb, and Poul Anderson.
So who decided that Asimov, Heinlein, and Clarke are the end all be all of science fiction…? If they really were as big and as influential as I'm told, I would expect to see their influence to have more of an impact wherever science fiction is invoked. But that's just not what happens. Don't get me wrong. They wrote some mighty good stuff. But compared to the real giants of the field, they are little more than a flash in the pan.