The Howling Man
Wednesday , 7, December 2022
Fiction, T.V.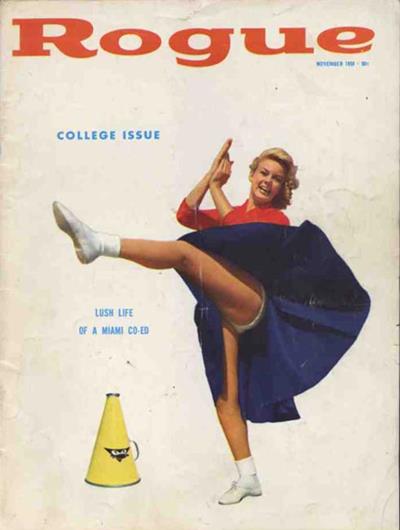 One of my favorite episodes of The Twilight Zone T.V. Show is "The Howling Man." It is episode number 5 from season 2 (1960). It is based on a story by Charles Beaumont. The story originally appeared in the magazine, Rogue, November 1959 issue.
Rogue was one of William Hamling's magazines published from the mid-1950s to 1967. It was a men's magazine that featured lots of fiction by writers more associated with science fiction. The November 1959 issue included pieces by Harlan Ellison, Mack Reynolds, and Robert Silverberg. Beaumont's story appeared under the name of C. B. Lovehill. Beaumont's original name was Charles Leroy Nutt. He legally changed the name to Beaumont.
The story takes place in the early 1920s with Ellington, a well off recent graduate traveling across Europe by bike. He becomes very sick after crossing from Belgium to Germany. Taken to St. Wulfran's Abby for care as the village has no hospital. It is touch and go with Ellington battling a severe case of pneumonia. As he regains his strength, he hears howling from within the abby. The brothers claim there is no howling. One night, Ellington sneaks out and discovers a man in a cell who claims he is being held against his will. Ellington sneaks out and releases the howling man. The Abbott informs him that the man he has released is the Devil. In Beaumont's story, the man he has released becomes Hitler.
The internet movie data base has the story as by Rod Serling and Charles Beaumont. I don't know if Serling wrote the screenplay or if both collaborated. I think Serling improved on the story. The Devil's escape is much more dramatic than in the story. If I remember correctly, the T.V. version has Ellington searching to track down the Devil and return him. In the story, he receives a letter from one of the brothers telling him the Devil has been captured and imprisoned again.
Serling liked Charles Beaumont as he adapted 22 stories by him for The Twilight Zone. This is a case of the adaptation being superior to the original source material.