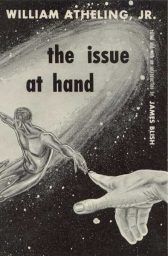 In early science fiction criticism, James Blish (1921-1975) is generally ranked right behind Damon Knight as one of the pioneers. Blish was part of the left wing leaning "Futurians," a group of New York based science fiction fans in the late 1930s, though Blish was apolitical or possibly right wing.
He broke into science fiction magazines in 1940, had a stint in the U.S. Army in WW II and then returned to science fiction after the War. He is probably best remembered today for the Star Trek Log books adapting Star Trek episodes into prose. I was just in the local Barnes & Noble bookstore today and saw a hardback of Star Trek adaptations that included Blish.
Blish wrote scathing book reviews for mimeographed fanzines in the 1950s under the pseudonym William Atheling, Jr. Many were collected into the books The Issue at Hand (1964) and More Issues at Hand (1970).
The tone of these books reviews is very similar in tone to Damon Knight. In fact, Blish said:
"If it's decent criticism of science fiction that we're looking for, there is at the moment only one place to find it within our microcosm: In the book reviews of Damon Knight. The book reviews of the professional magazines are seldom better, and usually worse, than the little ghettos reserved for us in the Sunday book section of daily newspapers."
One intersection between the two I have found is both demolished a novel, Kinsmen of the Dragon by Stanley Mullen. Mullen appeared to be a weird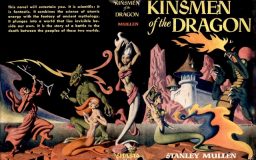 fiction fan, published a small press magazine, The Gorgon, had some stories in science fiction in the 1950s, and then faded out. I have not read the novel but Blish had this to say:
"His plot summary of Stanley Mullen's Kinsmen of the Dragon for instance, is perfectly suitable to the preposterousness of its content."
From the synopsis of the novel, Mullen appeared to attempt to use fantasy elements with science fiction explanations. The overpraised magazine, Unknown/Unknown Worlds did this. There were a number of stories and novels including William Tenn's "Medusa was a Lady!," Theodore Sturgeon's "Excalibur and the Atom," and Lester del Rey's "When the World Tottered" that tried to explain myth with science.
Blish was vicious when it comes to fiction that he does not "get."
"I don't know how else one can account for the grand passions that have been raised by Edgar Rice Burroughs, H. P. Lovecraft, A. Merritt, and a number of technically still living people whom the law of libel forbids me to mention."
Blish devoted a whole chapter in More Issues at Hand named "The Monstrosities of Merritt."
"Writers who undertake straight fantasies–defined as stories with a supernatural element which is never explained away, but without, usually any primary intent to horrify–have a marked tendency to tell them through their noses. This habit of intoning is usually attributed to an attempt to create a 'poetic' atmosphere, but I think it is equally due to history–that is, the desire to make the end-product sound like Malory, Beckford, or an ancient manuscript. Often, as in the case of H. P. Lovecraft, Clark Ashton Smith and A. Merritt, it is disastrous."
Blish discusses Merritt's prose style in negative terms. He asks the question:
"Why, then, has this crude performance been so highly touted for so many years? Nostalgia may provide one answer."
Back in the late 70s, Ace Books used to include generally boring and quasi-academic sounding essays by Sandra Miesel at the end of some novels. "The Mana Crisis" from Larry Niven's The Magic Goes Away had this to say:
"Logical fantasy is distinguished by its playful attitude toward the fantastic. It stresses ingenuity more than glamour and comedy more than melodrama. It is informal, sometimes to the point of flippancy. It may treat serious matters but without solemnity. The enterprise is fundamentally an intellectual game."
Taking this tact, Bewitched is superior to Le Mort d' Arthur.
Blish made some hilarious comments in hindsight. He reviews Poul Anderson's story "The Immortal Game."
"Over this mechanical performance broods the spirit of Anderson the Barbarian, Thane of Minneapolis, Bard of Scandinavianism–the side of the writer's personality, in short, which emerged during his long apprenticeship to Planet Stories. Nobody should need to be reminded that Anderson can write well, but this is seldom evident while he is in his Scand avatar."
This is in incredible statement. Poul Anderson is a favorite science fiction writer of mine and part of the reason is this "Scand avatar" aspect to him. Anderson breathes some real humanity into his fiction of the future by the infusion of the spirit of the past.
Blish piles on in a footnote:
"Readers debating sword-and-sorcery tend to shed their heads as well as their shirts, as the recent Tolkien craze amply demonstrates."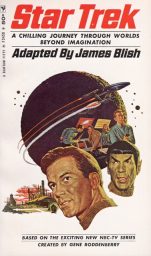 James Blish's "criticism" comes off as being a Minnie Me to Damon Knight's Dr. Evil. Knight and Blish were acting like commissars purging groups deemed heretical after the revolution. There is a hatred for things that preceded the current (at that time) generation. They attempted to belittle, mock, and expel fantastic fiction did not fall in line with the new orthodoxy. This was a new era of science and those old traditions and superstitions were to be done away with. Their reviews were part of a codification of the narrative that gained hold after WW II.
The comments about Poul Anderson or Tolkien are at the least, funny in retrospect if not embarrassing.