For St. Patrick's Day, I decided to really read Fr. Andrew M. Greeley's The Magic Cup. I tracked down a used copy of the paperback about ten years ago, based on a friend's comment on the book. I read the beginning, lost interest as I scanned through it and put it away.
I pulled the book out Friday night and am glad that I put in the effort to read it yesterday. Fr. Andrew Greeley was a Catholic priest, taught sociology, and also was a successful writer of fiction. He did some writing in fantasy and science fiction in the 1980s with stories in Amazing Stories and The Magazine of Fantasy & Science Fiction. He also edited two anthologies, one of theological science fiction and another of Irish fantasy.
The Magic Cup is one of his earlier novels, published as a hardback in 1979. The edition everyone seems to know is the Warner paperback from January 1985 that has an awesome Jim Fitzpatrick cover. Fitzpatrick was the perfect artist for this edition.
The novel itself according to Greeley's afterward, entitled "The Irish Grail Cycle," is set in the late 6th Century. Ireland is partially Christian, partially pagan. His fictional High King Cormac MacDermot O'Neill has returned from Italy to find his father senile and under the control of a beautiful pagan witch. Cormac is maneuvered to undergo a quest for a magic cup. He, his wolfhound, and his bondwoman, Brigid, adventure across Ireland to find the cup. At one point, Cormac is sailing with St. Brendan to the New World.
For a Catholic priest, Greeley's Irish blood takes control at times:
"Come and fight, you sons of hell!" or "If it lived, it could be killed."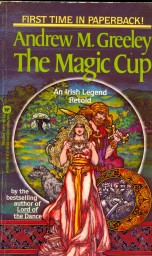 There are some blood and thunder scenes. Greeley was not too shabby depicting combat. The magic aspect is subtle. There is a chapter where the Tuatha de Danann tempt Brigid to join them in faerie, or the Many Colored Land as it is called. A pirate queen uses glamor to trick captured men to drink poison from the wrong cup.
Cormac gains strength drinking from the Magic Cup and returns to Tara, seat of High Kings of Ireland and sets things to right.
Reading this novel was a good antidote to the reams of nihilistic or at best morally ambiguous fantasy I have been reading lately in the anthologies I have been reviewing. You get the kind of good feeling that you get after reading Lord of the Rings with this novel.
For whatever reason, I missed this novel in 1985. The only reason I can think of is it was shelved in the general fiction section at bookstores and not with the science fiction and fantasy. Greeley's fiction career was chugging along quite well by this point so it warranted the paperback reprint. Also, there was a large amount of Irish derived fantasy coming out from Keith Taylor, Kenneth Flint, and Gregory Frost among others at this time
If you can, search for the Warner edition in used bookstores with the Fitzpatrick cover. Tor Books reprinted it in 2008 with a hideous photoshop cover. That is still in print if you can't find the 80s paperback. A friend of mine rereads this novel periodically and I think down the road I will to. I give this a 4 or 4.5 out of 5 rating.