This is a new anthology in the Mammoth series published by Running Press in the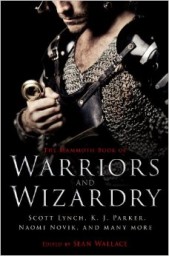 U.S. and Robinson in the U.K. Trade paperback in format, 515 pages, $14.95 price and Sean Wallace is the editor.
Twenty-five stories, most on my guess around 10,000 words length on average with a couple that get into novelette territory. Thirteen, possibly fourteen stories are by women. I am betting that "K. J. Parker" is a woman. This is a reprint anthology with no new stories. Three stories from Beneath Ceaseless Skies, two from Way of the Wizard, two from Magazine of Fantasy & Science Fiction, two from Clarksworld Magazine, two from Realms of Fantasy, two from Swords & Dark Magic (aka Swords & Scatology), one from Black Gate, one from the tail end of the Scithers/Schweitzer/Betancourt era Weird Tales, among others. Original story publication ranges from 2000 to 2013. Nothing was reprinted from Heroic Fantasy Quarterly or from Rogue Blades Entertainment.
The cover- a photograph of a dude with chain mail grasping his sword hilt. This could have easily been a cover for a romance book. Remember the days when we had covers by Frank Frazetta, Jeff Jones, or even Ken Kelly?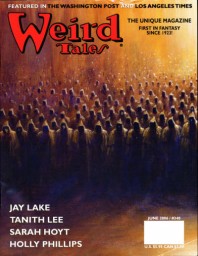 When I heard about this anthology last year and saw the roster of writers, I joked to a friend that it looked like the product of a United Nations diversity seminar. "She was a tall woman clad in armor the color of dead metal," makes you begin to wonder about English as a pseudo-second language. Just what the hell is dead metal, let alone the color?
Of the contributors, eighteen have been in Sean Wallace edited magazines, books, or published by his imprint Prime Books. So this is a case of the editor using familiar writers.
Scott H. Andrews, editor of Beneath Ceaseless Skies, introduction has this to say: "Enter the current fantasy short-fiction movement, with its nuanced focus on character and its eyes for diverse takes on archetypes of traditionally under-represented cultures and perspectives…The prevalence of these archetypes across human culture provides a rich panoply of warrior and wizard traditions to examine; to use to recast the predominant forms or offer under-represented ones."
There you have it.
I found the majority of the stories to be uninteresting, unengaging, and many times just plain dull. There are two stories that are traditional sword and sorcery. Saladin Ahmed's "Where Virtue Lives" is very much in pulp sword and sorcery tradition. James Enge's "The Singing Spear" comes from the Jack Vance end of the spectrum. The generally dependable Tanith Lee's "The Woman in Scarlet" is our last entry.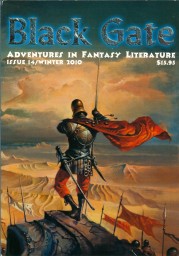 Matthew David Surridge's "The Word of Azrael" could be called epic fantasy as it combines elements of sword and sorcery and the bigger canvas of Tolkien inspired fantasy. Cinda Williams China harkens to Unknown with the setting of Cleveland and a supernatural battle on Lake Erie. Noticeably lacking is what I call military fantasy, a form created by Glen Cook.
I am not sure what to call the majority of the contents: wimp fantasy, estrogen fantasy, post-modern fantasy. I am up for suggestions. I read this book last week, most of the contents over two days and I don't remember most of them now.
Part of my prejudice is the majority of these stories are dialogue driven. This is fine for modernist/realist fiction and works well for crime fiction. Description gave us the splendor of the Hyborian Age or the wonders of Middle Earth. Here you have Fantasy 90210. Modernist/realist fiction attitudes have infiltrated fantasy and made it boring. We remember Robert E. Howard, H. P. Lovecraft, and Clark Ashton Smith because each in their own way, were over the top in presentation. There was a writer for Weird Tales– E. Hoffmann Price. He could really let go once in a while with the action but most of the time seemed to be holding back. As a result, there is no demand for E. Hoffmann Price reprints. You get the same feel in this volume.
The one story that encapsulates this anthology is Carrie Vaughn's "Strife Lingers in Memory." A wizard's daughter narrates the return of the exiled prince of the realm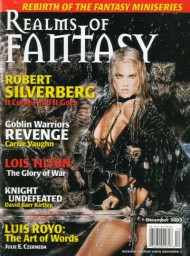 who overthrows a tyrant. That is covered in a couple of paragraphs. The rest of the story concerns the hero wandering the castle at night, cowering in the corners, and bawling his head off. The wizard's daughter, now the queen goes out to comfort him every night. This story first appeared in Realms of Fantasy in 2002. I must have thumbed through early issues of the magazine in the early 90s and passed. I was never interested enough to buy an issue.
Using a simple method of like or dislike, I got five likes out of 25. The rating is then 1 out of 5. If you are a big fan of Clarksworld Magazine or have a testosterone level below 100 ng/dl, by all means give it a try. If you grew up reading and like Robert E. Howard or J. R. R. Tolkien, maybe check it out at the library but don't bother buying it. Time is too short to read post-modern fantasy of this nature.