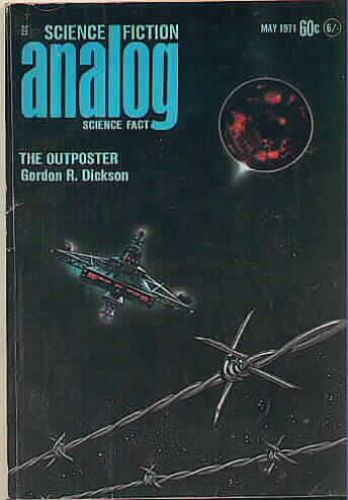 Gordon R. Dickson (1923-2001) was a mainstay of mass market science fiction paperbacks in the 1970s and 80s. The "Dorsai" series was one of the first in the military science fiction series going back to 1959. Dickson and Poul Anderson could always be counted on supplying adventurous science fiction.
Dickson was a pillar for Analog Science Fiction in the late 1960s and early 1970s during John W. Campbell's last years as editor.  Wolfing, Tactics of Mistake, The Pritcher Mass, and The Far Call all were serialized in that magazine before book publication.
The Outposter ran in three parts May, June, July 1971 at the very end of Campbell's tenure as editor. It is a space opera that does not appear to be part of any series.
A few hundred years in the future, Earth has a lottery where if you draw the lucky number, you are shipped off to one of the planetary colonies. Most lottery "winners" are not too happy about it. A hundred years of colonization has not worked out too well. Most of the colonist are worthless and not the type of stock to start new opportunities.
The colonies are overseen by a corps called "Outposters." They are managers, Shirreffs, judges, and a sort of governor. There is also a Navy that is corrupt and cowardly.
The colonies are raided more and more often by an alien species, the Meda V'Dan. The Meda V'Dan also are a block against Earth trading with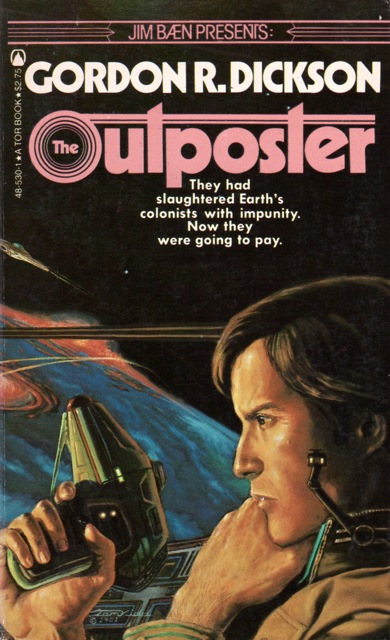 unknown races that inhabit the central portion of the galaxy.
Mark Ten Roos is a young recent graduate Outposter. He meets some of the future main characters of the novel of a ship outbound with a load of lottery winners. Ten Roos grew up on planet Garnera Six Abruzzi. Orphaned as an infant in a Meda V'Dan raid, Outposter Brot Halliday. Ten Roos spends some time on Earth going to school. He returns to find Halliday gravely injured in a Meda V'Dan raid.
Ten Roos takes over from Halliday with a plan for defense and independence. What follows is a very Campbellian story of the brilliant Earthman and his ensemble cast. It is a revenge story as Ten Roos wants payback against the Meda V'Dan.
The story moves along fast enough. There is some intrigue with a trade delegation to a planet with a Meda V'Dan city. The Meda V'Dan are an arrogant and unlikeable alien species. Ten Roos has a theory they are not as advanced as they thought.
Garnera Six Abruzzi is first able to get some mothballed Navy scout ships. Later in the novel, they get some cruisers and train crews to man them.
Ten Roos baits the hook for the Meda V'Dan to attack. The climax of the novel ends with an attack on the Meda V'Dan planet Ten Roos and company had visited under the guise of the trade mission. It is revealed the Meda V'Dan were a primitive species who somehow got advanced technology. They move from area to area of the galaxy when there is push back. The novel ends with the way open to contact the Uknown Races of the inner galaxy.
The novel was competent but nothing special. Reminded me of Wolfling and Hour of the Horde. Not up to the level of Soldier, Ask Not, Tactics of Mistake, and Dorsai.
Ten Roos was just a little too assured and competent for being twenty years old. You see that in Dorsai and Tactics of Mistake also. This novel is around 3.25 out of 5 harmonic chromosomes. Second level Gordon R. Dickson is still more worthwhile reading than a good portion of what you see on the shelves today. It reminded me in some ways of Poul Anderson's The Star Fox, which I consider thinking man's space opera.
The Outposter had a hardback edition, some paperback editions by Manor Books in the 70s, two editions by Tor in the 80s, and one by Baen in 2011. Baen Books is reprinting The Outposter in August.