The minute I stepped ashore from the Sea Girl, I had a hunch that there would be trouble. — Sailor Steve Costigan
---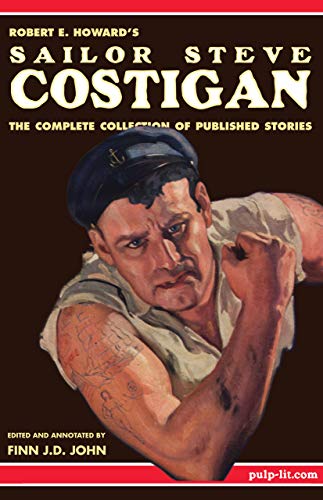 Robert E. Howard is best known for his sword and sorcery tales, and his heroes Conan and Kull. But Howard wrote more stories of Sailor Stevie Costigan than any other of his heroes with the exception of Conan. Costigan was a sailor in the Pacific, hot-headed, quick with his hands, and the fiercest boxer on the seas. Accompanied by his bulldog Mike, Costigan moves from port to port and ring to ring, avenging slights and proving naysayers wrong. Unfortunately, this means that Costigan takes lumps that a few moments' hesitation may have prevented, something the old salt good-naturedly admits.
In "The Pit of the Serpent", Steve's problems begin with the most common source of disputes on shore leave: a beautiful woman.  Said looker happens to catch the attention of the Dautless's boxing champion, Bat Slade, whose advances are unwelcomed by Steve. The resulting argument catches the attention of a shifty local, who suggests that the two men settle their differences in the ring.
However, this fight club happens to be out on a remote hacienda, at the bottom of a snake pit. But Steve's blood is up, and his mind is focused on beating Slade in a bare-knuckled boxing match. As it should be. Slade previously routed men who have dragged Costigan to twenty-round draws.
And then, just to add insult to injury, Costigan and Slade agree to a $200 bet between them…
This was the beginning of a cruel, bruising fight with no favor. I felt like a wild animal, when I had time to feel anything but Slade's left, battling down there in the pit, with a ring of yelling, distorted faces leering down at us.
I will leave the blow by blow to R. E. Howard, whose skill in the written arts and the sweet science outstrip my own. But Howard rarely resorts to the blow by blow,  providing a master class on when to rely on emotional impact and when to delve into the technical detail. Costigan is a trained fighter, and while he does analyze his foe, sometimes not getting hit in the face is the more pressing concern. The action is easy to follow, yet detailed enough for Costigan's tales to be a favorite of many of his contemporary prizefighters. And you can feel how punishing this bout between near-equals is in the shift of Costigan's voice throughout the fight.
It did come as a surprise to read of heavyweights that are closer in build to Connor McGregor than Mike Tyson, by which I mean that today's heavyweights have fifty to sixty pounds advantage over the heavyweights of Howard's time. Times change.
One cheating referee and a double K.O. later, and Costigan and Slade meet again in a bar. All of Costigan's luck and skill in the ring is fleeting as soon as a woman appears. And the lass whom Costigan and Slade fought over has her own ideas of an ideal suitor–which involve neither pugilist. The two rivals bond over bad luck, trouble, and a good fight.
Pity that there's still the matter of that $200 bet between them…
"That ends our romance, and the glory road leads only to disappointment and hokum."