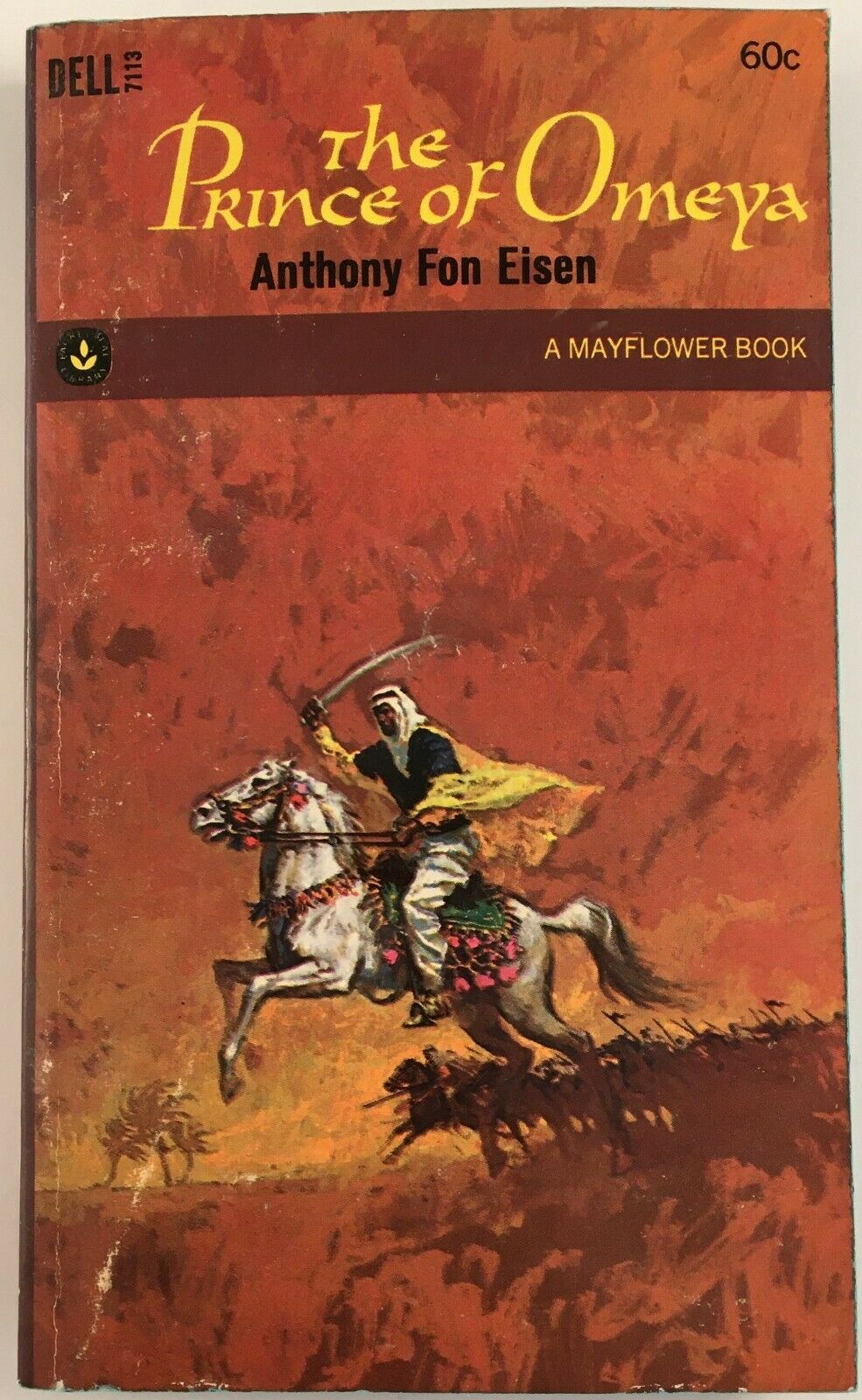 The pulp magazine Blue Book had a group of forgotten writers of historical adventure in the late 1940s: David Cheney, Kenneth Cassens, Wilbur S. Peacock, De Witt Newbury, Paul K. Johnstone, and Anthony Fon Eisen.
Two would go on to write novels. Paul K. Johnstone with the excellent Escape From Attila and Fon Eisen with three young adult novels.
The Prince of Omeya by Anthony Fon Eisen was a hardback from 1964. A Dell-Mayflower paperback edition followed in 1967.
I had run across the paperback in the 90s at a used bookstore but passed having no idea that Fon Eisen got his start in the pulp magazines. I later discovered him when picking up 1940s issues of Blue Book to read the various historical stories present therein. Copies of The Prince of Omeya are rare and expensive.
I had some luck at the library book sale in June. I was going through the science fiction/fantasy table and spotted the hardback. Always check other genre tables at book sales. You never know what you are going find. Finally, I get to read the book.
It is fictionalized account of Abd al-Rahman called "Abderahman" in the novel. He is the last survivor of the Umayyid Dynasty who are overthrown by the Abassid revolution in 750 A.D. A friend warns Abderahman of the massacre of his family by Abbas. He gives Abderahman the white mare Saffana for escape. Saffana is a superior horse. Much of the novel is the tale of travel through the desert on Saffana just ahead of a contingent of Abbasid cavalry attempting to track down and kill Abderahman.
Abderahman's mother was a Zenata Berber from North Africa. He makes his way there for refuge. Delegates from Spain search him out to become ruler there. Spain is a mess after the Moslem conquest. Governors fight each other, Berbers fight Arabs. The history of Moslem Spain is that of general chaos with Slav slave soldiers as an added element with the Taifa states a couple centuries later.
Abderahman crosses to Spain with an army of Zenata Berbers and imposes his rule there. There are some well done battles at the end.
This is a good young adult novel. If you like reading Rosemary Sutcliff, Prince of Omeya should have some appeal if you ever happen to stumble across a copy.
Anthony Fon Eisen in Blue Book:
The Cross and the Crescent          December 1948
Voice of the Wilderness                January 1949
The Roman Sea Wall                      June 1949
The Road to Granada                     May 1950