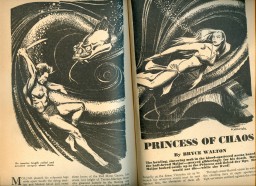 Some of the histories of fantasy fiction will mention that fantasy in general and sword and sorcery in particular disappeared during the 1940s. While this is technically true if given a strict interpretation, it is a mischaracterization. Sword and sorcery was disguised as adventure science fiction.
There were writers including Leigh Brackett, Gardner Fox, and Bryce Walton who grew up reading Robert E. Howard in the pages of Weird Tales during the 1930s. That influence would become apparent in magazines such as Planet Stories.
Self-styled science fiction purists hate Planet Stories. It was an action adventure oriented pure pulp magazine. Many of the authors were more commonly found in the publisher Fiction House's sister magazines Jungle Stories and Action Stories than in Astounding Science Fiction. It only gets mentioned in science fiction histories because Leigh Brackett and Ray Bradbury were both writers for the magazine.
One of the most gonzo pulp stories (but not the most gonzo, that will be discussed in time) is Bryce Walton's "Princess of Chaos" in the Spring 1947 issue of Planet Stories.
Walton (1918-1988) wrote some letters to "The Eyrie" in Weird Tales in 1937 and 1938. He was a Navy correspondent in WWII. He started writing for the pulp magazines after the war. He was in Planet Stories, Jungle Stories, Startling Stories, some western pulps in the 1940s. Most of his output in the 50s and 60s were for detective/crime magazines. He especially wrote for Alfred Hitchcock's Mystery Magazine in the late 50s and early 60s.
Our pulp swordsman is Moljar, a half-Martian, half-Terran barbarian. The story starts out in a colosseum on Venus. He is one of three survivors of arena games held by the cat woman Princess Alhone. He no sooner kills a saber-tooth tiger like creature when the Mist Men attack Venus Port. Princess Alhone offers Moljar a place in her guard if he reaches her capital of Anghore to bring help with a new weapon. Moljar and the silver haired mutant Earth woman, Mahra. Princess Alhone gives them a flying machine called a gyro-scout. First he has to kill a raving mad Martian bandit who is dead set on finding out who is greater fighter.
There is some time for dialogue at this time during the trip:
"She curse him thoroughly. 'You're mad!'
'I am Moljar.'
She sighed resignedly. 'You say that like omnipotence would say, 'I'm God.'
'It is enough for me. Who can say they of more than themselves? I simply know I am Moljar. I live. I have purpose. The pelt of Alhone. A pledge I must keep. Beyond that– nothing."
The gyro-scout travels about half way to the destination before a very big flying croc takes it out. Moljar and Mahra crash into the Sea of Mort. They immediately have to fight a giant sea-serpent. Moljar finds an island which is actually a buoyant raft on a giant snail shell. Moljar kills the giant snail. Then comes one of the greatest scenes in pulp fiction. A giant bat attacks them. Moljar leaps up grasping the bat's underside and stabs it while it is trying to carry him away. He cuts off one of the wings (20 feet long) and makes a sail out of it.
A storm wreaks their snail shell bat wing raft on the coast where the citadel of Anghore is located. Princess Alhone and her cat men are waiting for them. Turns out she and the cat men are from another dimension and the Mist Men are her minions. They go through the universes raiding planets.
Moljar's journey was a test of his abilities for worthiness to join her. Moljar refuses to join her and proceeds to cut down her whole bodyguard of cat men and the Mist Men. The reason for this is Princess Alhone has sent Mahra to another dimension using a machine called The Matrix (!).
Princess Alhone escapes alive in exchange for returning Mahra safe and sound. Alhone escapes while Moljar and Mahra have each other.
This story has some epically bad prose but it is so over the top to make it appealing.
Some of Walton's crime fiction was reprinted in those Alfred Hitchcock anthologies. He also wrote some stories for the Alfred Hitchcock T.V. show. I need to check some of those out.