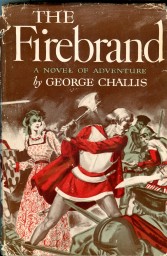 One of my favorite recurring character series in the pulp magazines is the Tizzo the Firebrand by Frederick Faust. Faust (1892-1944) is better known under his pseudonym "Max Brand." He was one of those high production pulp magazine writers who produced something like 25 million words of prose. He is remembered today as a western writer though he produced detective, dog stories, love stories, spy/espionage, boxing stories, sailing stories, Yukon and Alaska, aviation etc.
He was a discovery of the renowned editor Robert Davis who first published Edgar Rice Burroughs. Davis first published Faust in 1917 for the famed magazine All-Story Weekly, which was at its peak at that time.
Faust quickly started using an army of pseudonyms including Max Brand, George Own Baxter, Evan Evans, John Frederick, Frederick Frost, and George Challis to name some but not all.
Faust wrote somewhere around 12 or 13 historical swashbucklers not including the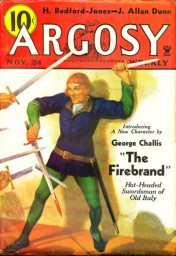 seven Tizzo stories. Of those I have read, my guess Rafael Sabatini was the main influence.
Some of the historicals were early on in his career. He became a writer almost exclusively for Street & Smith's Western Story Magazine, a weekly magazine. He wrote about half of the contents of any given issue. This continued until 1933 when a word rate reduction ended his special relationship with Street & Smith.
It was in 1934, he returned to Argosy writing westerns as Max Brand but also historicals as "George Challis." His first George Challis swashbuckler "The Naked Blade" featured Dr. Kildare's ancestor Ivor Kildare.
Faust spent time in Italy every year and soaked up the atmosphere and history. The Tizzo stories came out of his Italian sojourn. There are seven Tizzo stories.
Story                                               Argosy Issues
The Firebrand                         11/24/1934-12/1/1934                  2 part serial
The Great Betrayal                 2/2/1935-2/16/1935                      3 part serial
The Storm                                4/6/1935-4/20/1935                     3 part serial
The Cat and the Perfume      6/8/1935                                           novelette
Claws of the Tigress               7/13/1935                                          short novel
The Bait and the Trap           8/3/1935                                            novelette
The Pearls of the Bonfadini   8/24/1935                                         novelette
The series is set in early 16th Century Italy. Luigi Falcone had taken in red haired street urchin Tizzo outside of the city of Perugia. Raised as page, valet, educated in the classics, taught in the use of weapons, Tizzo leaves to serve Englishman Baron Henry of Montrose. A series of hair raising swashbuckling adventures ensue with dastardly villains, fair women to save, and encounters with Cesare Borgia.
These stories are how you write a swashbuckler. Frederick Faust had a smooth, breezy style that moves along at a quick pace. Don't look for brooding prose here. Faust considered himself primarily a poet so there are passages with a nice almost lyrical flow to them. There is also great pageantry and color to these stories. You have condottieri armies with Basques, Swiss, Italians, Spaniards, etc. Italian city states, Counts, and the Papacy all vie for control of Italy. They would have made great movies.
Tizzo the Firebrand is contained in the list of great fictional swordsmen including D'Artagnan, John Carter, Conan, Captain Blood, Fafhrd, the Gray Mouser, and Khlit the Cossack. He is also very adept with an axe. This is the pinnacle of Faust's swashbucklers.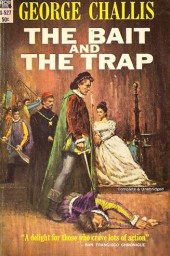 Faust died in 1944 in Italy covering the attack on the Gothic Line as a correspondent. He had been wounded but said get the other wounded to the hospital as he bled to death.
Six of the seven Tizzo stories were collected in two hardbacks. The first three stories became The Firebrand (Harper, 1950) and the last three stories as The Bait and the Trap (Harper 1951). They were reprinted as both Harlequin paperbacks in Canada and Ace paperbacks in 1963 in the U.S. "The Cat and the Perfume" was reprinted in the magazine Cavalier Classics #2 (September 1940).
For whatever reason, Paperback Library/Warner Books who generally published Faust (as Max Brand) never bothered with reprinting any of the Faust swashbucklers. A unified reprint series under the "Max Brand" name might have built a following.
The two books are fairly easy to find online. I also see the Argosy issues on a regular basis at pulp shows such as Windy City Pulp & Paperback Show and Pulp Fest. If you like rousing lusty swashbuckling fiction, give Tizzo a try.