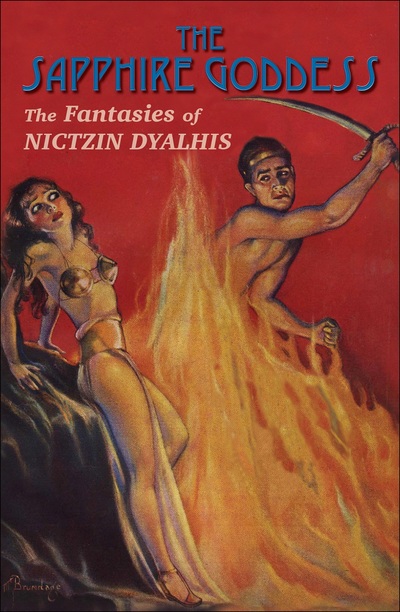 I first read of Nictzin Dyalhis in L. Sprague de Camp's Literary Swordsmen and Sorcerers in the chapter "Conan's Compeers." I already knew of Clifford Ball having read "The Thief of Forthe" in very first (coverless) issue of Weird Tales I ever bought. From de Camp, I learned of Nictzin Dyalhis and Norvell Page.
By coincidence, I found a copy of the Zebra paperback, Weird Tales #2 at Eide's in Pittsburgh. That was when Eide's was on the north side on 6th St. Carter reprinted Dyalhis' story "The Sapphire Goddess" as "The Sapphire Siren." The very same story that de Camp mentioned in Literary Swordsmen and Sorcerers. I also found a copy of the 2nd printing of Norvell Page's Flame Winds the same day at Eide's.
"The Sapphire Goddess/Siren" was enjoyable enough I thought. The story was a little on the crude side but had an odd appeal to it. I took note of Dyalhis' name.
A month later, I read Dyalhis' "The Heart of Atlantan" in another Lin Carter edited anthology, The Magic of Atlantis. This one was set in Atlantis and again had a unique style.
More than a year later, I was able to read "The Sea Witch" reprinted in Weird Tales in the July 1953 issue.
I suggested to Gary Lovisi in a letter when ordering Elak of Atlantis (Gryphon Books, 1985) that he do a Dyalhis book. He said in a note that someone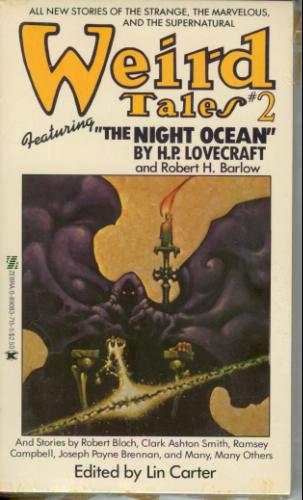 had a Dyalhis collection planned.
Robert Weinberg and Stephan Dziemianowicz reprinted "When the Green Star Waned" in Weird Tales: 32 Unearthed Terrors.
The nearest we ever got to a Nictzin Dyalhis anthology was in Karl Edward Wagner's Echoes of Valor III (Tor Books, 1991). That book contained "The Sapphire Goddess," "The Red Witch," and "The Sea Witch" It also contained a short essay about Dyalhis that is probably the most we will ever know.
Talking to Dave Hardy at Robert E. Howard Days in 2006, I found out that he discovered Dyalhis had lived in the tiny borough of Sugar Grove in Pennsylvania in 1920. That is one county over from where I live. I took a drive over one beautiful sunny Saturday a couple weeks later. The house that Dyalhis lived in appeared to be gone. I did not find anything at the local library though they tried to help me.
Now, all of Dyalhis' weird fiction has been collected by DMR Books. Dyalhis had two stories in Adventure magazine and one story in a detective pulp. The Saphhire Goddess: The Fantasies of Nictzin Dyalhis contain eight stories reprinted from Weird Tales and one from Ghost Stories.
The book uses the Margaret Brundage art for the title story from Weird Tales. Size is mass market paperback, 387 pages.
Dave Ritzlin has a short, enjoyable three page introduction.
Contents:
"When the Green Star Waned"  Weird Tales, April 1925                  Early space opera with an occult theme.
"The Eternal Conflict"                     Weird Tales, October 1925.          Occult story with modern setting.
"He Refused to Stay Dead"           Ghost Stories, May 1927                English castle haunted by departed Viking.
"The Dark Lore"                                Weird Tales, October 1927            Contemporary occult story.
"The Oath of Hul Jok"                     Weird Tales, September 1928     Sequel to "When the Green Star Waned."
"The Red Witch"                               Weird Tales, April 1932                  Modern man remembers feud as cave-man.
"The Sapphire Goddess"               Weird Tales, February 1934          Off-beat sword and sorcery.
"The Sea-Witch"                               Weird Tales, December 1937       Racial memory of Viking days.
"The Heart of Atlantan"                 Weird Tales, September 1940     Occult story with portion set in Atlantis.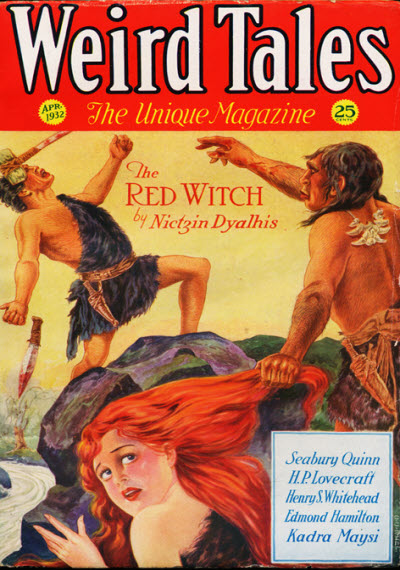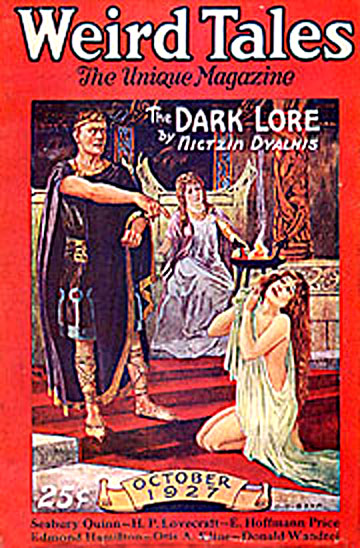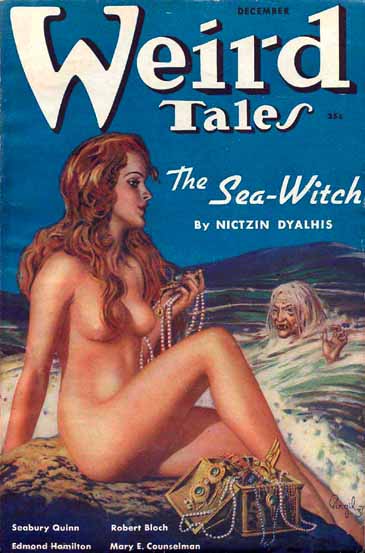 In a different time-line there would have been a Dyalhis collection by Pyramid Books in the mid or late 1960s with the sword and sorcery revival (alongside Elak of Atlantis).
I don't know if Dyalhis ever subsequently influence any writers. He was unique. Cost is only $13.00. You can order from DMR Books.
.