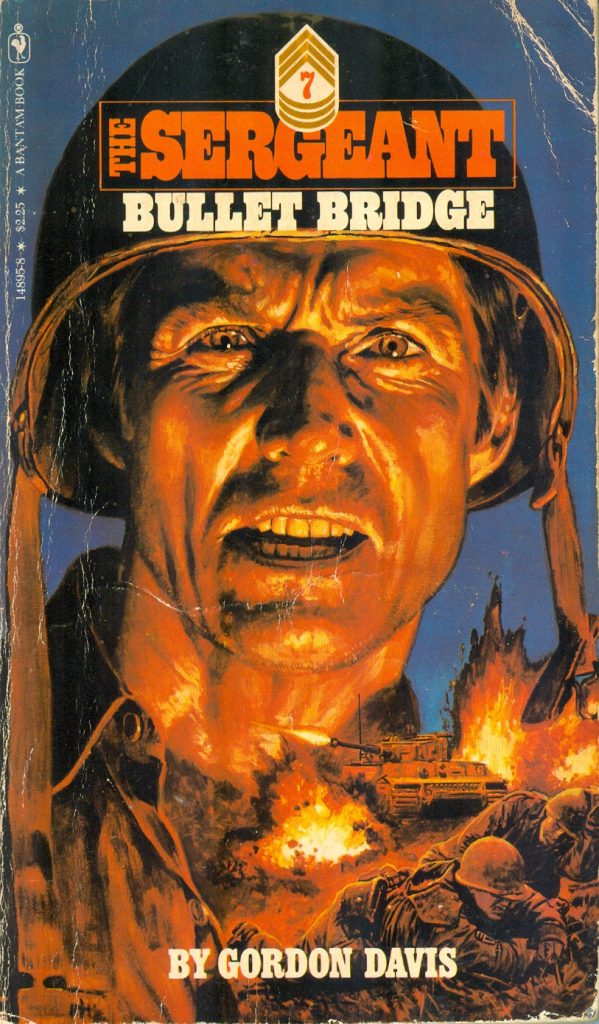 The classic mass market paperback era featured successors to the high production pulp magazine writers: Ben Haas, Ralph Hayes, Peter McCurtin, James Reasoner, Robert Randisi, and Len Levinson. These guys could produce four or more paperbacks a year. I remember reading that Zebra Books was interested in Karl Edward Wagner's "Adrian Becker" character as a paperback series wanting four books a year. Wagner could not do it.
I enjoy some war fiction. Probably my favorite WW2 novel is Richard Matheson's The Beardless Warriors. James Jones' The Thin Red Line might be #2.
One of Len Levinson's series was "The Sergeant" from Bantam Books as by "Gordon Davis." This series appeared in nine volumes from 1980 to 1981. Bullet Bridge is #7, from November 1981. The books feature Sgt. Clarence J. Mahoney of the 15th Regiment in the 33rd "Hammerhead" Infantry Division in Patton's Third Army in Western Europe in 1944 during WW2.
Bullet Bridge is #7 in the series. The Hammerhead Division has just taken Metz and about to push into the Saar. The novel starts out with a Panzer attack. The Germans capture Sgt. Mahoney. He manages to escape via stolen motorcycle to American lines.
An infantry assault on a strategic hill is the next section of action. The commanding general leads the attack and dies of a heart attack. Mahoney is wounded.
There is a hospital interlude and then the return to his unit.
The third act is a push to the town of Saarlauten. There is a hell bent for leather motorized assault, taking of a very important bridge, and then holding out until relieving forces can arrive.
This is the way paperback fiction should be. Lots of action, a little sex, and profanity-laden dialogue. I knocked this one off in a few evenings. I will pick up more books in The Sergeant series.