October puts me in the mood for reading horror fiction. I used to read a fair amount of horror back in the 1980s but lost interest in reading the newer authors. The past week I have been re-reading Joseph Payne Brennan (1918-1990).
Brennan was the last major author to come out of Weird Tales magazine in the early 1950s. He actually started in the western pulp magazines with around 23 stories from 1948 to 1956.
One of the stories, "Slime" (Weird Tales, 1953) has become a classic. A tale of a protoplasmic horror from the ocean depths with an insatiable hunger is a chiller.
He produced a small press magazine, Macabre from 1957 to 1976 for a total of twenty-two issues. Brennan also self-published three books, two of horror and one of his psychic detective, Lucius Leffing, stories.
Brennan writes a pure form of horror story. Most of his stories probably don't go much past 5,000 words. The writing is straight forward, the atmosphere is built with everyday language. Brennan liked H. P. Lovecraft but wrote in a simpler style. Brennan's stories are on the gruesome side. He liked liches/reanimated corpses out for vengeance. He did write a few Lovecraftian stories in the Cthulhu Mythos. These are out and out horror stories rather than examinations of cosmicism.
I first read Brennan's "Slime" in the Les Daniels' Living in Fear: A History of Horror in the Mass Media. Not long after, I read "Levitation" in an anthology but don't remember what book.
Stories of Darkness and Dread (Arkham House) was still in print in the mid-1980s and that was my first Brennan collection. The following year, Dead Image, one of the Night Visions anthologies was out as a Berkley paperback. A few months later, I found the rare Ballantine Nine Horrors and a Dream at a used bookstore. And along the way, Brennan routinely showed up in various horror anthologies.
I read the Berkley paperback The Shapes of Midnight this past week. It is a good introduction to Brennan. For whatever reason, it is not easy to find. I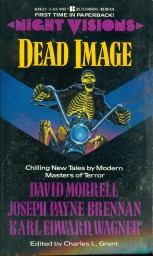 don't remember seeing it on the bookstore shelves in autumn 1980. I procured a copy from a mail order catalog in the mid-1990s.
It contains the obligatory "Slime" and "Canavan's Back Yard." There is also a crime story "The Impulse to Kill" is an early serial killer story.
One reason The Shapes of Midnight may be hard to find is Stephen King wrote the introduction. King is a big fan calling Brennan "the master of the unashamed horror tale." King dedicated Danse Macabre to Brennan (and Robert Bloch, Donald Wandrei, and Frank Belknap Long).
Not everyone is a fan of Brennan. Sunand Tryambak Joshi has a venomous opinion: "The ability to devise a clever supernatural idea but an utter deficiency of literary talent to execute it competently. The hallmark of Brennan's work is an almost childishly simple, unadorned prose that might be thought to facilitate the subtle incursion of the weird; but in reality this flatness of style renders his conceptions preposterous and absurd because of an insufficiency of atmospheric preparation."
Go with Stephen King on this one. I like Lovecraft, but am the first to say that I generally have concentrate when reading him. One can relax a little bit with Brennan and enjoy the reading experience.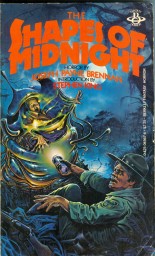 There is a special place for horror writers who can write sword and sorcery. Brennan is one of them. He had four stories about Kerza, the exiled Celt. Six foot tall, black hair, blue eyes, this is Brennan's homage to Robert E. Howard. I have read two of the stories and they are blood & thunder mixed with Lovecraftian horror. Brennan also wrote a very action filled chapter for the round robin novel Ghor, Kinslayer.
A good place to find Joseph Payne Brennan stories are the Alfred Hitchcock Presents anthologies. Those are generally in the mystery/crime sections of used bookstores. All of Brennan's horror anthologies whether hardback or paperback command high prices on the internet. They just are not common items.
John Pelan's Midnight House imprint was to reprint Brennan's weird/ horror fiction in four volumes. The first volume came out (The Feaster From Afar) but the collapse of Pelan's publishing imprints left another unfinished series.
Maybe we will see Brennan reprinted by some other small press. Centipede Press would be the logical one to take this one. Even a booklet containing the four sword & sorcery stories, the "Ghor, Kinslayer" chapter, and a few other stories that would fit in would be very welcome.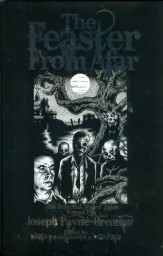 So check out Brennan this week in the run up to Halloween.