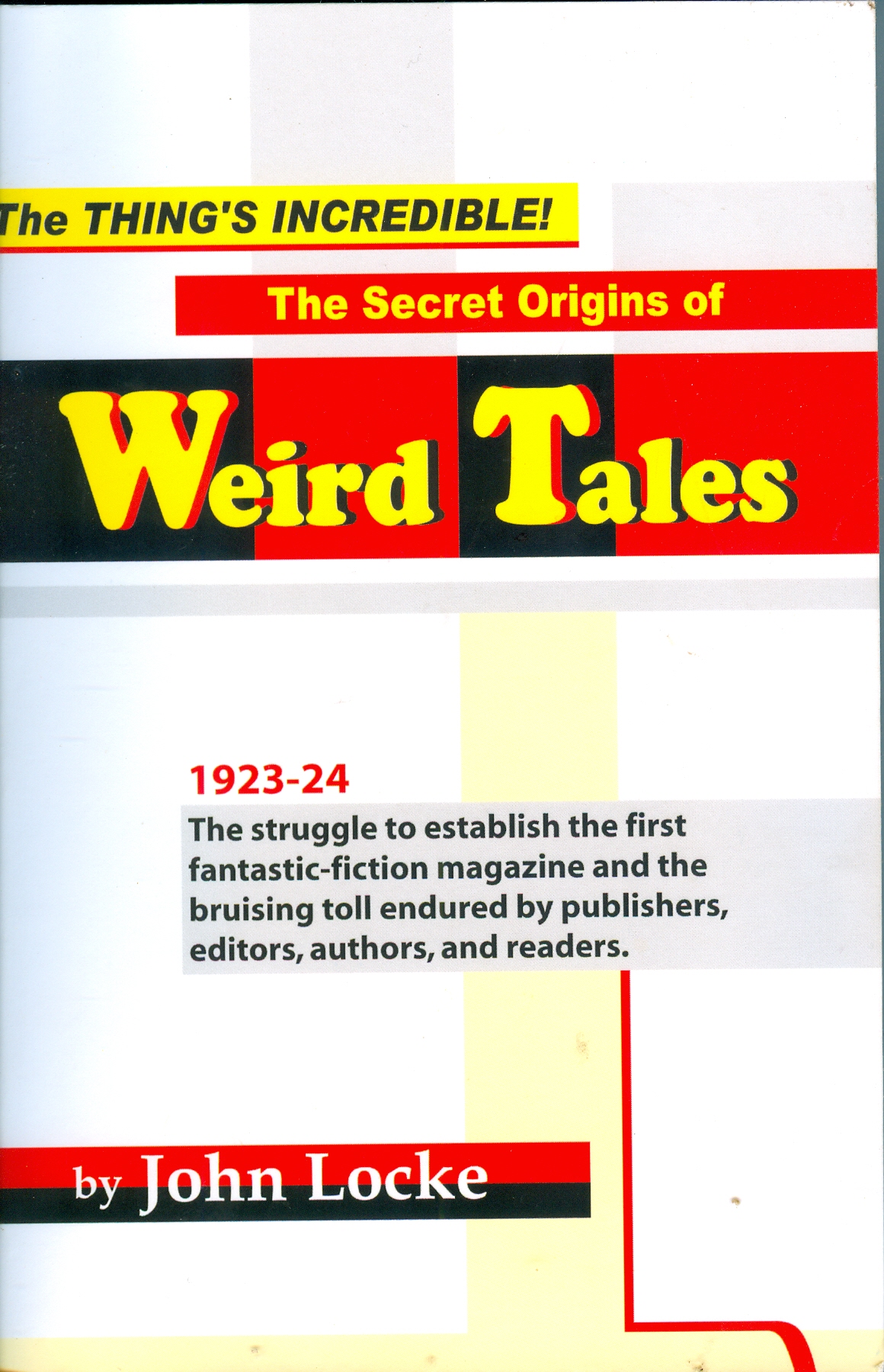 I have been picking up books from John Locke's Off Trail Publications for a while it seems. I first met John at Pulp-Con in 1993 and always impressed by his erudition.
His most recent book is The Thing's Incredible! The Secret Origins of Weird Tales.
"The struggle to establish the first fantastic-fiction magazine and the bruising toll endured by publishers, editors, authors, and readers."
The book is available in hardback or trade paperback. The book is 284 pages plus a bibliography and index.
I read Robert Weinberg's The Weird Tales Story thirty-four years ago (it is going to be reprinted). Weinberg pieced together a history of the early days of Weird Tales magazine but it turns out some of the history was wrong.
Locke's story begins with Jacob Clark Henneberger, a person known as the first publisher of Weird Tales magazine. A figure I never heard of before, Johnny Lansinger, becomes Henneberger's partner. This is new.
Henneberger and Lansinger's first magazines including The Collegiate World, College Humor, and The Magazine of Fun are chronicled. I did not know about The Collegiate World or The Magazine of Fun.
The Rural Publishing Corporation's formation and its first pulp magazine Detective Tales in November 1922 has a different story than what I was led to believe. I thought Detective Tales was a successful magazine out the gate which enabled the creation of Weird Tales. Detective Tales was a magazine unable to attract top authors due to low rates and a payment on publication policy. There were financial problems with it when Weird Tales was launched in March 1923.
Henneberger supposedly started Weird Tales when prominent authors including Ben Hecht, Hamlin Garland, and Emerson Hough com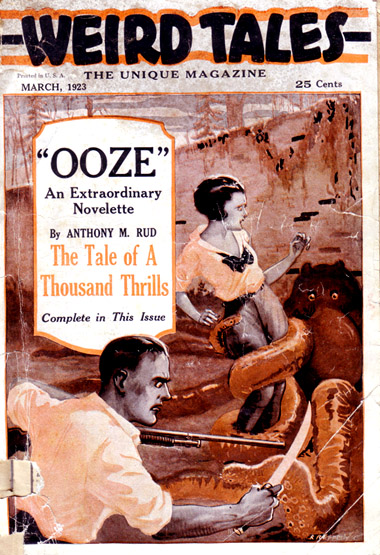 plained about a lack of a market for stories of the unconventional type. Locke pokes holes in Henneberger's thought he would have these authors sub
mitting stories.
Edwin Baird, the editor for Detective Tales and Weird Tales had to deal with crap fiction being submitted and fighting to get money to pay the authors
when their stories were published. He took to badmouthing his own boss in his editorials and in some writing publications.
The changes in Weird Tales size, cover logos, and layout are all covered in detail. There is a lot of info on pulp magazine publishing in general to give things a perspective.
Chapters are devoted to Farnsworth Wright and Otis Adelbert Kline and how one went from music critic to writer to editor and the other went from song writer to pulp fictioneer. I did not know for example that Kline had written his first Venus sword and planet novel around the time of Weird Tales founding .
H. P. Lovecraft of course has a part of the story. This is probably the best biography of this portion of Lovecraft's life that I have ever read. There is the story that Henneberger forced Baird to buy Lovecraft's stories. That is all ox manure. Baird forced Lovecraft to retype his stories double spaced but bought his stories months before Henneberger had any contact with Lovecraft.
Harold Ward is given some space and about that interesting period when the pulp magazine Black Mask published some supernatural stories in its first year before its trek to becoming the premier hardboiled crime publication.
Space is given to Arthur J
. Burks who was one of the kings of the pulps later. He got his start in Weird Tales as Farnsworth Wright's first big discovery.
It appears that Edwin Ba
ird was out as editor of Weird Tales by March 1924. It appears that Farnsworth Wright was a phantom editor for a few months before leaving over Henneberger's financial policies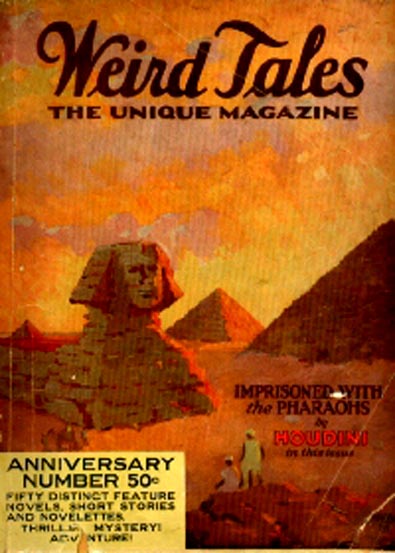 Otis Adelbert Kline edited the May-June-July 1924 issue of Weird Tales but wanted no part of being tied to Henneberger also. Wright came back after a second reorganization where Johnny Lansinger took Detective Tales (to become Real Detective Tales) and the printer, the Cornelius Printing Company owned a majority of stock in Weird Tales.
The whole Houdini involvement with Weird Tales is inspected in detail. Locke destroys the what if idea of Lovecraft as editor of Weird Tales.
Edwin Baird comes off well in the book as an editor given a bad hand. J. C. Henneberger looks like a bad used car salesman. I had thought he was out after 1924 and did not realize he owned a minority percentage of the company until 1938 when the magazine was sold.
The Secret Origins of Weird Tales fills in some gaps in the story. John Locke used letters, writing publications, "The Eyrie," and other sources to come up with as complete a story as we will ever know.
If you have an interest in Weird Tales or pulp magazine history in general, buy and read this book. It is very readable and hard to put down.