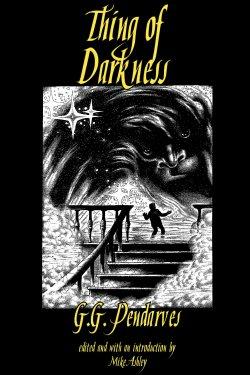 Gladys Gordon Trenery (1885-1938) as "G. G. Pendarves" had 19 stories in Weird Tales, seven stories in Oriental Stories/Magic Carpet Magazine, nine stories in Hutchinson's Mystery Story Magazine, three stories in Hutchinson's Adventure-Story Magazine, and one story in Argosy from 1923 to 1939.
She lived in the Liverpool region of England with roots from Cornwall. She was one of the second stringers for Weird Tales. She was somewhat unique, an English spinster writing weird stories mostly for an American pulp magazine. She was not part of the Lovecraft circle nor a pulp fictioneer like Seabury Quinn, Otis Adelbert Kline, or Arthur J. Burks.
Over the years, I read maybe two stories reprinted in Weird Tales reprint anthologies. There is one one collection of her fiction ­ Thing of Darkness from Midnight House, 2005. I bought this book around 2009 when Midnight House had a special if you bought four books. I have written about Eric Frank Russell's Darker Tides and Joseph Payne Brennan's The Feaster from Afar. I decided it was time to finally read this volume after years of sitting on the bookshelf.
Contents:
Thing of Darkness Weird Tales, August 1937
The Grave at Goonhilly Weird Tales, October 1930
The Doomed Treveans Weird Tales, May 1928
The Devil's Graveyard Weird Tales, August 1926
The Dark Star Weird Tales, March 1937
From the Dark Halls of Hell Weird Tales, January 1932
The Black Monk Weird Tales, October 1938
The Whistling Corpse Weird Tales, July 1937
The Withered Heart Weird Tales, November 1939
The Sin Eater Weird Tales, December 1938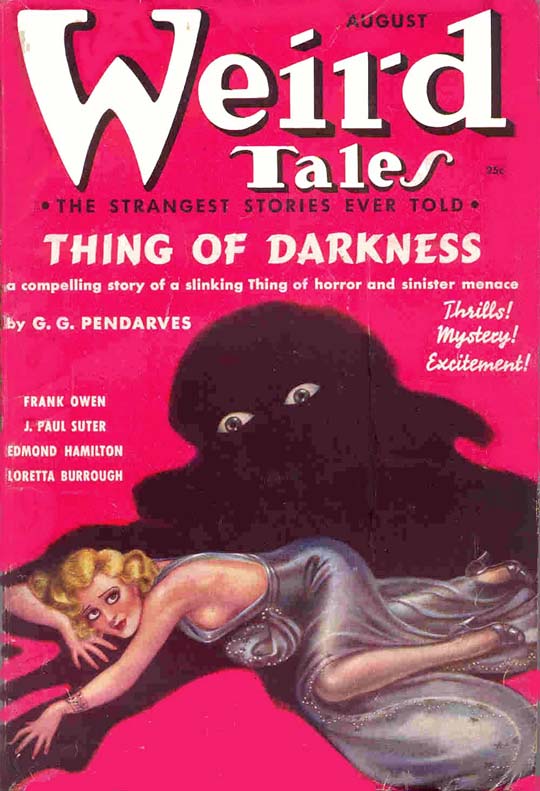 I was under the impression that Pendarves wrote ghost stories. They are of a sort but more about possession. Many of these stories reminded me in plot of H. P. Lovecraft's "The Case of Charles Dexter Ward." Evil ancestors returning to take possession of one of their descendants is a frequent trope. Most of the protagonists are English nobility or at least upper class, some fallen on hard times after WW1. The evil spirit have made deals with dark forces.
There is generally a love or romance element present. The power of love is often an element in defeating the malign supernatural force. I imagine this drove Lovecraft nuts.
The stories struck me as missing something, maybe another draft to smooth them out a little more. Characterization and motivation often seemed thin. The writing is not to the level of M. R. James, E. F. Benson, or H. R. Wakefield. On the other hand, the scenes of possession stuck me as shall I say "realistic." I am no expert on possession or malignant supernatural entities but Pendarves' stories line up with some of the real stories of this sort of thing I have read.
So, G. G. Pendarves is a mixed bag but interesting. I have been burned out on Cthulhu Mythos fiction for a long time. There were things I liked about Pendarves plots despite some prose issues.
This was supposed to be first of a two volume set collecting all her weird fiction, but unfortunately, like the aborted four volume Joseph Payne Brennan collection it did not happen with John Pelan's health issues leading to the end of Midnight House. All of the issue of the original Weird Tales are available at Archive.org, so you can read Pendarves (and anything else) if you choose.