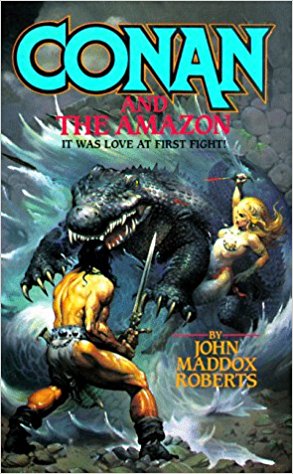 John Maddox Roberts wrote eight Conan books.  I have three—Conan the Champion, Conan the Bold, and Conan and the Amazon.  He is best known for his SPQR series, historical fiction mysteries set in Rome at the dawn of the empire.  Roberts may be the best of the Tor pastiche authors.  Robert Jordan may be a better storyteller and wrote his best prose in his Conan books, but Roberts "got" Conan in a way that Jordan did not.
You can find my thoughts on the Robert Jordan pastiches and on Steve Perry's Conan the Fearless over at Every Day Should Be Tuesday.
The first Roberts book I read, Conan the Champion, is set farther north than any of REH's stories.  Roberts' Conan is cocky and aggressive, "wild and self-governed."  He will talk some shit, even to the twice-dead corpse of an ice zombie.
"Well, Agiluf," Conan said when he once again had breath, "you could not slay me when you were alive.  Did you think you would have a better chance dead?"
But Roberts' Conan is no young hothead.  Not anymore.
There had been a time when Conan would have instantly split the man's skull for these words, but age and experience had taught him to be prudent, especially in a strange land.  He said simply: "I have no desire to dispute with you here in the home of my friend.  But if you really want to sell me to the slavers, let us go over to yonder field, and I'll carve your guts out and strangle your friends with them."
Conan the Champion and Conan the Bold are both set when Conan is young (the Tor books, in general, seem to focus on Conan's younger days).  Conan and the Amazon was published too late to be included in Robert Jordan's Conan chronology, but this is obviously an older, wiser Conan than the first two books (maybe late twenties?).  Roberts' Conan still isn't quite Howard's—Roberts leans more on Scottish history; Howard on Texas history and the influence of the Great Depression—but it is pretty damn close.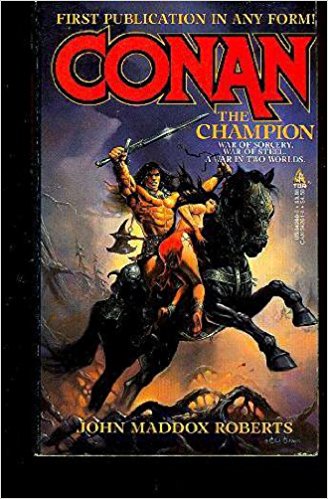 Conan the Champion
Both of the quotes above are from Conan the Champion.  Conan is shipwrecked in the far north of the Vilayet Sea and has to winter among warring barbarian clans.  The book is notable for a couple reasons.  One, Conan's would-be romance with the queen of the clan he spends the winter with is prevented by her duty.  Two, Conan journeys to an alternate dimension where he fights some creatures in the very best tradition of the fae—very reminiscent of Robert Jordan's Aelfinn and Eelfinn and Leigh Brackett's aliens from People of the Talisman.  This is definitely the weirdest of the three.
Conan the Bold
Roberts does something bold himself—he opens with Conan in Cimmeria!  I'm not sure how I feel about that.  Conan scholars might tell you that it is important to his character that Howard's Conan never appear in Cimmeria, and that no other Cimmerian appear in his stories.  We do not see Conan with his family or his own clan.  By this point he has already spent time as a prisoner north of Cimmeria and exploring the Pictish wilderness.  He could never bear being confined by the rules and authority of his tribe, and he's itching to see the world at the beginning of the book.  The murder of the Cimmerian family he is staying with sets him on a quest for revenge that will take up the entire book and cover half the map.
Roberts again gives Conan a love interest with moxie—"Mad Kalya," who lacks nothing for style.  She has her own quest for revenge.  She is missing one eye and speaks with a rasp.  She wanders like a female, medieval Man With No Name wearing a poncho and an eye patch.  Under the poncho?  A literal chainmail bikini, only with one breast bare.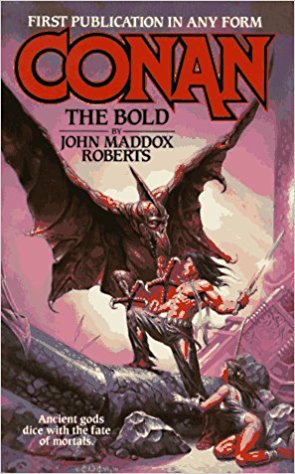 There is a fantasy angle involving meddling Old Ones, but it isn't very interesting or important.  There are also some fantastical drugs.  Leonard Carpenter's Conan the Hero is another Tor Conan book that reflects the 80s/90s fear of drugs.  But really this is a revenge story that comes down to bloody swords.
Conan and the Amazon
This Conan story is a little more generic than the other two, but it still may be my favorite.  As he so often does, Conan finds himself in the story by chance.  In need of sword work in a disreputable town, he quickly meets a pack of Hyrkanians, four Amazons, and a dwarf.  They are all hired to help an enigmatic pair of twins find a lost desert city.
Conan's heart thudded within his ribs.  She was like a magnificent lioness: powerful, proud and deadly.
The titular Amazon queen is the highlight.  Roberts wrote very good feminine foils for Conan.  Achilea has a scarred, weather-beaten face, the hands of a swordsman, and is almost as tall as Conan.  But she is "not in the least masculine," with "full and womanly" breasts and "sleekly rounded hips and buttocks."  Roberts may have had Cory Everson in mind when he wrote Achilea.
I won't spoil the story, but things get pretty darn science fictional in the latter half of the book, in the best pulp tradition.  And speaking of being pulpy, the fight with a crocodile that is depicted on the cover really does happen, and it is awesome.
H.P. is an academic, attorney, and "author" (well, blogger) who will read and write about anything interesting he finds in the used bookstore wherever he happens to be for the moment.  He can be found on Twitter @tuesdayreviews and at Every Day Should Be Tuesday.