True Believer
Sunday , 1, October 2023
Fiction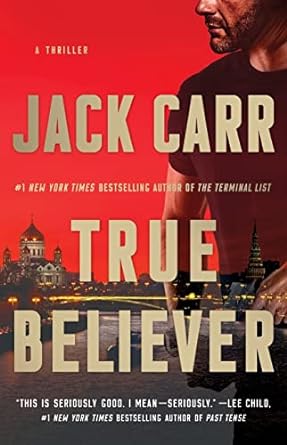 True Believer is the second novel in the James Reece series by Jack Carr. Again, a description that is better than what I can do:
"When a string of horrific terrorist attacks plagues the Western world during the holiday season, the broader markets fall into a tailspin. The attacks are being coordinated by a shadowy former Iraqi commando who has disappeared into Europe's underground. The United States government has an asset who can turn the Iraqi against his masters: James Reece, the most-wanted domestic terrorist alive.

After avenging the deaths of his family and team members, Reece emerges deep in the wilds of Mozambique, protected by the family of his estranged best friend and former SEAL Team member. When a series of events uncovers his whereabouts, the CIA recruits him, using a Presidential pardon for Reece and immunity for the friends who helped him in his mission of vengeance.

Now a reluctant tool of the United States government, Reece travels the globe, targeting terrorist leaders, unraveling a geopolitical conspiracy that exposes a traitorous CIA officer, and uncovering a sinister assassination plot with worldwide repercussions."
The action does not flag. There are plenty of cool guns (and other things). My one reservation is James Reece ends up going to work for the C.I.A. Maybe Jack Carr has a higher opinion of the C.I.A. Than I do. There is a rogue former agent who does bad things but Carr portrays employees of the agency as concientious defenders of America. I do have qualms about the C.I.A. Having their own operatives (former military) as their own private army. We will see how this series plays out.