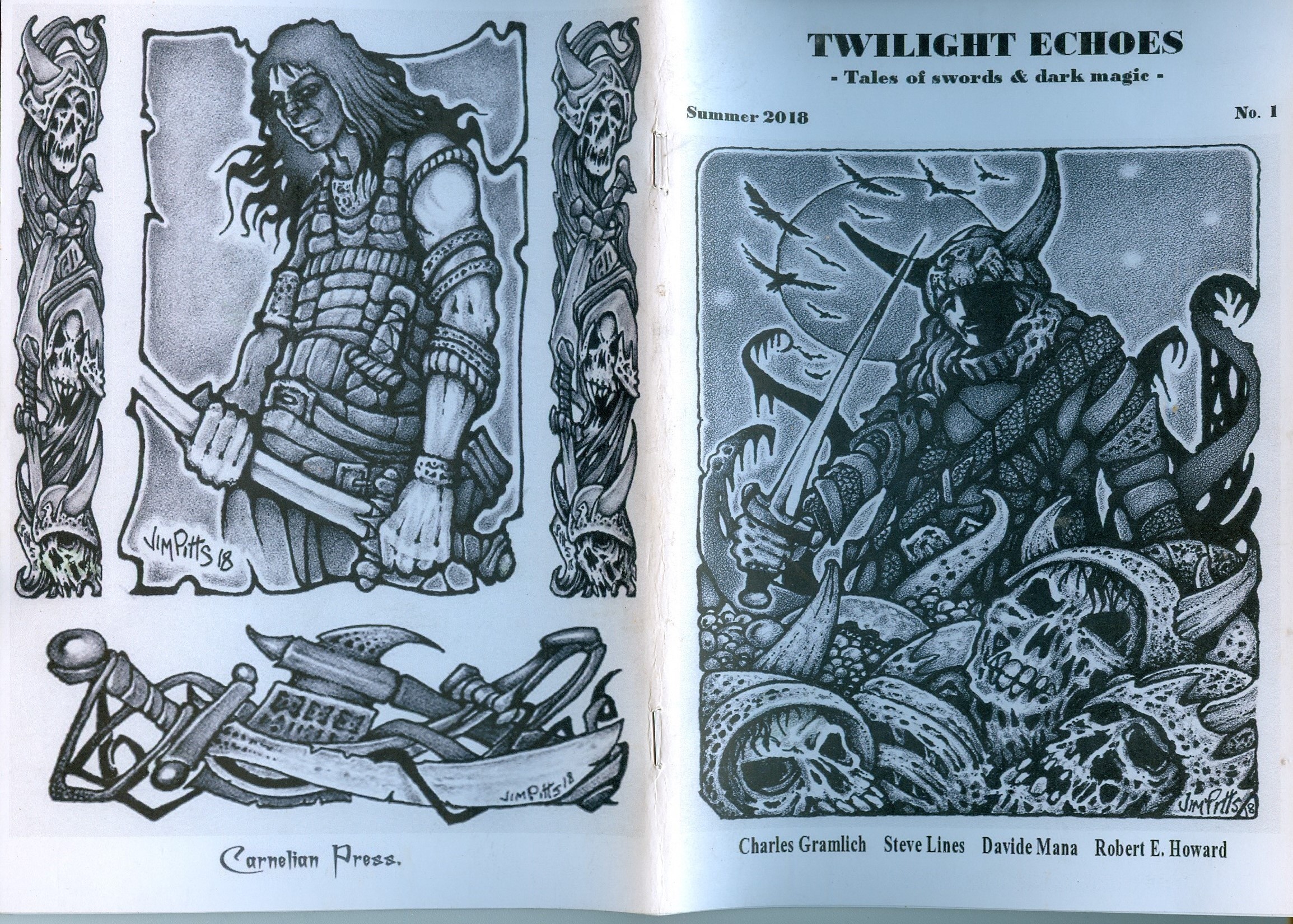 The small press has been the matrix that has produced many sword and sorcery writers. Andrew Offutt raided the small press magazines of the 1970s to fill out the Sword Against Darkness volumes. David C. Smith, Charles R. Saunders, and Charles de Lint all got their start in those literary labors of love.
Carnelian Press' Twilight Echoes is the latest entry in the history of small press genre magazines. Carnelian Press has produced The Hyborian Gazette and some booklets of fiction by editor/publisher Steve Dilks.
Twilight Echoes No 1 is dated Summer 2018. It is 5.7 x 8.5 inches in dimensions which is known as octavo or digest size. 66 pages with 65 pages of text and art. Binding is saddle stapling.
The editorial page is entitled "From the grimoire…" Steve Dilks has a paragraph on the formation of the sword and sorcery and some thoughts on the current state of the genre.
"Some fans have taken up the mantle, publishing in the small presses and in the occasional anthology. With bookstores swamped with weighty soap opera fantasy volumes, it is no surprise that readers are turning back to the fast moving, tighter plotted stories of the pulps with their attention to atmosphere and colour."
Twilight Echoes contains four stories, all reprinted from other sources. In effect this is a reprint anthology.
I have known Charles Gramlich for 25 years when he joined The Robert E. Howard United Press Association the mailing before I joined. He linked up with the late Steve Tompkins and I to travel to Cross Plains, Texas for Howard Days in 1998. I have been reading Charles' fiction for 25 years when he sent me a bunch of photocopies of his stories that had appeared in obscure small press publications. No one loves sword and planet fiction as much as him.
"A Whisper in Ashes" has a northern setting featuring Krieg. Krieg comes across a village with a problem. Krieg agrees to help the Jarl in dealing with a supernatural menace. If you like Karl Edward Wagner's Kane stories, you will like "A Whispher in Ashes."
Davide Mana is an Italian writer. "Bride of the Swamp God" was originally a kindle e-book. He has a series with Aculeo, a Roman centurion, and Amunet, an Egyptian sorceress. "Bride" is the meeting of the two in the Nile Delta. The Lovecraft atmosphere is strong with this one.
"The tentacles were whipping the air, snapping, and crawled around, seeking knowledge of the space in which they were pouring- and something else, too.                                                                                           

The ancient god was awake. And it was hungry. Longer tendrils of translucent flesh probed the floor, coming closer, searing. Thin tube-like larynges extended from the protoplasmic goo, and a slow demented piping began, the god-thing chanting to itself as it crawled on, the echoes of his temple responding to his call."
Steve Lines has Rainfall Books, another small press. "The Eyes of the Scorpion" originally appeared in Fungi #21. This story has a pseudo-Arabian Nights type milieu with some Clark Ashton Smith overlaid on it.
"They licked their slavering muzzles as they contemplated me, their canine noises wrinkling as they sniffed the aroma of living flesh. But not one drew near and I realized the power of Zarallu's talisman. It had been a long while since living flesh stalked these avenues of death however and despite the power of the severed paw they loped at my heels like beaten curs, their ravenous eyes gleaming."
The last story is a reprint of Robert E. Howard's "The Vale of Lost Women." A story not generally considered among the better of the Conan stories. Mark Cerasini and Charles Hoffman made a good case for the story in their Starmont Reader's Guide to Robert E. Howard.
The art in Twilight Echoes is very good for a small press magazine. Jim Pitts, Régis Moulun, Tony Gleeson, Kurt Brugel and Yannis Rubus Rubulias have contributed solid illustrations.
Cost for Twilight Echoes is L10 in the U.K., $18.00 in the U.S. and Canada. Payment is by Pay-Pal. Go to the Carnelian Press page at Facebook and private message on the chapbook you want to order. You will be given an e-mail address to make payment with Pay-Pal.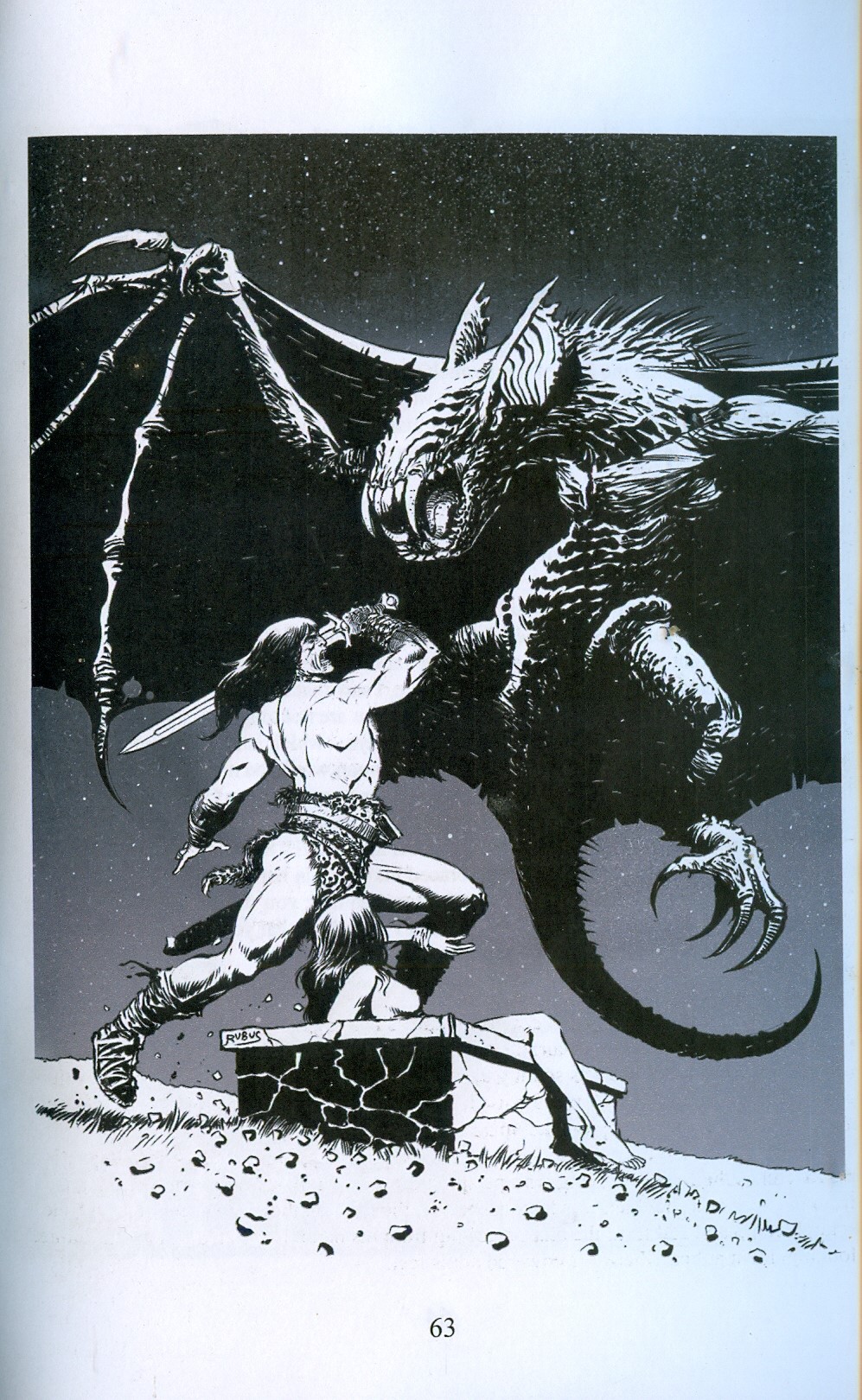 –>