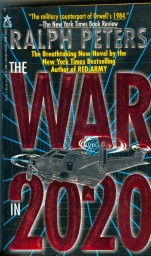 The other night I saw Lt. Col. Ralph Peters on one of the cable evening opinion shows talking about one thousand members of ISIS stopping cold 30,000 Iraqi Army, Shiite militia, and Iranian Revolutionary Guards at Tikrit.
I have been reading Ralph Peters for 22 years when I bought the paperback edition of War in 2020 in April 1993. Peters has written three big future war novels (Red Army, War in 2020, and The War After Armageddon) that are a sort of bridge between modern techno-war novels of Harold Coyle and Tom Clancey on one hand and the future war fiction of David Drake and Gordon R. Dickson.
Peters was in the U.S. Army as a Foreign Area officer specializing in the Soviet Union and Eastern Europe. He has traveled all over that area and knows the terrain and peoples. In addition to the future warfare fiction, he has written some more commonplace international suspense novels.
He also is a writer of essays, often collected together in books as Fighting for the Future and Beyond Terror: Strategy in a Changing World. He is believer in not occupying territory but concentrating on killing terrorists. Negotiation is not part of his vocabulary.
War in 2020 came out in 1991 in hardback, the paperback was in 1992. The book's opening scene is 2005 in Zaire. South Africa has seized territory in Shaba province in the midst of post-Mobutu chaos. The U.S. intervenes:
"Bound by half-forgotten treaties, ignorant of the details of the local situation, and anxious to convince a doubting world of our continued importance as a superpower, we deployed the XVIII Airborne Corps to Kinshasa. The operation proved awkward, and slow…Wheezing from the effort, our forces raised the flag in the heat of a country for which they were ill-trained, and about which they were blithely ill-informed."
South Africans use Japanese made Toshiba helicopter gunships with tactical lasers that take out U.S. Apache helicopters. The South Africans attack on a broad front inflicting heavy casualties on the Americans including a mile long napalm strike on a retreating column attempting to surrender.
An African disease follows in the wake of the returning shattered U.S. expeditionary force that ends up sweeping through the U.S. and causing near collapse on the West Coast.
Fast forward to a collapsing Soviet Union in 2020. The U.S. sends a small force to aid the Soviets against newly independent Moslem republics in Central Asia who are slaughtering ethnic Russians with aid from the Japanese and South Africans. The U.S. military has undergone recrudescence after its disaster in Africa. The new weapons are stealth helicopters with a rail-gun. The 7th Heavy Cavalry Regiment hits the Central Asian and Iranian troops disrupting their attacks. The last mission is an attack on Japanese headquarters in Baku, Azerbaijan.
There are people who hat this novel. It was branded as racist when it came out due to portrayal of the Japanese who are nasty villains. The historical speculation proved to be wrong. The Soviet Union imploded right when this book came out. Japan is quietly going into the night instead of taking over the world, and the Afrikaaners will probably be extinct within one hundred years.
So, if you like David Drake or Harold Coyle or techno-military thrillers in general, give War in 2020 a try if you see it at a used bookstore. Ralph Peters once wrote he grew up reading science fiction and reading about aliens was a good primer for dealing with foreign cultures.