WARGAME WEDNESDAY: Brian Train's Colonial Twilight
Wednesday , 9, August 2017
Tabletop Games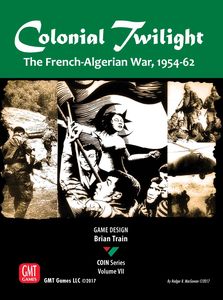 GMT Games has by now released several COIN games covering all kinds of themes: the recent war in Afghanistan, the Vietnam war, the American Revolution, the Cuban Revolution, and more. These four-player games all possess a unique card-driven system that adds some uncertainty to who will go and when. Each card lists a sequence of each player insignia across the top. Players may either choose to go or pass. The first player to go on a given card may choose to take its special event, which is where a great deal of the game's historical color is laid in. Alternately, the first player can take a "full" move, leaving the second player to take a limited move. The two players that go are then out of play for the next card to become active.
Now, there's a little more nuance to this than what I've described. And the number of different things that can be done with these moves can be overwhelming to new players. It's really hard to decide whether you should take the event, take a full move, or pass sometimes. This decision is compounded by the amount of asymmetry in some of these games. Looking at each faction in play you'll find asymmetry of methods, asymmetry of functions and especially the asymmetry of objectives. These are some of the most intricately designed games on the market.
But now Brian Train has gone and done something totally different with them. Not that all the others are just straight ahead variations on the same theme. Each one introduces and develops new concepts, with new designers and co-designers looking out for ways to bring something different to the table with each volume. But with Brian Train's Colonial Twilight, we now have a 2-player COIN game. (And this is something a lot of people that just can't get four wargamers together at once have begged for!)
Now, when I first heard that this was in the works I was skeptical. I really didn't think it could work! How Brian pulled it off is one of the more interesting things going on in game design right now. Get the full story on how he worked this out with an account straight from the designer himself on the Low Player Count podcast. It's a great show and you'll want to listen to the whole thing!