WARGAME WEDNESDAY: Ogre Scenario Book 3!
Wednesday , 17, May 2017
Tabletop Games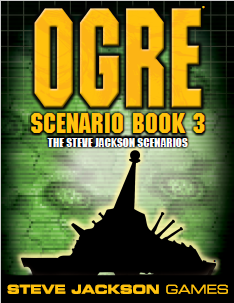 This is huge.
Nine scenarios for Ogre: Designer's Edition– most of which can also be played with Ogre Sixth Edition and Ogre Reinforcements— and all of them by the game's original designer: Steve Jackson!!!
Here's what's included:
GEV Escort — The classic "kill the CP scenario", but with G.E.V.s added to both sides.
Gauntlet — Uses city overlays to get an entirely different sort of Ogre scenario out of the classic crater-strewn mapsheet.
Dogpile — An Ogre Mark V gets shot up by a bunch of Light Artillery Drones on half an Ogre mapsheet.
Longview — The classic "kill the CP scenario" brought to the G.E.V. mapsheet… and with a laser tower replacing the CP.
Sidewinder — The classic "kill the CP scenario" on the original orange map… but with more craters, more ridges, and with two laser turrets replacing the CP.
Mini Breakthrough — The classic Breakthrough scenario from G.E.V. played on the "sideways" version of the original Ogre map.
RTS — An homage to Starcraft played on the G.E.V. and Shockwave maps! The cities become factories that kick out a stream of units. (!!)
Ogrelympics — Each player gets an Ogre and a defense force… and the person that exits their Ogre off the other side of the map first wins.
Mini Ceasefire Collapse — The classic Ceasefire Collapse scenario from G.E.V. played on the original Ogre map… and with Ogres on each side.
Note that I received this in PDF format via email as a Kickstarter reward. (Yeah, this is a stretch goal bonus promise that I had completely forgotten about.) I don't see it available on Warehouse 23, but keep a lookout for it!