WARGAME WEDNESDAY: Picasso and Wargames
Wednesday , 6, September 2017
Wargames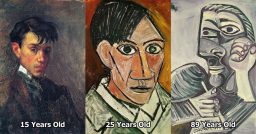 Around the beginning of the 20th Century there was a revolutionary painter entering the art world by the name of Pablo Picasso. His work is often studied on its own merit and looked at within the art world, but my favorite angle on his artwork is through the lens of the newest emerging art form and technology at the time: Photography.
Before the development of photography, which was just hitting the mainstream after half a century of development, painting was the primary way of recording a person or event: Portraits from a skilled and known master were and still are worth a great deal—beyond the enormous sentimental value to the elite who would commission the portraits! So what does art have to do with Wargames?
Photography made one of the primary and visible uses for painting absolutely obsolete as soon as it hit the mainstream. A portrait took hours and took a fair amount of money, while a camera took less than an hour and could be done by almost anyone—even at relatively new technician took considerably less practice than a portrait painter. Picasso was a major voice in the reaction to the new technology and his response was to do with his brushes what was impossible to do with these newfangled cameras: Abstraction. Up until that point, precise reflection of reality and especially evocation of a mood or flavor of reality was the goal of painting. Picasso played the maverick, with deliberately warped and twisted figures and scenes with strange colors. It wasn't entirely original: Artists had created these effects before such as the recent and wildly influential Vincent Van Gogh. Today, Wargaming and analog gaming in general is facing a similar reorganization and adaptation to digital platforms like Tabletopia.
"Wait a minute," I hear you saying, "Hasn't there been digital Wargaming since at least 2003 with the release of the VASSAL engine for Virtual Advanced Squad Leader?" Yes indeed. But unlike VASSAL, our Pablo Picasso, the evolution we are undergoing now is more akin to digital cameras instead of the first devices. Now, everyone has a camera. Now, anyone can swap over on Steam to play the games, board game cafes with digital tables are cropping up, and major platforms are buying in instead of launching cease-and-desists against their fans who enabled it as happened with VASSAL. Now, everyone's used to seeing classic games beyond Solitare on their phones, desktops, and other devices especially tablets.
We face an age when our hobby is adjusting, and many designers are taking previous works into new and exciting frontiers and substituting computer algorithms for dice in our hand. We've seen it with the storied Battletech coming soon to Steam and now Ogre. With these more mainstream titles pulling attention that way, this article was mainly designed to inspire some discussion: What are some classics that you'd like to see adapted to digital medium? What are some of the things that are lost with digital Wargaming communities instead of in shops or dining rooms?
-Zac