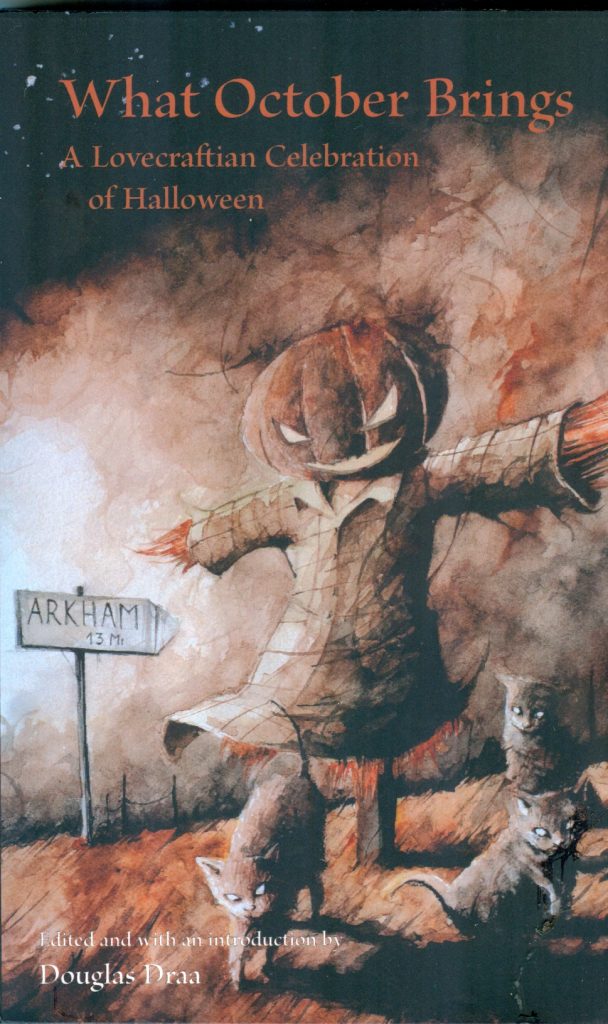 The days get shorter and cooler (if not colder) in October with the leaves turning colors and falling. These seasonal changes put me in the mood for reading horror fiction in the lead up to Halloween.
Last year I read Richard Laymon's The Traveling Vampire Show and Norman Partridge's Dark Harvest. I had issues with both novels on how the characters reacted. This year, I read the anthology What October Brings. The book is "A Lovecraftian Celebration of Halloween."
This is a trade paperback, 323 pages, $20.00, edited by Douglas Draa, published by Celaeno Press, 2018.
I have seen a few books by Celaeno Press listed over the past few years.
"Celaeno Press was founded by British author/editor Glynn Owen Barrass and American small-press publisher Edward Lipsett, with the goal of publishing horror anthologies and novels, and especially in helping new authors make themselves heard in a huge market."

"What October Brings celebrates the dark traditions of the autumn rituals, of Halloween and Samhain, in homage to the uniquely fascinating fiction of HP Lovecraft. Masters of the short story offer you a "once in a lifetime" Trick-or-Treat experience……perhaps your last experience!"
Contents:
Introduction (What October Brings) essay by Doug Draa
Hallowe'en in a Suburb by H. P. Lovecraft (poem)
Uncle's in the Treetops by Darrell Schweitzer
Down Into Silence by Storm Constantine
The War on Halloween by Cody Goodfellow
That Small, Furry, Sharp-Toothed Thing by Paul Dale Anderson
Waters Strangely Clear by Alan Baxter
The House on Jimtown Road by Ran Cartwright
Spider Wasp by Tim Curran
The Old Man Down the Road by Arinn Dembo
The Immortician by Andre E. Harewood
Nyarlahotep Came Down to Georgia by Nancy Holder
A Night for Masks by Brian M. Sammons
No Other God But Me by Adrian Cole
Inheritance by Ann K. Schwader
Hum—Hurt You. Hum—Hurt You. Hum—Hurt You. by John Shirley
Cosmic Cola by Lucy A. Snyder
Hell Among the Yearlings by Chet Williamson
Summer's End by Erica Ruppert
Tor published a book in 1991, Lovecraft's Legacy. I have it, don't remember hardly any of the stories in it. What October Brings reminds me of Lovecraft's Legacy. Both books attempt to update H. P. Lovecraft's ideas. The question is: Can you separate Lovecraft out of some of his ideas?
"Uncle's In the Treetops" by Darrell Schweitzer: Mythos cult in a small Pennsylvania town. Darrell should know that Armstrong County is the scariest county in the Commonwealth of Pennsylvania.
"Down Into Silence" by Storm Constantine: There are still strange doings in Innsmouth.
"The War on Halloween" by Cody Goodfellow: A fundamentalist Christian preacher has a haunted house of the eternal hellfire from sin. Nyarlahotep is involved.
"The Small, Furry, Sharp-Toothed Thing" by Paul Dale Anderson: Someone who studied the forbidden tomes at the Miskatonic Library is freaked when his kids want the very popular Brown Jenkin Halloween costume.
"Waters Strangely Clear" by Alan Baxter: A salesman's company has a business retreat and Halloween party in Innsmouth.
"The House on Jimtown Road" by Ran Cartwright: Things go wrong for teenagers out for Halloween hijinx with some in-breds on the outskirts of Innsmouth.
"Spider Wasp" by Tim Curran: Halloween festival in the Appalachians whose inhabitants worship a giant alien insect inside a mountain.
"The Old Man Down the Road" by Arinn Dembo: Two gay black guys from Harlem get pulled over by a red-necked sheriff in the early 1960s. Mind transfer by a rather ancient sorcerer into one of them.
"The Immortician" by Andre E. Harewood: Resurrection of a murder victim to solve the crime.
"Nyarlahotep Came Down to Georgia" by Nancy Holder: Nyarlahotep vs. Voodoo priest and priestess in New Orleans.
"A Night for Masks" by Brian M. Sammons: The King in Yellow while out trick or treating.
"No Other God But Me" by Adrian Cole: An attack on the south coast of Devon (England) by sea creatures directed by some ancient sea god.
"Inheritance" by Ann K. Schwader: When you return home after ten years and have the Innsmouth taint.
"Hum—Hurt You. Hum—Hurt You. Hum—Hurt You" by John Shirley: A fake house in a cull de sac houses some loud electric machinery. The grandson of Crawford Tillinghast of "From Beyond" arrives to make use of it on Halloween.
"Cosmic Cola" by Lucy A. Snyder: The family of a new vice-president for a soft drink company headquartered in Innsmouth moves there. The older step-daughter is one of 30 picked to attend an exclusive Halloween party held every 30 years.
"Hell Among the Yearlings" by Chet Williamson: A rivalry between two music students leads to the discovery and public rendition of some very disturbing music that has a profound effect on the audience.
"Summer's End" by Erica Ruppert: More rural worship, this time of Shub-Niggurath.
My favorite stories were by Chet Williamson, Adrian Cole, and Lucy Snyder. Williamson's story is not directly tied into the Lovecraft Mythos which is to its benefit. Adrian Cole's story is pulp style action horror. The ichor flies in this one. Lucy Snyder is a new author to me. She built up the dread nicely. Darrell Schweitzer's story is a competent Mythos flavored story with his own Great Old One. John Shirley's story is a fun sequel to "From Beyond." Innsmouth appears to be the current favorite Lovecraftian tie-in.
Next week, I will discuss what I like and dislike in horror and some of my favorites.