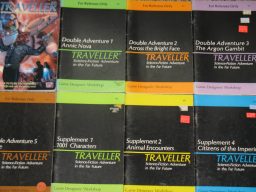 Classic Traveller's original three "little black books" are not broken. They are not incomplete, either. They have everything you need to experience countless hours of science fiction themed gaming.
And here's the thing: a lot stuff that has been tacked onto the game actually gets in the way actual play. It's tragic. Not that the later stuff wasn't neat. Like whoever came up with the idea to add another code to the world-profile to make it easy to gauge world populations with another level of resolution. That's kind of cool, right? And like… it's even cooler when somebody points out that the resulting population numbers are wrong because they don't follow the same logarithmic scaling that real distributions would follow…? How awesome is that?!
Well let me tell you: it's not awesome at all. It has nothing to do with what referees and players actually need to run a real game. 
If you're prepping to run a campaign without ever having refereed one before, it's liable to be absolutely terrifying. Which canonical campaign area should you use? Which alien modules will be in play? What if one player wants to play a bureaucrat and another wants to play a rock star and another wants to play a space pirate? How are you going to get the stellar generation rules in GURPS Space Fourth Edition consistent with the latest findings in astronomy? What will the players say when they notice that your distribution of stellar classifications is wrong?
All that stuff? It's stupid. I mean seriously, it's turned "not playing Traveller" into an art form. That's arguably harmless in and of itself, but seriously– it gets in the way of people buying a space game from getting play out of the products they laid down hard earned money for.
The truth is, the best introduction for a player into the Traveller universe is rolling up one of the original characters types: Navy, Army, Marine, Scout, Merchant, and Other. These are not just adventure-ready character types that fit nicely with everything else in the game. The stories of their careers imply a whole universe that absolutely doesn't need a whole lot of trivia and data to make it seem real.
How much space do they need in order to have a meaningful campaign…? One subsector is all it takes. And if it's set in a homebrew universe rather than one cobbled together from piles of "official" sourcebooks, then all of the finer points can be interpolated from the referees favorite science fiction stories. The best authors in science fiction history are way better at making this stuff than the people putting rpg supplements together.
What actually happens in real Traveller games?
The players discuss everything that's happened so far in the game.
They talk about all the bad things that they've come across and how best they can do what they want without gratuitously falling afoul of them.
They talk about all the opportunities they have to make some coin… and how to balance these rewards with the risks they take.
They pick their next stop based on this discussion… which has more to do with everything that's happened in the campaign than anything to do with the raw census data of the world codes.
Then they work the starship economics rules to pick up passengers and cargoes.
And when they arrive, they look for rumors and potential patrons.
Theoretically you could do this more than once in a session, but that's not typical. If a patron encounter develops into something closer to a full fledged adventure, that's going to take a session or two to play out by itself.
It doesn't take a whole lot of preparation to make this sort of thing work.
Or rather, it takes a very different type of preparation than what the vast majority of Traveller supplements provide.
If you've struggled to get the Traveller campaign of your dreams off the ground, then you really should look at ditching the dead weight of all those ponderous rules and add-ons. The original game is way more complete than it's given credit for. And the imaginations of the referee and the players are far better at filling in the blank spots than you might expect!
—
For more on this topic, check out the Classic Traveller discussion group!