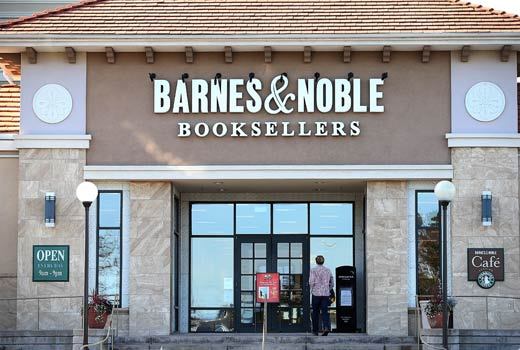 I stopped at the regional Barnes & Noble bookstore last week with some time to kill. I was surprised. The normally very well stocked remainder section had bare shelves. The Barnes & Noble bargain hardbacks seemed scarce.
A trip to the fiction section was also a surprise. The section with Barnes & Noble imprint paperback classics appeared as if it had not been restocked in a while. There was a fair amount of bare shelf space.
I had already noticed the science fiction anthology section had been cut down about 25% of what it used to be.  The shelves did seem to be filled in that section.
The death watch has been on for the last few years for Barnes & Noble. There has been a recent lawsuit by the last CEO. There have been five CEOs in five years.
A check at Market Watch has stock down 4.2% after downbeat earnings outlook and holiday sales. Stock is down -10.3% the past year, -3.78% the past three months, +9.84% the past month.
Third quarter sales in 2018 were down 6.1% compared with a year ago. Losses as of September 2018 were $17 million.
Sales have been decreasing for 11 years! 1,800 full time employees were laid off  11 months ago. Head cashiers, receiving managers, digital leads (Nook troubleshooters), newsstands leads, bargain leads were let go. This is why the shelves are looking the way they are now. Circuit City did the same thing on its downward spiral.
The company supposed also lost $1.3 billion on the Nook reading device. It closed 70 of 720 locations. There used to be a big, beautiful store in the Squirrel Hill district of Pittsburgh that is now gone.
Their woes have translated into opportunity for independent bookstores which had a 6% increase in 2017.
Articles have gone back and forth that Amazon is blame, Amazon is not to blame for all Barnes & Noble's woes.
I have read a big problem was getting away from selling books and getting into games and toys. The old do one or two things well instead of many things badly.
About two or three years ago, I read an online article on B&N's financial woes. A new CEO had just come in and said the emphasis was going to be on the community events. I knew that was a bad idea and obviously it was. Enticing people to hang out but not buy anything is a bad idea. Another brilliant idiot with a Masters of Business Administration degree.
I have to say I was elated when our store opened in summer 1994. I think I blew close to $100.00 the first time I sent in. B&N had those 100 Little… volumes. I bought a bunch of those that I am looking at on a shelf right now. It was an incredible inexpensive way to get pulp magazine story reprints.
I bought many history books reprinted by B&N– Morris' Age of Arthur, Henry Treece's history of the Crusades, Dinosaurs: A Global View. The list goes on and on.
I had the membership card one year. The "membership" did cost $20.00 for one year. You would have to spend $200 a year there just to break even, let alone see any cost savings. I do pick up a paperback now and then and bargain hardbacks from the remainder section. Amazon often does not have much in the way of discounts in mass market paperbacks.
I would hate to see Barnes & Noble go under. They did lay waste to local bookstores but not around here. I like having a place to stop by and pick up a book on the Spanish and Portuguese Crusades in North Africa or the most recent Baen anthology (if they have it).
I have seen bookstore chains come and go- B. Dalton Booksellers, Walden Books, Atlantic, Border's, Taylor's. I loved Border's. If B&N goes under, some other corporation might fill the void but somehow, I have the feeling those days are over.