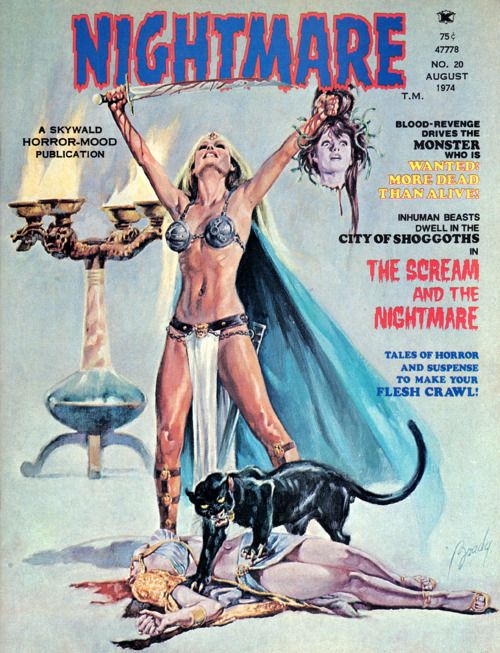 "My own politics are on the progressive side and they influence my writing. My concerns when writing a Cthulhu novel weren't whether or not I should shun HPL's creations: I don't think that at all since if I'm going to do that then the literature of the past 2000 years is going to be a problem. Everything from the works of Aristotle to Edgar Rice Burroughs were written by people who did not share my opinions or values." — C. T. Phipps
Josephine Livingston has a piece on Cultural Criticism up over at New Republic. The most remarkable thing about it is that she writes without even for a moment acknowledging the de facto hegemony her school of thinking has maintained for nearly eighty years. In her view, it's just as urgent as it ever was for culture critics to get out there and do whatever it is that culture critics do. She is anything if not indefatigable.
What follows is my response to her key points. Note that everything I say here amounts to little more than a paraphrase of things that J. R. R. Tolkien and C. S. Lewis have said elsewhere. All of this stuff strikes me as being patently obvious, but even the supposed opponents to culture critics reflexively concede to them when they don't have to. Here then is another perspective on things.
We know that the arts are unkillable.
Baloney. Culture critics routinely destroy whatever field they enter. Fantasy. Science fiction. Comics. Broadway musicals. Of course, whoever wrote that sentence believes that art is synonymous with subversion and corruption. Saying something like that is unkillable is like saying the impulse to commit adultery is unkillable. Way to keep the dream alive, you dogged and relentless son of a gun!!!
Escapism or ecstasy suggests an abnegation of thought: It renders the critic totally useless.
Escape requires imagination, ingenuity, and risk. If you were chained up in Plato's cave, what would it take to even want to get out…? It would take some extraordinarily creative thinking, that's what.
While Plato is required reading and bound to be familiar to everyone, this contempt for ecstasy is displayed here is going to be harder to unpack. I'm a hopeless romantic that's been exposed to A. Merritt, Robert E. Howard, and C. L. Moore and I have to say… ecstasy is not just a feeling, though it is thrilling. In the context of the arts it consists of a thrill so powerful, it actually puts you in touch which something utterly transcendent. Christians are humbled by these sorts of experiences, and naturally respond with a sort of reverence as one would give to Bach or Beethoven. Progressives will respond to these things with resentment and contempt. The important thing to them is not the emotional response one has to the Moonlight Sonata or to Frédéric Chopin's Prelude in E-Minor. That can't relate to it, so they'll just start talking about something else entirely, like how many colonials were exploited to produce these masterworks. How many 16th century transsexuals were passed over in the formation of the canon. And so on.
The progressives' hatred for escapism and ecstasy does make sense. Jailers naturally hate escapism. And people creating a fake religion do not want their marks getting in contact with the real thing.
In this aesthetic space, the arts explore a less confined politics than the one that controls the state.
Jasyn Jones likens his exposure to the pulps as being like going from seeing paintings done in black and white to seeing them in color. This passage here is the reason why this is. What do you have left when escapism and ecstasy are forbidden to the point where they cannot even be imagined anymore…? You have an art which is reduced to politics: propaganda and nothing more.
The radical potential of aesthetic negotiation relies, I think, on total freedom. Decoupled from government politics, cultural politics knows no bounds.
This is hipster speak for "the personal is the political." What it means is, that the exact sort of mentality that laid waste to the arts can be brought to bear on any aspect of life. Every institution, every business, even every personal relationship can "benefit" from this critique.
Cultural criticism is not self-indulgent: It is a service to the community…. Every piece of cultural criticism is manufactured by human community and then offered back to that community as a gesture of thanks. The critical space is ours—yours and mine.
This whole section is bunk. It's a good example of the kind of stupid stuff you have to say if you've declared war on escape and ecstasy. Because notice how even the rhythms of an essay overrule the ideals of this sort of "critic." Inexorably, every sentence and paragraph must culminate into an emotional response. To make it truly inspiring, you have to point to something beyond the individual, beyond the times, beyond even the politics. Thus you get this weird fetishization of "the community."
It's a piss-poor substitute for the thing these people are trying to subvert. And these people are so stupid, they don't realize that they too are in the business of offering escape and ecstasy.