Following comic books in the mid-eighties was tough for a kid. You had the choice between picking up slightly bent up copies from gas station spinner racks or else dropping a chunk of allowance money upfront so that the mailman could mangle them month to month. (And yeah, this was hard to bear either way, as everyone seemed to think comics were some sort of junk bond that would surely be worth big bucks some day.) I tended to opt for whatever looked good in the quarter boxes and ended stumbling upon some of Kirby's weirder stuff that way without really having any idea what it was. The most current material I tended to get into was stuff that was two or three years old.
The thing that was most troubling for me was that I always had the sense that I was coming into the middle of a very big story. Having more than two or three issues in a row was kind of a big deal, but at the time, getting the whole story was flat out impossible. Without Ebay, Amazon, or a healthy set of the phone book sized "Marvel Essentials" reprints, a guy like me just had to make do. The idea of reading a coherent series of twenty-five issues all at once? Impossible!
But then Marvel announced they were going to do a new universe. I was thrilled. Though I plotted out how I might scrounge up enough cash to subscribe to all eight titles at once, I ended up having to brave the gas stations for them instead. In a matter of months, they gradually disappeared from the racks altogether, and I never heard anything about the line again until I saw something about a world war type story-line that was going to finally put the whole thing under.
Something clearly went wrong, but what…? Ron Edwards has his take on this over at Dr. Xaos Comics Madness:
It had no Swing. The characters did not engage in the social, political, pop culture, family, and sexual scenes that the readers themselves knew intimately, and in which the characters experienced familiar ups and downs.
It had no Zap. There was no implied, desired, idealized, or feared meaning to the cosmology and psychology of events, especially which subverted establishment meaing, and especially one which was directed toward the experience of the readers.
It had no Scream. There was no raw human alienation and trauma, especially that which arose directly from ordinary existence no matter how fantastic its immediate fictional vehicle might be.
Not being familiar with the sixties era comics that the new line was somehow supposed to invoke, this sort of critique would have been completely lost on me at the time. But the big innovation I remember being trumpeted at the launch was that, if someone picked up a building, there would be sewage pipes underneath it. Some kind of realism was what people supposedly wanted at the time. Nobody ever picked up any buildings, though.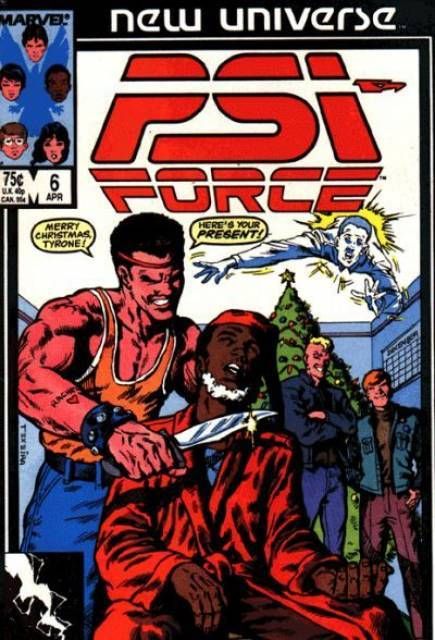 But Marvel was oddly hung up on that sort of thing. I remember Spitfire and the Troubleshooters bent over backwards to make time move forward at the same rate as the real world. Rather than fight super-powered foes, characters from Psi-Force would end up facing completely mundane problems on the covers of their book. And on Starbrand the creators seemed to think that making the one guy in this setting that could fly around have to take time to fret about maps and navigation somehow added a great deal to the superhero idiom.
It didn't.
While celebrating the birth of the Marvel Universe by creating a competitor for it was perhaps a fundamentally flawed idea in and of itself, the thing that was supposedly going to make it all so much better sure didn't add a whole lot to the appeal. More "realistic" superheroes turned out to be kind of boring, actually. Still, if pre-teen me could have had a complete run of the whole thing, I would have still been ecstatic.