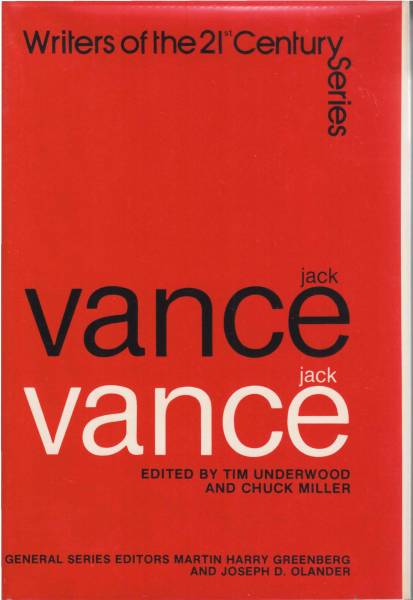 I enjoy non-fiction about fiction. A good essay about an author will get me to check them out. One that made me want to read the author was Jack Vance. It is a collection of essays from Taplinger's Writers of the 21st Century.
There were seven books in the series from 1977 to 1983: Arthur C. Clarke, Isaac Asimov, Robert A. Heinlein, Ray Bradbury, Ursula K. LeGuin, Jack Vance, and Philip K. Dick.
My top three science fiction writers are Poul Anderson, H. Beam Piper, and Jack Vance. In the case of Vance, that was not always so. I had attempted to read I either "The Dragon Masters" or "The Last Castle" in The Hugo Winners: Volumes 1 and 2. I was just not ready for Vance at that age. A little later, I got the Timescape edition of The Dying Earth. I was heavily into Clark Ashton Smith. The Dying Earth did little for me (I know).
I picked up Jack Vance and read the essays. That spurred my interest to read Vance. One essay covered Vance's early fiction and by chance, the library had the collection The Dark Side of the Moon Underwood-Miller, 1986). That collection is heavily weighed toward early Jack Vance. That primed the pump. Before you know it, I was driving to all the used bookstores looking for Jack Vance paperbacks. I read somewhere around 15 Jack Vance novels and collections in a two to three-month period.
The book is a trade paperback, 252 pages, published in 1980. Editors: Chuck Miller and Tim Underwood.
Contents:
Introduction                                                                                      Tim Underwood
Jack Vance and "The Dragon Masters"                                      Norman Spinrad
Jack Vance – The World Thinker                                                   Arthur Jean Cox
The Double Shadow: The Influence of Clark Ashton Smith           Don Herron
Tschai: Four Planets of Adventure                                                    Mark Willard
"The Eyes of the Overworld" and "The Dying Earth"            Robert Silverberg
Jack Vance's "General Culture" Novels: A Synoptic Story          Terry Dowling
Jack Vance: Science Fiction Stylist                                             Richard Tiedman
Concerning Jack Vance: An Afterword                                          Poul Anderson
Jack Vance: A Bibliography                                                         Marshall B. Tymn
I should track down a copy and reread it. I am thinking of getting the Philip K. Dick volume. Dick is a classic post-war science fiction writer that I just have not been able to get into. If that volume is as good as the Jack Vance book, it might get in the mood to read Philip K. Dick.
A few years later, I got to know Don Herron very well. I also saw Chuck Miller year after year at Pulp-Con. I bought many a book from him. I remember the story told to me that Chuck had long hair back in the 70s and L. Sprague de Camp's wife, Catherine was amazed by his business acumen despite his appearance.
There are other great non-fiction essay collections on writers. My favorite is still probably Don Herron's The Dark Barbarian which is about Robert E. Howard. I have great fondness for L. Sprague de Camp's The Blade of Conan and The Spell of Conan. It is not easy to put together a book of non-essays on an author that will interest someone unfamiliar with the subject. Dry, turgid academic wankery is not going to bring in new readers.