Because the Night
Sunday , 17, January 2021
Fiction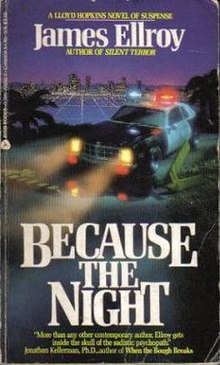 Because the Night is the second in James Ellroy's Detective Lloyd Hopkins trilogy. The Mysterious Press hardback from December 1984, the Avon paperback from October 1986. Ellroy had read Thomas Harris' Red Dragon (1981) and "realized it was a far superior book." Ellroy "wanted another shot at making Sergeant Lloyd Hopkins as great a character as Thomas Harris's Will Graham."
The novel starts with a liquor store hold-up that goes bad when the hold-up man executes three people with an old .41 caliber black powder pistol. Lloyd Hopkins is called in on the case. At the same time, he is assigned to investigate the disappearance of an undercover cop, "Jungle Jack" Herzog.
The cases are connected it turns out. Psychiatrist Dr. John Havilland "the Night Tripper" uses drugs and mind-control into criminals. Throw in an impossibly beautiful prostitute who wants to leave "The Life" by therapy from Dr. Havilland for the romance aspect. She becomes involved with Lloyd Hopkins.
There are a couple shoot outs in the novel. Havilland's criminal pawn, Thomas Goff is the main focus for about 60% of the novel and then Ellroy makes a switch when he introduces a new character. I wasn't crazy about that.
The novel moves along. There is some déjà vu with a not-clean ending like Blood on the Moon. Hopkins loses Linda the hooker at the end just like he did with the girl in Blood on the Moon. Dr. Havilland might have been Ellroy's attempt to do a Hannibal Lecter. Havilland is creepy in some ways but not on the level of Dr. Lecter. I thought the serial killer in Blood on the Moon was a better character.
Don Herron told me that writer Charles Willeford (Miami Blues) recommended the Lloyd Hopkins trilogy to him.
I did not know when I wrote about Blood on the Moon that it had been made into a movie in 1988 as Cop starring James Woods.
One more Lloyd Hopkins novel to go. Stay tuned.