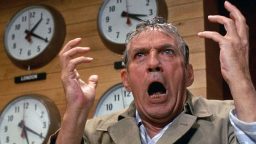 There's bit of a push right now for some of us to moderate our tone. The fear is that we're going drive away potential readers… at the very time when this blog is having it's best month ever in terms of traffic. The concern is that we might lose our rep for being builders… at the very moment when G+ is implementing throttling technology to push links to Castalia House blog away from outsiders that have never read anything like what we do here. The accusation is that we are creating a revisionist history… by people that are unable or unwilling to discuss the things we delve into in public.
You have no idea how this affects us, really. I mean… it just registers as pleas for mercy. The really rabid pulp revolutionary types…? It makes them feel like Confederate troops under Stonewall Jackson at the Battle of Chancellorsville. Seriously, if you want to moderate us, the only way you're going to manage that is by writing reviews of the things you like. Or coming up with your own critical frame. Or doing the sort of tedious research that guys like Nathan Housley seem to dive into for fun. I mean you act like we're not the people that hosted H. P.'s piece on Have Spacesuit Will Travel or Misha Burnett's Appendix X series. And you know Castalia House publishes a whole line of Heinleinesque juveniles, right…?
Anyway, given the number of critics we have that are rightly afraid to engage us in conversation much less debate, I'm going to take a look at the best competing frame on the market from before the time when Castalia House took off. It's the one by Eric S. Raymond… and if you don't know who that is, well… suffice it to say the man is a giant in the computer programming world. He's also one of those people that seems to actually think before he writes and that is open to changing his opinion in response to new information. A very cool guy. And I say all that not just because I'm about to lay into him here. But yeah… I'm about to lay into him. And the reason I'm doing it is because of the number of people that have loudly and disingenuously claimed that the stuff I write about isn't obscure. Au contraire… just look at the conversation and how much it's changed.
So here we go!
The history of modern SF is one of five attempted revolutions — one success and four enriching failures. I'm going to offer you a look at them from an unusual angle, a political one. This turns out to be useful perspective because more of the history of SF than one might expect is intertwined with political questions, and SF had an important role in giving birth to at least one distinct political ideology that is alive and important today.

The first and greatest of the revolutions came out of the minds of John Wood Campbell and Robert Heinlein, the editor and the author who invented modern science fiction. The pivotal year was 1937, when John Campbell took over the editorship of Astounding Science Fiction. He published Robert Heinlein's first story a little over a year later.
A big fat nope here. The Pulp Revolution predates that Campbellian one. The publication of A Princess of Mars changed everything. Y0u cannot underestimate the extent to which Edgar Rice Burroughs shook things up. Ray Bradbury called him the most influential author in the entire history of the world. And Ray Bradbury knew what the hell he was talking about. Everybody else…? They deal with the inconvenient fact of this man's career by redefining their terms in order to write him out of history. It's tacky to say the least.
Pre-Campbellian science fiction had bubbled up from the American pulp magazines of the 1910s and 1920s, inspired by pioneers like Jules Verne and H.G. Wells and promoted by the indefatigable Hugo Gernsback (who had a better claim than anyone else to have invented the genre as a genre, and consequently got SF's equivalent of the Oscar named after him). Early "scientifiction" mostly recycled an endless series of cardboard cliches: mad scientists, lost races, menacing bug-eyed monsters, coruscating death rays, and screaming blondes in brass underwear. With a very few exceptions (like E.E. "Doc" Smith's Skylark of Space and sequels) the stuff was teeth-jarringly bad; unless you have a specialist interest in the history of the genre I don't recommend seeking it out.
You want to know why nobody paid attention to the pulps before Castalia House blog got rolling…? Because of outright lies like this.
You can tell Raymond has no idea of what he's talking about when he deploys the phrase "screaming blondes". He's taking a stereotype from nineteen-fifties B-movies and then assuming he can extrapolate backwards from it. In his ignorance, he superimposes his assumptions on a diverse range of authors that he knows nothing about. People in the Weird Tales scene of course comprehend the fact that H. P. Lovecraft wrote science fiction in this time period. They thought I was stupid when I acted like this was some kind of revelation. But people like Eric S. Raymond have no idea.
John Campbell had been one of the leading writers of space opera from 1930, second only to E.E. "Doc" Smith in inventiveness. When he took over Astounding, he did so with a vision: one that demanded higher standards of both scientific plausibility and story-crafting skill than the field had ever seen before. He discovered and trained a group of young writers who would dominate the field for most of the next fifty years. Robert Heinlein, Isaac Asimov, Arthur C. Clarke, Poul Anderson, and Hal Clement were among them.

Heinlein was the first of Campbell's discoveries and, in the end, the greatest. It was Heinlein who introduced into SF the technique of description by indirection — the art of describing his future worlds not through lumps of exposition but by presenting it through the eyes of his characters, subtly leading the reader to fill in by deduction large swathes of background that a lesser author would have drawn in detail.

(Many accounts have it that Heinlein invented SFnal exposition by indirection, but credit for that innovation may be due to none other than Rudyard Kipling, whose 1912 story With The Night Mail anticipated the style and expository mechanics of Campbellian hard science fiction fourteen years before Hugo Gernsback's invention of the "scientifiction" genre and twenty-seven years before Heinlein's first publication. Heinlein professed high regard for Kipling all his life and included tributes to Kipling in several of his works; it is possible, even probable, that he saw himself as Kipling's literary successor.)
This is just flat wrong. Not the part about the coup and the domination of the field. Yeah, that happened. In fact… you're watching it happen again right now.
This rest is just pure narrative. The authors in Campbell's stable were collectively inferior to the ones they displaced. The only way that you can push this line is by redefining science fiction such that the good stuff didn't count anymore. For most people, this is all they've ever heard– so when they sit down to read the old pulp science fiction from the twenties and thirties, they are shocked by how much science is in them and how thrilling the stories are.
There's no nice way to put it: you've been lied to.
From World War II into the 1950s Campbell's writers — many working scientists and engineers who knew leading-edge technology from the inside — created the Golden Age of science fiction. Other SF pulpzines competing with Astounding raised their standards and new ones were founded. The field took the form of an extended conversation, a kind of proto-futurology worked out through stories that often implicitly commented on each other.

While space operas and easy adventure stories continued to be written, the center of the Campbellian revolution was "hard SF", a form that made particularly stringent demands on both author and reader. Hard SF demanded that the science be consistent both internally and with known science about the real world, permitting only a bare minimum of McGuffins like faster-than-light star drives. Hard SF stories could be, and were, mercilessly slammed because the author had calculated an orbit or gotten a detail of physics or biology wrong. Readers, on the other hand, needed to be scientifically literate to appreciate the full beauty of what the authors were doing.

There was also a political aura that went with the hard-SF style, one exemplified by Campbell and right-hand man Robert Heinlein. That tradition was of ornery and insistant individualism, veneration of the competent man, an instinctive distrust of coercive social engineering and a rock-ribbed objectivism that that valued knowing how things work and treated all political ideologizing with suspicion. Exceptions like Asimov's Foundation novels only threw the implicit politics of most other Campbellian SF into sharper relief.

At the time, this very American position was generally thought of by both allies and opponents as a conservative or right-wing one. But the SF community's version was never conservative in the strict sense of venerating past social norms — how could it be, when SF literature cheerfully contemplated radical changes in social arrangements and even human nature itself? SF's insistent individualism also led it to reject racism and feature strong female characters decades before the rise of political correctness ritualized these behaviors in other forms of art.
Okay, you know I try to steer Castalia House blog away from politics. But let's talk about this. The Hard SF that Raymond is talking about here was part of a larger culture war against the previous science fiction authors that were (on balance) unselfconsciously Western, Christian, and American in their outlook. Everything that we complain about ruining science fiction today came in right alongside Campbell's efforts.
This, by the way, is the root cause of why people are upset with the sort of literary criticism we do here at Castalia House. They see that an essentially Christian frame is persuasive, exciting, provacative, and effective… but they've been programmed to think that the right thing for Christians to do is simply stand aside and concede ground generation after generation in the culture wars. Far from driving people away, it grows readership like nothing else. In your head you think this is a losing strategy. But compare C. S. Lewis's Amazon rankings to the sort of thing we're supposed to like. There really is no doubt about this. We had a winning hand all this time.
Nevertheless, some writers found the confines of the field too narrow, or rejected Campbellian orthodoxy for other reasons. The first revolt against hard SF came in the early 1950s from a group of young writers centered around Frederik Pohl and the Futurians fan club in New York. The Futurians invented a kind of SF in which science was not at the center, and the transformative change motivating the story was not technological but political or social. Much of their output was sharply satirical in tone, and tended to de-emphasize individual heroism. The Futurian masterpiece was the Frederik Pohl/Cyril Kornbluth collaboration The Space Merchants (1956).

The Futurian revolt was political as well as aesthetic. Not until the late 1970s did any the participants admit that many of the key Futurians had histories as ideological Communists or fellow travellers, and that fact remained relatively unknown in the field well into the 1990s. As with later revolts against the Campbellian tradition, part of the motivation was a desire to escape the "conservative" politics that went with that tradition. While the Futurians' work was well understood at the time to be a poke at the consumer capitalism and smugness of the postwar years, only in retrospect is it clear how much they owed to the Frankfurt school of Marxist critical theory.

But the Futurian revolt was half-hearted, semi-covert, and easily absorbed by the Campbellian mainstream of the SF field; by the mid-1960s, sociological extrapolation had become a standard part of the toolkit even for the old-school Golden Agers, and it never challenged the centrality of hard SF. The Futurians' Marxist underpinnings lay buried and undiscussed for decades after the fact.
Well it's obvious those guys were Communists in retrospect, isn't it? But here's the thing: it's only obvious when they're compared to the pre-Campbellian authors. You know… the same authors that are arbitrarily erased with Raymond's critical frame.
Another reason why these guys could come in and have a field day is of course the attempt to divorce fantasy from science fiction. Fantasy would maintain its more or less Christian ethos for decades after this, but cut off from its roots as it was, hard SF was easily subverted– to the point where the field became synonymous with subversion. And of course, your rank and file Christian sf fan of today will celebrate these guys and then pat himself on the back for his ability to read around the naked progressivism of the works. Here's the good news nobody is talking about: science fiction doesn't have to be like that. Even better, it was just plain awesome this sort of thing came into the picture.
Perception of Campbellian SF as a "right-wing" phenomenon lingered, however, and helped motivate the next revolt in the mid-1960s, around the time I started reading the stuff. The field was in bad shape then, though I lacked the perspective to see so at the time. The death of the pulp-zines in the 1950s had pretty much killed off the SF short-fiction market, and the post-Star-Wars boom that would make SF the second most successful fiction genre after romances was still a decade in the future.

The early Golden Agers were hitting the thirty-year mark in their writing careers, and although some would find a second wind in later decades many were beginning to get a bit stale. Heinlein reached his peak as a writer with 1967's The Moon Is A Harsh Mistress and, plagued by health problems, began a long decline.

These objective problems combined with, or perhaps led to, an insurgency within the field — the "New Wave", an attempt to import the techniques and imagery of literary fiction into SF. As with that of the Futurians, the New Wave was both a stylistic revolt and a political one.
Okay, look. This whole "left wing / right wing" dichotomy is absolutely deceptive. All it does is break people down into two groups: Marxists… and people that concede ground to Marxists. Using that terminology more or less makes resistance unthinkable. It's a nice trick.
What's going on here is that Campbellian SF is limited. It's so limited, it limits the market for science fiction. Also… it removes things from the genre that people still crave. So it sets up its own pushback and the pushback comes in strong within a generation.
Now… the thing that most struck me about the New Wave is just how over the top they were in their war on truth, goodness, honor, strength, and everything else. They were in all out war with the remnants of Christian culture that remained in the wider society and would do anything they could to push it out. However… if you look at the work that Nathan Housley and Misha Burnett have been doing… it's clear that the New Wave was also a second Pulp Revolution. And this makes sense, really. Because New Wave books were right alongside classic pulp when it came to the list of most influential books in the genesis of role-playing games. The stuff that was more or less irrelevant from a gaming standpoint…? That would be all the big time Campbellian authors that we're supposed to revere.
News flash: we don't.
The New Wave's inventors (notably Michael Moorcock, J.G. Ballard and Brian Aldiss) were British socialists and Marxists who rejected individualism, linear exposition, happy endings, scientific rigor and the U.S.'s cultural hegemony over the SF field in one fell swoop. The New Wave's later American exponents were strongly associated with the New Left and opposition to the Vietnam War, leading to some rancorous public disputes in which politics was tangled together with definitional questions about the nature of SF and the direction of the field.

But the New Wave, after 1965, was not so easily dismissed or assimilated as the Futurians had been. Amidst a great deal of self-indulgent crap and drug-fueled psychedelizing, there shone a few jewels — Brian Aldiss's Hothouse stories (1961, retrospectively recruited into the post-1965 New Wave by their author) Langdon Jones's The Great Clock (1966), Phillip José Farmer's Riders of the Purple Wage (1967), Harlan Ellison's I Have No Mouth And I Must Scream (1967), and Fritz Leiber's One Station of the Way (1968) stand out as examples.

As with the Futurians, the larger SF field rapidly absorbed some New Wave techniques and concerns. Notably, the New Wavers broke the SF taboo on writing about sex in any but the most cryptically coded ways, a stricture previously so rigid that only Heinlein himself had had the stature to really break it, in Stranger In A Strange Land (1961) — a book that helped shape the hippie counterculture of the later 1960s.

But the New Wave also exacerbated long-standing critical arguments about the nature of science fiction itself, and briefly threatened to displace hard SF from the center of the field. Brian Aldiss's 1969 dismissal of space exploration as "an old-fashioned diversion conducted with infertile phallic symbols" was typical New Wave rhetoric, and looked like it might have some legs at the time.
Okay, finally something I can agree with here: there are jewels in every age of science fiction. And to the people that keep telling me that Appendix N is just a list of books that Gygax liked: notice the overlap between "Gary's list" and Raymond's jewels here. Half of those authors are Appendix N… the other was a major inspiration to the Gamma World game. That's not an accident.
Now… as to the rest of Raymond's essay, it's boring. In the first place, science fiction and fantasy after nineteen-eighty is boring in and of itself. In the second… his commentary basically boils down to just saying "I like libertarianism and hard sf and the only time something awesome happens is when those two things get together." And that's cool. Everybody's got their own opinions and they can knock themselves out talking about it. It doesn't bother me at all. But again, the critical frame he takes for granted arbitrarily assumes that about one third of science fiction's history never happened.
The only thing that poses a threat to his claims…? Why, conveniently enough it's all disqualified from being taken seriously even for a moment. That's stupid. Petty. Arrogant. Disingenuous. Ugly. Small. Obnoxious. Ignorant.
You want us to stand down. You want the pulp revolutionaries to dial it back. But sorry… it's just not going to happen. When they realize the extent they've been lied to… when they realize just how much we've lost as a consequence of these kinds of shenanigans, they get mad as hell.
You're not going to stop them.