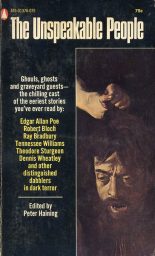 The 1970s continued the same pattern set in the late 1960s with anthologies that were not Weird Tales centric but did reprint a few stories per book.
Peter Haining was possibly the greatest English anthologist of horror and weird fiction. He got his start in the late 1960s with The Hall of Mirrors (Four Square Books, 1965) that had no Weird Tales reprints. Beyond the Curtain of Dark (Four Square Books, 1966) included Robert Bloch's "Lizzie Borden Took an Axe" (Weird Tales, Nov. 1946) and "Return to the Sabbath" (WT, 1938). Ray Bradbury from Weird Tales and August Derleth writing as H. P. Lovecraft post-Weird Tales x 2 were included.
Dr. Caligari's Black Book (W. H. Allen, 1968) included Bradbury, Bloch, Derleth, and H. P. Lovecraft rewriting Hazel Heald ("The Horror in the Museum"). Legends for the Dark (New English Library, 1968) had four out of ten stories from Weird Tales by Bradbury, Bloch, Lovecraft, and August Derleth.
The Evil People (Leslie Frewin, 1968) had the usual suspects in Robert Bloch and August Derleth and also very early Arthur J. Burks. A shrunken version of this book was reprinted by Popular Library in the U.S.
The Midnight People (Leskue Frewin, 1968) is vampire themed book continues the pattern of a few reprints from Weird Tales by including two by August Derleth.
The Unspeakable People (Popular Library, 1969) has Lovecraft, Clifford M. Eddy (+ Lovecraft), George Fielding Elliot, Robert Bloch's first story in Weird Tales, Henry Kuttner's first story in Weird Tales, and Theodore Sturgeon's "Bianca's Hands." So, this paperback is rich in Weird Tales' reprints.
There are other Haining anthologies including The Satanists, The Freak Show, The Ghouls, Nightfrights, and The Hollywood Nightmare which the now familiar pattern of including two stories from Lovecraft, Derleth, Bloch, and Bradbury.
The Fantastic Pulps (1975) is possibly the first attempt at some sort of survey anthology of the pulp magazines. The book is a big 419 pages including Max Brand, A. Merritt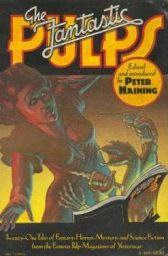 , Edgar Rice Burroughs, and Dashiell Hammett. There are five Weird Tales stories including Lovecraft rewriting William Lumley, C. L. Moore, Seabury Quinn, Robert Bloch, and Ray Bradbury. This is a great anthology to own. For some reason, it seemed many libraries had the St. Martin's hardback. I have picked up more than one copy at library book sales.
The crown jewels anthology by Peter Haining is Weird Tales (Neville Spearman, 1976). It is 264 pages of facsimile pages. Twenty two stories and a bunch of poems plus artwork. The book is weighed more in favor of 1940s contents but you still get Howard, Lovecraft, Smith, Bloch, Leiber, Wellman, Kuttner, Derleth, Hamilton, Quinn, Bradbury, Sturgeon, Counselman. You get the idea. This was the most comprehensive Weird Tales anthology published to date. It is in the top five books in this series. I can't recommend this book enough if you want an idea of the fiction that ran in Weird Tales. I had to wait for the 1990 reprint by Carroll & Graf though I had read about this tome years before.
I did a post on Haining's The Barbarian Swordsmen (1981) last year. It is one of the best surveys of early sword and sorcery fiction ever done. Five of the stories are from Weird Tales by Robert E. Howard x 2, C. L. Moore, Clifford Ball, and Henry Kuttner.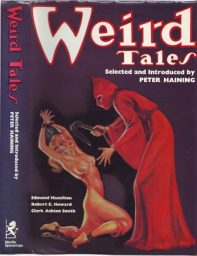 Haining included two stories from Weird Tales in Vampire (Target, 1985) by Frank Owen and Robert E. Howard ("The Horror From the Mound"). Zombie (Target, 1985) has Henry S. Whitehead, Thorp McClusky, and August Derleth & Mark Schorer. Tune in for Fear (William Kimber, 1985), The Ghost Ship (William Kimber, 1985), Supernatural Sleuths (William Kimber, 1986), The Mummy (1988), The Frankenstein Omnibus (1994), The Vampire (1995), The Vampire Hunter's Casebook (1996), The Wizard's Den (2001) all include one reprint, sometimes two.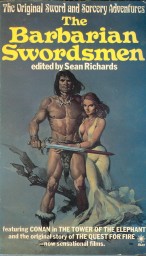 So Peter Haining while not loading down his anthologies with Weird Tales consistently found room for at least one story. He had his favorites including Lovecraft, Derleth, Bloch, and Bradbury.
The three most important books are The Fantastic Pulps, Weird Tales, and The Barbarian Swordsmen.
Mike Ashley is another U.K. anthologist with more of a science fiction orientation. He did produce Weird Legacies (Star, 1977). The book is 157 pages consisting of nine stories and an essay by Robert Bloch. Contents include a "Solomon Kane" story by Robert E. Howard, Edmond Hamilton, Mary Elizabeth Counselman, Derleth & Lovecraft, Bloch & Kuttner, Ray Bradbury. There are two reprints from the 1970s incarnation of the magazine including one of Lin Carter's completions of Clark Ashton Smith.
The book is not earth shattering in contents but one of those little paperbacks that once existed that could open up new worlds to new readers.