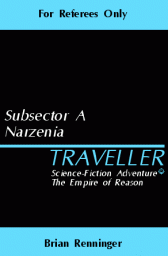 In two posts I've outlined my Classic Traveller setting: first by rolling up an entirely random subsector and secondly by musing on the nature of one of the polities with a focus on its capital and its location within the polity it leads. The capital of the Empire of Reason is the Ladfaus system which is paradoxically separated from the rest of the empire by two parsecs instead of the more usual one. In fact Ladfaus is not only isolated from its own civilization but, it is also the most isolated system in the subsector. No other system in the subsector has no neighbor within a parsec. Yet, through the miracle of random chance it is connected by a Space Lane to the rest of the Empire. And, in reading Traveller Book 1 from 1977 a Space Lane is a mapped path. Book 2 says that the Generate Program can by used to create a flight plan between systems but, if a Generate Program is unavailable that flight plans can be purchased (in single use self-erasing cassettes) from starports. And, since a generate program costs 800,000 credits and prepurchased cassettes cost 10,000 per jump number, well, it may be awhile before generating your own flight plans looks cost effective. It also means starting players, even if they have a ship are likely confined to the Space Lanes — at least starting out.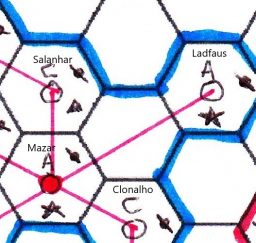 One of my players, playing a merchant, did roll a ship! The Chen's Chance, a freetrader with the home port of Ladfaus: 82 tons cargo; 6 available staterooms and 20 low berths. The player rolled the freetrader twice on the mustering out tables so the ship starts with only a twenty year mortgage rather than a thirty year mortgage. And Captain Chen has gone in partners with another NPC merchant who rolled a ship, Poul der Löwe, which makes it a ten year mortgage. Only 120 payments go. But, what payments they are: 154,500 credits per month required rain or shine, solar flare or meteor shower. How will he pull that off? Let's take look at the economics of a freetrader.
The basic costs of running a freetrader include: fuel, if refined 15,000 per jump; crew salaries, assuming all positions paid, 15,000 per month; life support for staterooms of 20,000 per jump; and life support for low passage of 100 per passenger; plus those jump cassettes of 10,000 per. Possible revenues are: 10,000 per high passage; 8,000 per middle passage; and 1,000 per low passage; and 1,000 per ton cargo haul. There is also the possibility of speculative trading that may more may not earn revenue. The lucrative mail contracts are not generally available to freetraders. Jumps take one week to complete so assuming hauls a load per week and full passengers (two high passengers per stateroom and all low berths full) and full cargo it looks like a freetrader can pull in a profit of 530,500 credits per month. Not bad. Those merchants are sitting pretty. Or are they?
Lasfaus is is a two jumps from everywhere so can a freetrader even trade out of Ladfaus? I ruled they could assuming they carry an extra 30 tons of fuel in collapsible tanks (1 ton) in the hold. The first jump is into deep space, then transfer fuel and jump again. It's two weeks of jump time into Mazar.  But, still, the planets available from Mazar are 1 jump away so Finn's Chance can get two more jumps in before a payment is due. Even with reduced cargo (52 tons available space) on the first jump that clears 324,500 a month, right?
Well, no, that's not right. Those assume no time to deliver, find and load cargo. A more realistic assumption is a week to arrive in system find and load cargo and then a week of jump time which results in at most two deliveries a month. If a freetrader can do two full loads of cargo and passengers per month, they can clear 180,500. Still, more than a payments-worth of profit. Not bad. But, out of Ladfaus how does this work? One week to deliver, find and load cargo, two weeks jump time, then another week to find and load cargo. Finn's Chance will only get one delivery the first month. Not good. It puts the ship 72,500 in the red after the first month's operation. Delivering goods back to Ladfaus is a money losing proposition for a freetrader. Looks like it's best to focus on the rest of the Empire who are 1 jump systems.
The above calculations assume optimal cargo as well. What did Finn's Chance achieve for its first cargo? Rolling randomly for cargos there was a 50 ton cargo bound for Mazar available, 2 high, 5 middle, and 17 low passengers. Plus, there were polymers available for speculation are a price of 3,500 per ton. Our Captain, Finn Chen, elected not to speculate and went with the 50 ton cargo, and all the passengers. The previous assumption of full cargo and doubled up high passengers did not play out. Where does that put him? Chen is piloting himself, and the steward is an NPC merchant, Poul der Löwe, quarter owner who doesn't get paid so that saves a bit on crew costs.
| | | | | |
| --- | --- | --- | --- | --- |
| Week 1 | | | From Ladfaus: | |
| Cargo (tons): | 50 | | Costs: | |
| Passenger: | | | Fuel: | 30,000 |
| High: | 2 | | Life Support: | 43,400 |
| Middle: | 5 | | Jump Cassette: | 20,000 |
| Low: | 17 | | Salaries: | 6,000 |
| Week 2 | In Jump | | Bank Payment: | 154,500 |
| Week 3 | In Jump | | | |
| Week 4 | Delivery | | Revenues: | |
| | | | Passengers: | 77,000 |
|   |   |   | Cargo: | 50,000 |
| | | | Total: | -126,900 |
Holy Moley! Captain Finn Chen's career is starting out massively in the red. That's an inauspicious start. Captain Chen is in something of a pickle. Assuming the crew can wait for pay, there is nonetheless a lot of incentive to start cutting corners and taking risks. And, taking risks is what RPGs should all be about.