Deadpool sucks. And not in a small way.
It's a repulsive pile of vomit that is nonetheless a very skillfully made movie. It's notable not for any virtues to be found therein, but because it manages to make a cruel and brutal man into someone the audience genuinely roots for, genuinely cares for, and wants to see succeed.
The kicker is, Deadpool is an awesome movie. It's a fun movie. It's a funny movie. It's a legitimate cinematic achievement, and not just because it's the second-highest grossing R-Rated movie ever. It's a genuinely entertaining film that earned every dollar it made.
Brown noser. YO CASTALIA! Why do you let this Warpig guy post here anyway? He comes across like a real douchebag, and that's coming from me.
I'm a douchebag, Wade? Let's talk about you.
Deadpool is not a hero. Deadpool sneers at heroes. According to him the main benefits of heroing are getting laid, "local dry cleaning discounts, [and] lucrative film deals", and the drawbacks? "They're lame-ass teacher's pets!" And the movie goes out of its way to depict them as exactly that.
Deadpool is not a hero. He flagrantly, cheerfully violates the law in ways large and small, and not just because he's a murderer for hire ("but with a heart"???) who runs a man over with a zamboni whilst torturing him for information about a criminal network. He stiffs cabbies, steals money from bystanders, and hires a hooker (also with a heart of gold), who becomes his One True Love. Without a thought for innocents or consequences, he causes a multi-car pileup on the freeway, then starts a gun battle amongst the wreckage, just to catch a criminal—all so the criminal can make him pretty again. (The ensuing action scene is amazing, which is kinda the point.)
Deadpool is not a hero. Foul-mouthed, brutal, murderous, he lacks even the humanizing touch of a shocking personal loss that could justify his bloody revenge rampage (as Frank Castle, the Punisher, has). In the end, he choses to slaughter his way across the criminal underworld not out of a drive for revenge, but because he didn't trust his girlfriend enough to show her his scarred face.
Deadpool is a thoroughly pagan movie. It is entirely stripped of even a hint of Christian morality, or even post-Christian sentimentality. It lauds violence, almost worships violence, and a particularly ugly brand of violence at that.
Almost as ugly as Wade himself.
Sure, pick on the handicapped guy. What would you do if your face looked like this?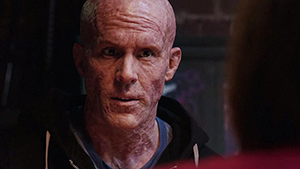 Go trick-or-treating at Leatherface's house and scare him into a heart attack?
Hey, words hurt, you know?
Only if you actually have feelings, Wade.
I said Deadpool is a legitimate cinematic achievement, and I meant it. Like Memento and Pulp Fiction, it takes a straightforward story and makes it more interesting than it'd otherwise be by jumping back and forth in the timeline.
This is necessary, because under the skin the characters are a combination of one-note personalities and overused stereotypes. Lampshading blatant stereotypes—as Deadpool does in its impressive and imaginative title sequence—doesn't excuse the fact that your characters are all 3rd generation copies of stock characters, all of which were better done elsewhere. (Deadpool himself excepted.)
The movie is relentlessly entertaining, imaginative, and vulgar. It's so well done, it makes me weep.
Given all the nastiness it conceals and prettifies, I can only wonder what it might have been like if it had even a hint of Christian virtues, if there were even a touch of thematic weight behind all the flash and snark. But there isn't. So what we're left with is an amazing but unfulfilling film, a repulsive pile of vomit, notable not for any virtues to be found therein, but for the charisma and comedy timing of its star.
And also some dick jokes.
---
Jasyn Jones, better known as Daddy Warpig, is a host on the Geek Gab podcast, a regular on the Superversive SF livestreams, and blogs at Daddy Warpig's House of Geekery. Check him out on Twitter.