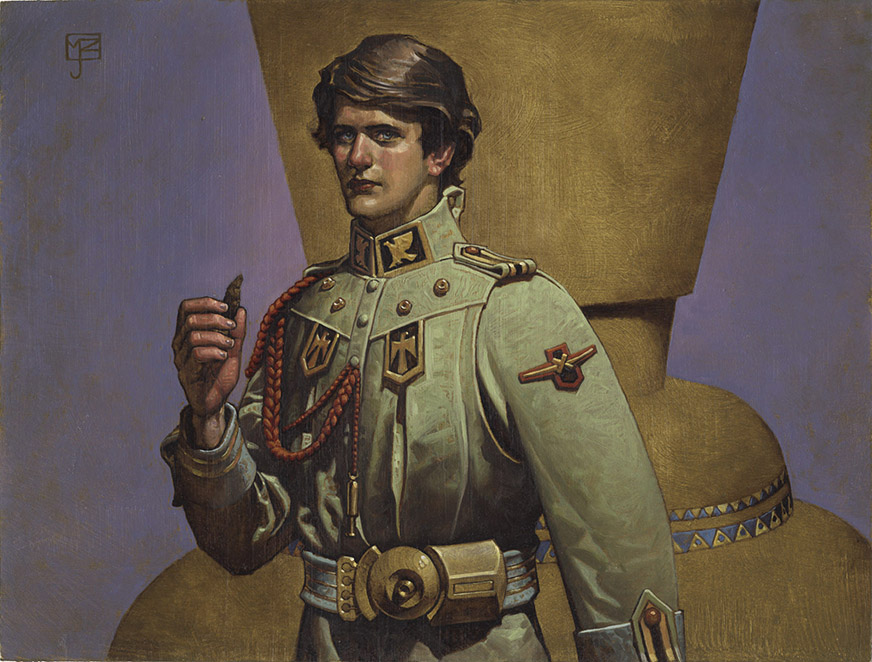 My own column from two weeks ago got me thinking recently.  Has there ever been a good, nevermind great science fiction novel that did not feature a strong, unique hero?  We're not considering short stories or novellas, as some don't even have significant protagonists, but full-length works.
At first, my mind couldn't come up with an example.  Even books famed for other qualities had excellent heroes.  Dune has the best world-building I've come across, but Paul Atreides is a tremendous protagonist.  The Moon is a Harsh Mistress is a phenomenal story of revolt, conspiracy, politics, and freedom, but it has no fewer than four memorable, outstanding main heroes, including the computer, Mike.  In fact, none of the Heinlein books I read qualify. A common theme of many of his works, especially the juveniles, was the transformation of the main character into a hero.
Philip K Dick may be known for his brilliant, insane works, but damn if Rick Deckard or Jason Tarverner aren't resourceful, intellectually deep, original protagonists.
Finally, I came up with two books, and it will be interesting to see whether their more generic, weaker protagonists added to the story or hindered it.
The Lathe of Heaven, Ursula Le Guin
This novel convinced me that in her heyday Le Guin had genuine talent.  I think about the book with considerable sadness, however, since it should have been an all-time, legendary classic. Instead it was marred by considerable flaws and the end result is merely a good novel, not a great one.
A full review will have to wait for another time, but let me briefly summarize it.  George Orr is a normal man with an unusual ability.  When he has vivid dreams, they change reality.  Furthermore, he is the only person who remembers what the old reality is like.  He might dream that a presently living senator died ten years ago, and when he wakes up, that is the new fabric of reality.
Orr sees this as a terrible curse and tries to use narcotics to suppress his dreams.  He eventually comes across Dr. William Haber, who is initially skeptical of his claims, but when he realizes they're true, attempts to use Orr's power to sculpt the fabric of reality for his own ends.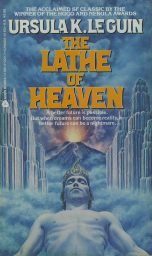 Orr is a very passive, weak character, allowing himself to be bullied and controlled by Haber throughout most of the book.  He doesn't have much of a personality, either.  Orr's generic, weak nature gives the patient-doctor relationship a very strong realism that is a powerful grounding force for its science fiction ideas.  And it helps the plot, explaining how Haber gets so far in his schemes.
However, there are costs associated to having such a protagonist.  Since he has so little personality, Orr's romance with Heather is neither believable nor interesting.  Who cares about the love life of a block of wood, and why would any woman be drawn to that?  Orr's personality also has the effect of making the antagonist, the selfish, slightly foolish Dr. Haber, more relatable than the protagonist by mere virtue of representing something.
And of course, there is the ending, a trainwreck that is the worst part of the book.  Orr finally rises up against Haber, but it's done in such a ham-fisted, unbelievable manner, under such ludicrous circumstances, and with such a laughable, deus ex machina resolution, that one can only laugh and shake his head.  Orr being a non-entity is certainly not the main reason for this dumpster fire of a conclusion.  And perhaps a more skilled writer than Le Guin could have smoothly written Orr's transformation into a man who takes control of his own fate.   But his earlier cowardice and blandness doesn't help.
What can we conclude?  Making Orr weaker and less decisive was likely the correct decision for The Lathe of Heaven.  However, Le Guin went too far, stripping him of all personality and vigor, hurting the novel in several respects.  It's often stated that male authors struggle to write good female characters.  Perhaps this is a case of a female author struggling to write a good male protagonist?
The Forever War, Joe Haldeman
William Mandella is a far cry from George Orr, and The Forever War is a better book than The Lathe of Heaven, possessing no major flaws.  Mandella is tough, competent, and manages to stay alive during an intergalactic war spanning millennia (thanks to time dilation) without going insane.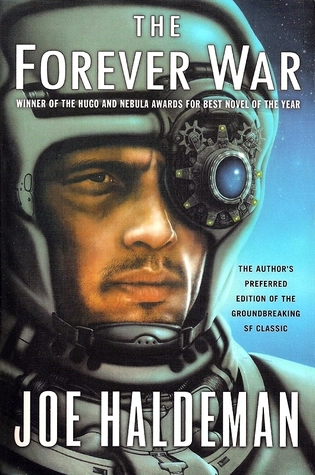 However, is Mandella truly memorable?  Is he a character one will remember and think back upon for a long time to come?  Is he a powerful hero who defies the fate that seemingly more powerful forces have in store for him?  No on all counts.  Mandella is an army grunt who is at the mercy of whatever his commanding officers tell him to do.  Being in his early twenties when the novel begins, he hasn't had much opportunity to develop a personality, either.
Of course, Haldeman was largely writing about his own experiences being drafted into the Vietnam War straight out of undergrad.  This makes the character very relatable for the reader and lends the story of an intergalactic war against aliens a poignancy and powerful realism.  Writing a more lively, resourceful hero simply wouldn't have fit the tale of a young scientist fresh off college fighting for his life.  It also would have slightly weakened the somber and tragic elements of the story, reading as more of a science fiction adventure.
The romance between Mandella and Marygay Potter works fine, since both are young people drawn together by the crisis and terror of war.  Simply surviving together is enough here.
In this case, Haldeman writing a more generic, less classically heroic protagonist for his novel was the right choice.
Do you know of other science fiction novels without strong, memorable protagonists?  Feel free to note them in the comments below.