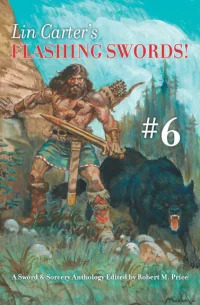 The ability to create your own book has lead to an explosion of small press publishing. Genres such as sword & sorcery are seeing a recrudescence after decades of shunning by the big publishing companies.
One new anthology from this year is Lin Carter's Flashing Swords #6 from Timaios Press.
            Timaios Press "publish thought-provoking, new and classic literature for those who are interested in the history of science, philosophy and ideas, or just want to read intelligent entertainment — books for the general public, as well as students and teachers. Timaios Press was founded in December 2013. It is an imprint of the Swedish publishing house Aleph Bokförlag."
Flashing Swords # 6 is available in hardback and trade paperback.
"Get out your trusty broadsword and your masculinity, and return with us to the glory days of old-time Sword & Sorcery fiction. Sure, it's not "fine literature," but, faced with a giant snake or an evil wizard, who'd you rather have at your side: the Great Gatsby or Conan the Cimmerian? This anthology, a revival of Lin Carter's celebrated Flashing Swords! series, sets forth new adventures of worthies including Thongor of Lemuria, Varla of Valkarth, Elak of Atlantis, the mighty Hercules, and others. You'll thrill to the exploits and to the inspired writing, worthy of the Nemedian Chronicles!

Our authors include Lin Carter, Pierre Comtois, Glynn Owen Barrass, Steve Lines, Robert M. Price, Glen Usher, and others — plus a Graphic Novella by Clayton Hinkle featuring Tonga of Lost Lemuria."
CONTENTS
• "Flashing Words" Introduction by Robert M. Price
• "A Prince of Mars" by Lin Carter & Robert M. Price
• "Curse of the White Witch" by Wayne Judge
• "Bellico and the Tower of Mouths" by Richard Toogood
• "Immortals of Lemuria" by Robert M. Price
• "The Vanishing Conjurer" by Glynn Owen Barrass
• "World of the Black Sun" by Pierre V. Comtois
• "Boscastle and the Swamp Enchantress" by Jason Ross Cummings
• "Varla and the Mad Magician" by Steve Lines & Glen M. Usher
• "Hercules versus the Cyclops" by Santiago del Dardano Turann
• "Tonga of Lemuria" by Clayton L. Hinkle
Robert M. Price has edited   a number of Lovecraft Mythos anthologies over the years. He also edited The Mighty Warriors that I reviewed a few years back.
Price in the introduction states: "I urge parents to turn their boys on to Robert E. Howard's tales of Conan, Lester Dent's Doc Savage novels, and Edgar Rice Burrough's John Carter of Mars books, at least for starters."
"A Prince of Mars" is set on Edgar Rice Burroughs' Barsoom. Unfinished by Lin Carter at his death, finished by Robert M. Price. Thad Dexter of Earth becomes Jad Tedron of Zorad.
"Curse of the White Witch" is a Ki-Gor adventure. We don't know who all wrote the Ki-Gor stories for Jungle Stories in the 1940s. Some of them are great. This one is good. Ki-Gor takes on an undying witch in a lost city.
I reviewed Richard Toogood's The Conan Companion last year. "Bellico and the Tower of Mouths" is some fiction of a sunken city of evil sorcerers and some relics left behind. This story struck me as having a dash of Monty Python in it.
Robert M. Price has been continuing the adventures of Lin Carter's Thongor. "Immortals of Lemuria" is a new addition to the cycle.
"The Vanishing Conjurer" by Glynn Owen Barrass starts out at a castle and climax's in H. P. Lovecraft's Dream Lands.
Henry Kuttner's Elak of Atlantis is present in "World of the Black Sun" by Pierre Comtois. Elak must recover an amulet from a wizard who turns out is not of this plane of existence.
Jason Ross Cummings' "Boscastle and the Swamp Enchantress" is set in what appears to be an alternate West Africa of the 1800s, post-Napoleonic Wars. A Huguenot beauty is abducted by Mohammedan raiders who in turn end up in a lost world inhabited by an ancient humanoid race from a lost planet where the asteroid belt now exists.
Steve Lines and Glen Usher has been writing some stories of a warrior woman of Valkarth, Varla, set in Lin Carter's Lemuria. "Varla and the Mad Magician" has Varla finishing a score with the magician Xothar Vool.
Santiago del Dardano Turann is someone new to me. "Hercules versus the Cyclops" is a you would expect from the title. A new adventure of Hercules, after his labors as he is wearing the Nemean Lion pelt.
The last entry is a comic strip with another warrior woman of Lemuria. Lin Carter's Lemuria is getting a lot of mileage these days.
This is a retro-sort of anthology with a number of vintage characters in new adventures by new writers.
The print is a maybe 9 or 10 point. I did have to use my reader glasses. I only found one typo. One idiosyncrasy was using small << >> at the bottom of quotes instead of your usual " " quotation marks. I don't know if this was a formatting glitch or something new.
So, if you want to read new adventures of Thongor, Elak, and Ki-Gor, Flashing Swords #6 will scratch that itch.