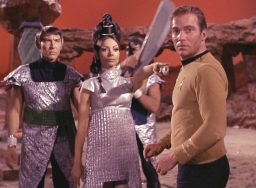 Daddy Warpig's recent posts are generating a great deal of discussion. Well, discussion may not be quite the right word for it. As Alex has noted, it reads more like an all out brawl set to the fight music from season two of classic Star Trek. People are triggered. Cherished illusions are being mauled before their eyes. They're not going to shed them without throwing a few rhetorical punches!
Here's one such exchange that I think deserves highlighting.
Yuggoth: Written SF has always been a ghetto – it's a far more open ghetto now than when I was growing up in the 60's. The space race and Star Trek helped grow the audience enormously, and Star Wars had a huge impact and made it much more popular than it had been before. The very idea of Mainstream SF would have been unthinkable without those two factors. The mainstream stuff has been coopted and driven into navel-gazing or smug pastiches of great stuff done before, but there have always been writers producing thrilling yarns that also made you think. I don't think we are likely to see it go back to the teeny cubbyhole it used to be.

Jasyn Jones: SF used to be a widely read genre, popular among all ages and sexes. The "teens and nerdy adults" ghetto came along fairly late in the game.

Jeffro: Congratulations. You have bought into the "Golden Age of Science Fiction" narrative hook, line, and sinker. You have no idea what sort of science fiction preceded it, how awesome it was, and how insanely popular the grandmasters of that period were.

Yuggoth: Sorry, no, I was reading Burroughs, Conan and Tolkein before I was out of elementary school, both original editions moldering in the backs of libraries as well as the then-new reissues. I read everything I could get my hands on. But I knew nobody outside of my own family who read SF on a regular basis, if at all. You may be correct in surmising that as a result of the Cambell effect on the field, I'm just reporting what I've seen over the 50+ years I've been reading SF.

jic: "I'm just reporting what I've seen over the 50+ years I've been reading SF." — Except that's just about the time that SF entered the ghetto. "Written SF has always been a ghetto" and 'written SF has always been a ghetto *in my lifetime*' aren't the same thing.
Fifty plus years! That's impressive. That would be since around 1970, the year when the leading man archetype was put down and the total ensqualmation of the field that we take for granted today was set in motion. The Golden Age narrative of John Campbell which has been uncritically accepted and repeated pretty well everywhere except in a few odd time capsules scattered around in the back of classic role-playing games…? This guy has been steeped in it his whole life and he assumes it's just part of the natural order.
It isn't.
That's what we're trying to tell him. The field was not always like he's seen it. It used to be different. When I try to explain this to people extemporaneously, the word I continually reach for is "unimaginable." Everything about this is unimaginable.
People are going to struggle with this, there's no way around it! For people that honestly want to take a look at the evidence for themselves, rants and editorials just aren't going to be the best place to start. And I really struggle with telling people, "oh just read my book and a good dozen authors you've never heard of, and then come back to me!" Gosh, that's so tacky I just can't do it.
There's got to be a better way to get this ball rolling. And I think there is. If you're looking for a shorter, less bombastic introduction to what we're talking about here I would suggest this article on A. Merritt. (Thanks to "deuce" for pointing this out to me. Great find!) Seriously, just go read it. And if you don't have time to read Ship of Ishtar or Dwellers in the Mirage, at least go read Merritt's short stories "Through The Dragon Glass", "The People of the Pit", "Three Lines of Old French", and "The Women of the Wood".
This really is the only way you're going to start to wrap your head around what we're saying. If you won't take our word for this stuff, then you're just going to have to start reading things from outside the narrow and limited narrative frame that has been pounded into you for over five decades. Maybe then we could have something resembling an actual conversation on this topic.