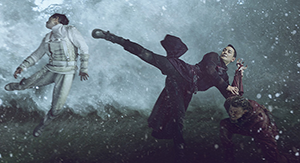 Hollywood is a big old pile of suck, and it's not all the fault of the usual suspects: lazy writers, crappy directors, and incompetent studio execs. No, the MPAA plays a big part as well.
The MPAA—Motion Picture Association of America—is responsible for handing out all the movie ratings you see. They, and they alone, decide what qualifies as an "R", "PG", "G", and so forth. They change the guidelines on a whim (one of the reasons the guidelines are kept secret from the rest of the world), apply them unfairly (letting one movie get away with stuff they no one else would), and sometimes just do their job badly. (1976's Taxi Driver infamously spoofed the ratings board by resubmitting the exact same edit of the movie over and over again, each time claiming they'd cut some gore as requested, when they hadn't cut a single frame, until eventually the MPAA approved the pic's "R" rating, instead of the dreaded "X", because now the movie wasn't so violent anymore.) The latest example of MPAA incompetence is this: People are no longer allowed to hit each other in a PG-13 movie.
Every get the feeling that modern fight scenes suck? Or that they feel fake and unreal? It isn't just you. Directors are no longer allowed to show fists impacting the human body, and keep a sub-"R" rating. One punch impacting a face, and it's "children under-17 admitted only with an adult" time for your comic book epic.
Don't believe me? Take a look at a film with otherwise great fight scenes: Captain America: The Winter Soldier. Slow down the scenes, watch them frame by frame, and you'll notice they IMPLY hits, but never outright show them. They cut just before and after the actual impact (meaning you assume it happened, but never actually see it), have the punch obscured by an actor's body, or use other cinematographic and editing tricks to avoid showing the actual punches. As a result, the fights are robbed of much of their impact. Put bluntly (not that I ever would), they just plain suck.
You can blame the hippie pervos for this. After decades of whining about how nekkid boobies are verboten but fistfights are A-OK, the MPAA bowed to their whims (another weakness of the ratings system) and started treating simple fisticuffs like they were explicit sex scenes.
Today, The Karate Kid and Wild Orchid would BOTH receive the same hard "R" rating. That iconic last scene in The Karate Kid, with Daniel LaRusso kicking Johnny's face in? You can actually see the kick land, so it's treated just the same as if they'd shot a full on nude nekkid orgy party scene instead. (Because THAT makes so much sense.) To get a PG-13, no blows can be seen to land.
Also—and this will be germane in just a second—PG-13 now means no gore. Ever. Compare the original World War Z to the Unrated cut, as I did here, you'll see what I mean.
So where can we, as action junkies, go, now that they've banned all the action? Enter basic cable.
Since the advent of Game of Thrones (and imitators), premium cable has become a vast wasteland of nekkid boobies and violence. But basic cable? Ahh… all the violence, (almost) none of the nudity and explicit sex.
Take Into the Badlands, AMC's Journey-to-the-West-by-way-of-Mad-Max post apocalyptic martial arts drama. And all the face-punching, sword-slicing, blood-spewing action scenes you may have been missing in your modern action movies are here, in spades.
The very first scene of the very first episode features main character Sunny (Daniel Wu) facing a dozen well-armed Badlands thugs all by his lonesome, and taking the entire gang apart with his bare hands. Yes, there's some sloppy editing here and there, but they actually show punches landing and, in fact, Sunny is responsible for snapping more limbs than an entire tractor-trailer filled with skateboards. By the way, the second episode? Also starts with an epic fight scene. And also the third. In fact, the whole series is peppered with killer melees. (No pun intended.)
Nor is this a surprise. The series imported three mainstays of Hong Kong kung fu flicks to train the actors and choreograph the stunts (Stephen Fung, Andy Cheng, and HK legend Master Dee Dee). The series is basically an English-language Hong Kong martial arts kung fu melodrama, and the fight scenes (the best thing about the series, admittedly) are GORGEOUS.
They're so good, one of Season 2's digital extras is a half-hour compilation of just the fight scenes from Season 1. It's unexpectedly riveting.
Season 2 also points up how badly Marvel's Iron Fist dropped the ball. If Into the Badlands can turn tubby Brit Nick Frost, of Shaun of the Dead and Hot Fuzz fame, into a passable kung fu fighter, Marvel has no excuses for how bad Finn Jones came off.
If the action scenes are the best part of the series, and they are, the rest is barely more than alright, most of the time. Frankly, I didn't like any of the characters, I never could bring myself to care about anything they were doing, and after two seasons (16 episodes), I'm still not sure what the series is supposed to be about. (And the many slender-yet-kick-ass kung fu action chicks in it are kinda grating.) But the action scenes, well the action scenes are amazing.
The only American movie that beats them is, of course, John Wick (which has the benefit of adding in firearms). And being as how Americans INVENTED action movies (not to mention movies themselves), that's just embarrassing. It's a sad day when Hollywood sucks so bad at making Hollywood movies, they have to import action movie experts from China just to do the jobs incompetent American filmmakers can no longer do.
---
Jasyn Jones, better known as Daddy Warpig, is a host on the Geek Gab podcast, a regular on the Superversive SF livestreams, and blogs at Daddy Warpig's House of Geekery. Check him out on Twitter.