Jesse Abraham Lucas Presents: The Trial of Daddy Warpig
Sunday , 19, March 2017
Pulp Revolution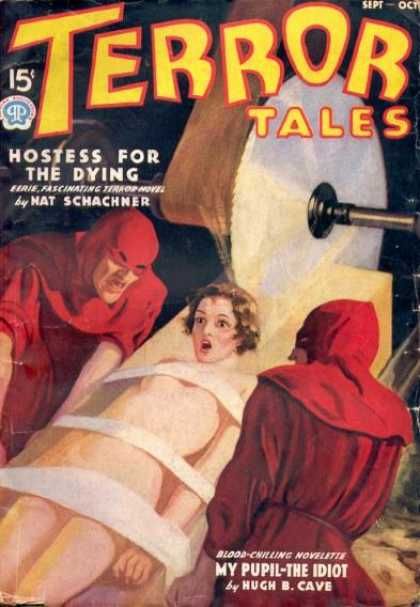 SCENE: A gray morning in Paris. Smoke rises from the wreckage of the Bastille and the Governor's palace. A COURT has been set up in the main plaza, with planks set on barrels forming the benches. To the side a guillotine has been erected, by which an EXECUTIONER glowers. Surrounding is a horde of angry PEASANTS in rustic, picturesque clothing, clutching farm tools. At the center of the court, sitting on a fine velvet chair raised on a platform of cobblestones, sits the JUDGE, played by Jesse Lucas in a powdered wig. To the JUDGE'S left sits the DEFENSE ATTORNEY, played by JESSE LUCAS in a ragged officer's uniform, chewing on a licorice-filled cheroot. To the right sits the PROSECUTOR, a disheveled aristocrat with an off-centered ascot, also played by JESSE LUCAS.
Enter BAILIFF.
BAILIFF: Oyez! Oyez! Oyez! May it please the Court and the Revolutionary Council that charges are to be brought against one DADDY WARPIG, also known as JASYN JONES, that said Mr. WARPIG has engaged in acts of treason against the Pulp Revolution, by knowingly and in violation of honored statute engaging in foul practices of declaring those who are having fun to be wrong, and by leading the public to believe that such are the acts of true Pulp Revolutionaries, by repeatedly and wrongfully declaring hard science fiction and its readers and proponents to be enemies of the revolution, thus casting out the very fans the Revolution was engendered to protect. Mr. PROSECUTOR, do you recognize these charges as those you are sworn to determine the truth of, before the JUDGE, the PEOPLE, the STATE, and ALMIGHTY GOD?
PROSECUTOR, closing a hand mirror: I do.
BAILIFF: And you, the DEFENSE, do you also recognize these charges on the same terms?
DEFENSE, sighing: Yes.
BAILIFF: Mr. WARPIG, how do you plead?