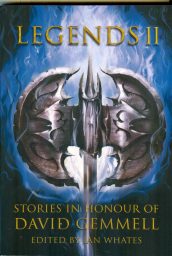 A few weeks back, I wrote a review of the anthology Legends. I enjoyed the book quite a bit and wasted little time to tackle Legends II. Newcon Press, August 2015, 215 pages not including some ads at the back of the book. Ian Whates once again edited the anthology. Twelve stories, most of which are around 20 pages long.
Stan Nicholls pens the introduction this time.
                "The truism that, whether set in the far future or on a distant planet, much science fiction is really about the here and now, just might be starting to apply to fantasy too. There certainly appears to be a growing engagement with the 'real world' as seen through fantasy's particular lens."
While any fiction inherently reflects the time it was written, this is worrisome of a deliberate attempt to make fantasy "about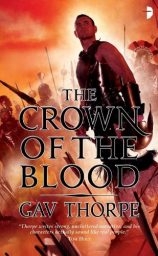 the here and now."
Gav Thorpe's "The Blessed and the Cursed" might be my favorite story in this volume. An ambush on a caravan of "priest-soldiers" goes wrong. There is a last stand against a supernatural horde. Good action is present.
"Rescue" by Mark Lawrence is short but efficient.
Edward Cox's "The Lowest Place" has an emotionally damaged warrior woman given a chance to redeem herself in a deal with a magician. The story is a little trippy-dippy in spots.
A racial throwback searching for clues to the fate of her ancestors is the plot for Rowena Coy Daniells' "The Giant's Lady." The setting is an archipelago of tropical islands.
I have seen John Gwynne's books at the library. "An Oath Given" is an interesting mix of sword & sorcery with a touch of Tolkien. Settlements along a foreboding forest come under attack from giants. Good characterization, good action. I will definitely check out more of John Gwynne.
Stella Gemmell is the widow of David Gemmell. "The Singer" is the first thing I have ever read by her. There are two alternating stories that are connected.
I did not care for Anthony Ryan's "Sandrunners." It has a steam-punk setting with paddle wheel boats, revolvers, and general late 1800s technology. Syndicates search for substances in an inland desert that bestow various qualities.
Gavin Smith's "Smokestack Lighting" is another steam-punk story set on a river boat on the Mississippi River after the Civil War. Except there are orcs, elves, and ogres. I hate this sort of stuff. You are not going to have a timeline with a U.S. Civil War and steam boats in a world with elves and orcs. A bad end result of mixing steam-punk with Unknown type fantasy. Sort of like when you pour ketchup on chocolate ice-cream.
Lou Morgan's "Oak" has the return of Merlin after the Norman Conquest of England. Considering Merlin was a British Celt, I don't think he would have minded the Normans smacking the Saxons around.
"An Owl in Moonlight" by Freda Warrington is a quieter sort of fantasy story. It is rather atmospheric in spots and has a nice touch of cosmicism to it.
We have a zombie apocalypse story with John Horner Jacobs' "Heaven of Animals." I have remarked to a friend than an interesting zombie apocalypse story would be the clearing of zombies. Cut them down with scythes on big wheels of 4 x 4 trucks, luring them into pits and traps, etc. That is the basis of this story where generally two men are sent out on horseback lure zombie herds back to a former livestock slaughterhouse. Finally, someone has done a story like this.
Andry Remic's "The Iron Wolves: Retribution" is a sword and sorcery tale. A close to the expiration date warrior is hired by a village to rescue the children taken by a creature created by an over thrown dark lord. A good story.
I liked this volume a little less than the first Legends but still give it about a 3.75 or 4 out of 5 rating. The only clunkers for me were the two steam-punk stories. Guess I don't like steam-punk.