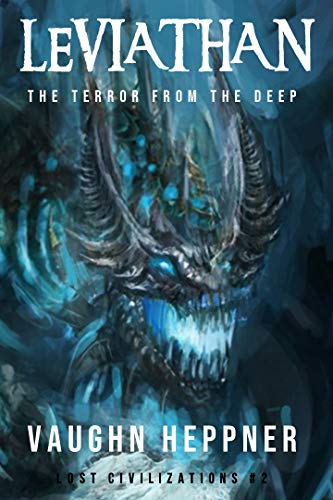 After their harrowing escape from the giants and First Born of Jotunheim, Joash and the Elonite warriors wait off-shore for a message from the wandering Lod, whose visions may hold the key to understanding the sudden moves of the Nephilim and their children. But the First Born are still hunting for the Elonites with all their servants. Now Joash must evade the roving patrols of giant pterodactyls, vampiric Gibborim, and even fleets of pirates as the Lord of the Elonites waits for a message that may never come. And then the giants rouse a legendary sea serpent to pursue the Elonites on sea…
Wile Leviathan might be the second in the now eight book Lost Civilizations series, it is the middle book of a trilogy featuring Joash's adventures as a Seraph, a holy warrior for Elohim, and the mood follows the classic form of the trilogy. Leviathan is darker, moodier, and more perilous than its predecessor, Giants (reviewed here). Not only do the nets of the brutal Nephilim tighten around the Elonites, the plans of the First Born are laid bare. The children of the Fallen Ones aim to challenge even the angels to rule the world forever. Even as hope dies, mighty deeds still await for the Elonites, with Joash's hunt of a giant pterodactyl a highlight in this more somber book. For faith in Elohim is not a passive one, and Joash and his Seraphs are called to fight evil, not endure it.
Also of interest are the first steps towards the impending clash of zealous Lod and vicious Red Cain. At this early stage, it seems to be a confrontation between Solomon Kane and Conan.
Leviathan serves as an excellent example of heroic fantasy and religious-milieu fiction. It is ironic that independent publishing, not traditional, has freed writers from word bloat, and heroic fantasy thrives in shorter novels compared to the doorstoppers of epic fantasy. The Lost Civilizations series focuses on the moment, revealing only the backstory and worldbuilding needed by its characters at this time and hinting at deeper lore. The perils and mighty deeds of heroic fantasy are more important to holding the reader's attention, and the majority of the pages are spent on these. That focus also steers Leviathan away from the twin shoals of Biblical and religious fiction–preaching and passivity. Yes, the Elonites are men and women of faith, but the surrender and wait for God's will stories of 90s Christian genre fiction are nowhere to be found. In the best traditions of heroic fantasy and its pulp forebears, Joash and the Elonites are decisive, eager to marry word and deed, and willing to endure the consequences of those decisions, even if it means chasing demon-spawn to the gates of Eden itself.
I eagerly look forward to reading Eden, the conclusion of this trilogy.