Men's Adventure Quarterly No. 1
Sunday , 7, February 2021
Just Released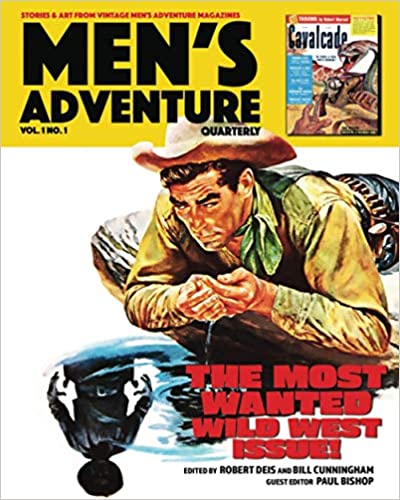 There is a new magazine– Men's Adventure Quarterly. This is a reprint publication celebrating the men's adventure magazines that flourished from the 1950s to the 1970s. I have written before on some book reprints from New Texture. Bob Deis of New Texture has teamed up with Bill Cunningham to produce Men's Adventure Quarterly.
This is THE most impressive magazine of its sort I have ever seen. Dimensions are 8.5 x 11 inches, perfect bound, 155 pages, most in color. The theme of this issue is "The Most Wanted Wild West Issue!"
In addition to Deis and Cunningham, writer and former L.A. Police Detective Paul Bishop is a guest contributor. Each contribute an editorial including an introduction, "The Look of Men's Adventure," and "The Westerns Ride Again." Bob Deis' introduction is a history of his discovery of the men's adventure magazines and subsequent collecting of them. Bill Cunningham handles the graphic part in his editorial. Paul Bishop has the Sixgun Justice Podcast and discusses his love for westerns.
Nine fiction stories are reprinted. I recognized Lou Cameron who wrote some gonzo fiction. There is an editor's note before each story. I got to learn about Walter Zacharius' (later of Lancer Books and Zebra Books) involvement in men's adventure magazines in the 1950s.
Men's adventure magazines included non-fiction in the contents. Two articles are reprinted including "Madams of the Old West."
There is an incredible art gallery section reprinting a number of magazine covers in color. A portfolio of photos of actress and model Juli Reding in included. The MAMs bridged the gap between the old pulp magazines and the girlie magazines.
A letters section is included. Letters to magazines are often interesting and lively. I can remember all the long letters on topics I wrote to The Cimmerian and even Crypt of Cthulhu over 30 years ago.
The next issue is going to be devoted to espionage. What can be more 1960s than spies! This should prove to be interesting with all the James Bond and Bond imitations of the period.
You can order Men's Adventure Quarterly and have it delivered. It certainly livened up my evening reading after coming home from work. The editors have set out on an ambitious schedule and there are going to be some fun issues in the future.