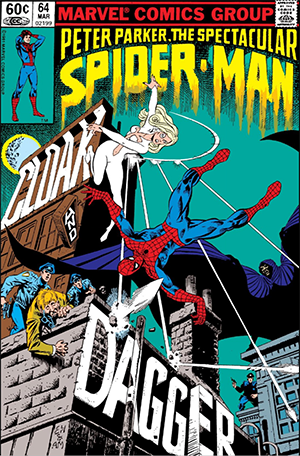 Why is it modern comics suck so badly? It didn't used to be this way. I recently had cause to read several issues of Peter Parker, the Spectacular Spider-Man from 1983, and they were AWESOME.
Sure there were WAY cheesy things happening—a girl with a secret crush on Peter discovered he's Spider-Man, Black Cat (his current girlfriend) is only attracted to him when he's in crimefighter mode, a drug kingpin gets killed by other costumed vigilantes, but comes back to life as a cyborg—but it was all in service to a fast-paced, action-oriented, FUN FUN FUN story. It was delightful.
Modern comics—and their spinoffs—have lost all sense of delight, joy, and wonder. Let me show you what I mean.
The two vigilantes who killed the elderly drug kingpin (Silvermane) were Cloak and Dagger. That's Cloak and Dagger, right, from their very first appearance, mixing it up with Spider-Man.
Action. Momentum. Movement. Thrills. Conflict. Bad guys. Good guys. Good guys fighting other good guys. Gangsters and cops against them both.
THIS is what comics are supposed to be. This is what superheroes are supposed to be.
The recent Iron Fist Netflix series failed at this. Danny Rand was an all-too-passive superhero, a whiny hippie wuss who didn't even have the confidence to TRY and get the girl. On top of that, the show did everything possible to prevent him from supering out. The result? A superhero show, without a superhero.
I'm sick of superhero shows without superheroes. I'm sick of comic writers who revel in misery and squalor. I'm sick of suckitude like this.
Let's be perfectly honest: that is NOT a show that is going to be delightful, action-oriented, or full of wonder. It's going to be dark, "dramatic", and whiny. Plus, it bids fair to shoot for "relevance" by trotting out one political shibboleth after another. (I'm betting there's a "hands up, don't shoot" moment in the very first episode. It's on Freeform, and they run like that.)
Now, the original Cloak and Dagger had a dark backstory. Teenage runaways, part of a group kidnapped by gangsters, they were guinea pigs for a mob mad scientist who was formulating a new synthetic drug. (Say that again: Mob Mad Scientist. AWESOME.) The drug killed all the runaways except Dagger and Cloak, whom it transformed into beings of, on one hand, purest light and on the other, absolute darkness.
But all this was BACKSTORY. It occupied a couple of panels at most (until they got their own miniseries), it wasn't front and center all the time. Whereas in the TV series above, they're obviously dwelling on the darkness and misery.
This doesn't work for Cloak and Dagger. Their original solo series veered into just this sort of overly-dark territory whilst chasing "relevance", thus abandoning the action and fun of their Spider-Man appearances. And sales suffered.
Though the series began in squalor (saving teens from the sex trade), it ended in silliness. And not the good kind of silliness, like fighting a twice-killed cyborged drug kingpin, but a miserable and ugly kind of silliness.
After tracing the source of the illegal narcotics halfway around the globe, the chief villain turned out to be a superpowered Colonel Kurtz clone, an American Green Beret turned warlord who ruled a village in the jungles of Kampuchea, forcing the villagers to work the poppy fields to produce opium (the same opium that gave him his powers). Cloak and Dagger dethroned him, of course, but even with a climactic fight, a massive gun battle as the Cambodian Army invaded the valley, and the last-minute desperate attempt to save the villagers, the issue just didn't live up to the duo's appearances in The Spectacular Spider-Man. There was no levity, no delight, no wonder.
The series squandered the characters' potential, and sales tapered off and never recovered. Since then, the two have made periodic appearances in one title or another, and in a couple of their own short-lived series, but no one has been able to capitalize on their potential. There is definitely room for a less silly, yet less angsty Cloak and Dagger, but this new TV show isn't it. It's all wrong.
Cloak and Dagger shouldn't be about a couple of weepy, bland, bed hopping millennials. Their show shouldn't be Just Another Teen Drama With Superpowers, a clone of Shadowhunters: The Mortal Instruments, staffed entirely with inhabitants of the Pretty Pretty Valley. Shows like this already infest the CW, we don't need any more.
Their show should be…
This slideshow requires JavaScript.
Cloak and Dagger were teens who learned some tough lessons from life. They were strong, competent, and confident. They were fearsome combatants—they tore through the gangsters they fought, and even kicked Spider-Man's ass a time or two.
Cloak was dark, menacing, and cold, a living shadow. Dagger was a vessel for living light, graceful, lithe, and beautiful.
In fact Peter Parker claimed Dagger was the most beautiful women he'd ever seen. Which, considering his direct experience included Gwen Stacy, Mary Jane, Black Cat, and most of the Marvel superheroines and supervillainesses, is really saying something.

This one panel encapsulates everything a superhero story should be—larger than life characters, action, conflict, and humor. Comics (for the most part) should be FUN. Joyous. Delightful.
Allow me to misquote GK Chesterton: "Fairy tales do not tell children that dragons exist. Children already know that dragons exist. Fairy tales tell children that dragons can be slain." THAT'S what comics should be—inspiring, ennobling, delightful.
Comics shouldn't be misery-inducing piles of grimness and suck, and far too many are. And from all available evidence, the Cloak and Dagger TV show looks to be more of the same.
Hard pass.
---
Jasyn Jones, better known as Daddy Warpig, is a host on the Geek Gab podcast, a regular on the Superversive SF livestreams, and blogs at Daddy Warpig's House of Geekery. Check him out on Twitter.