New Release Spotlight: STORYHACK #2
Sunday , 20, May 2018
Just Released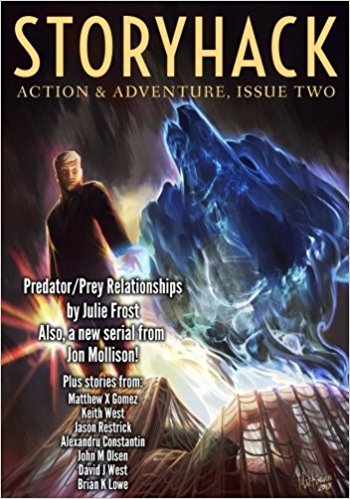 Brace yourself for the next exciting issue of StoryHack Action & Adventure.
Taking cues from the greatest pulp magazines of a bygone era, StoryHack publishes all-new stories of bravery and derring-do in a wide variety of genres. There is something in here for everyone, and each story includes art.
Here's what you will find in this issue:
Predator/Prey Relationships by Julie Frost. When Ben's ability to shift into a werewolf is stolen, he must play a most dangerous game to get it back.
The Temple of Baktaar by Jason Restrick. What deadly curses await when a pair of adventurers delve too deeply into an ancient, supposedly-abandoned temple?
The Gambler's Tale by Jon Mollison. Mike has a plan to not just beat the house, but bring it crashing down entirely. The mob has other ideas.
Crystal, Brass, and Copper by Matthew X. Gomez. When a robbery goes horribly wrong, can Bahar get any part of her old life back?
Junior Partner by Brian K. Lowe. With his superhero captured by dangerous foes, a sidekick must decide what he is made of.
The Crawlers beneath Avaris by David J. West. With city guards and assassins hot on his tail, Brutanis is forced into an underground maze. What he finds there may be worse than the trouble he's fleeing.
High Ground by John M. Olsen. Captain Alexander Kemp's space station Icarus suffers an attack in orbit as the government on Earth below collapses. Can their advanced tools and mental grit keep them alive as they respond to a series of escalating attacks?
The Chronicle of the Gorgon's Island by Keith West. A cursed prince and his right hand man are shipwrecked on an uncharted island with an unruly crew. Will the monster they find there kill them before they kill each other?
Kakerlacs by Alexandru Constantin. After a long stint with the Corps, Mike returns to his hometown in the California desert, only to get tangled up in a sinister plot involving cops and tweakers who are more than they seem.