On the Hills and Everywhere
Sunday , 20, December 2020
Fiction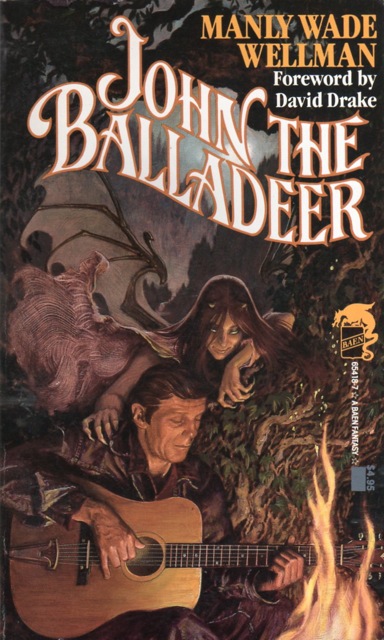 A few years back, I wrote about Seabury Quinn's "Roads" being my favorite Christmas story. My second favorite Christmas story is Manly Wade Wellman's "On the Hills and Everywhere." This is one of the John the Balladeer stories. Originally appeared in The Magazine of Fantasy & Science Fiction, January 1956 issue and reprinted in Who Fears the Devil? and reprints.
The story starts with a framing device of John telling some children a story at Christmas time. Two neighbors have had a falling out. Absalom Cowand made the claim his neighbor put a hex on a patch of land with a corn crop that has a blight. The accused neighbor (Troy Holcomb) digs a ditch on the property line in retaliation.
A man in his 30s with a tool chest on his shoulder approaches Absalom Cowand about doing any carpentry jobs. Cowand replies yes, he wants a fence built along the property line. The carpenter states he can have the job done by supper while Cowand goes to a back field for work. Cowand's crippled boy joins the carpenter as he works along.
Cowand returns and finds the carpenter has built a sturdy bridge over the ditch. Troy Holcomb comes over repenting his digging the ditch while Cowand forgives him and apologizes for accusing him of witchcraft to begin with. The two neighbors are reconciled. While parting, the carpenter puts his hands on Little Anse's head for a split second and tells him to throw away his crutches.
"He stood straight and strong. Fast as any boy ever ran on this earth, he ran to his daddy."

"Because they all of a sudden all three knew Who the carpenter was and how He's always with us."
The story finishes with John singing with the children "Go Tell It on the Mountain."
Wellman pulled it off.