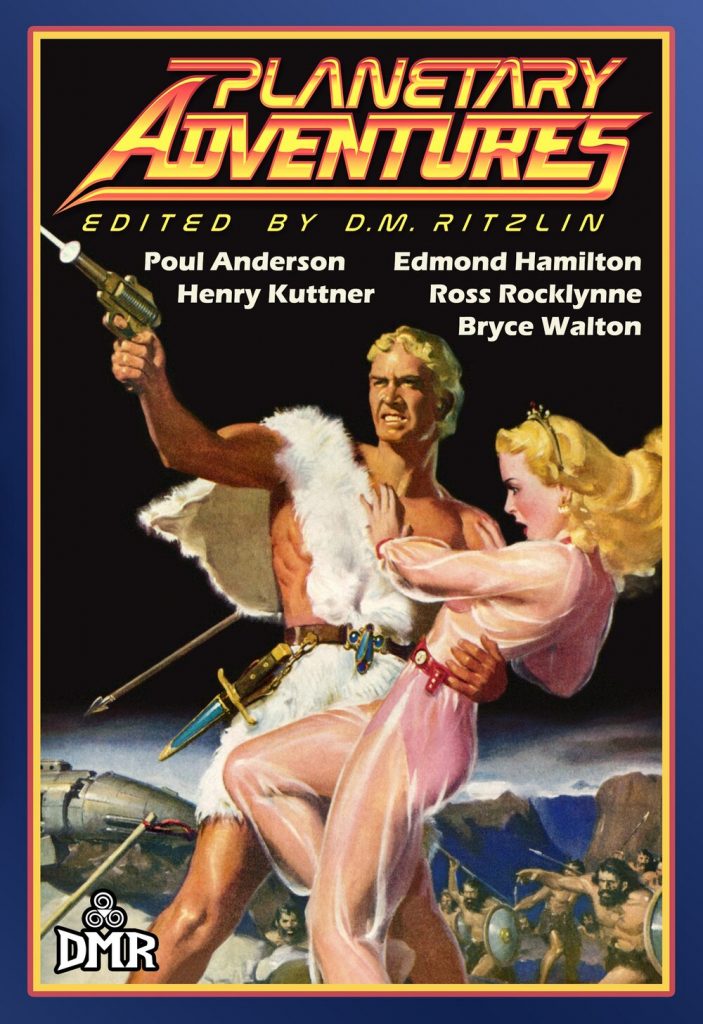 DMR Books has a series of reprint anthologies of classic fantastic fiction. The first is Planetary Adventures.
"Heroic tales of sword-swinging adventure can sometimes be found in unlikely places—such as the pages of Golden Age science fiction magazines! Rather than being set in the dim past or a fantastic dream-world, the stories in this collection take place on other planets. Journey to Luna, Mars, and worlds even more distant with these classic tales by five masters of adventure science fiction!"
Contents:
Poul Anderson: "The Temple of Earth" (Rocket Stories, July 1953). This is Poul Anderson in what James Blish dismissively called "saga mode" like "The Virgin of Valkarion" or "Witch of the Demon Seas." This one has a barbarian in the future on the Moon! And Anderson makes it work. Axe slinging and space suits galore.
Edmond Hamilton, "World of the Dark Dwellers" (Weird Tales, August 1937). Hamilton wrote a few sword & planet stories. Very much in Edgar Rice Burroughs mode.
Henry Kuttner, "The Eyes of Thar" (Planet Stories, Fall 1933). Was this Henry Kutter, C. L. Moore, or both? I reread Kuttner's "Elak of Atlantis" stories last year and noted the C. L. Moore influence in some of them. "The Eyes of Thar" is a story in Northwest Smith mode.
Ross Rocklynne, "The Empress of Mars" (Fantastic Adventures, May 1939). Another story influenced by Edgar Rice Burroughs' sword & planet fiction and a good one.
Bryce Walton, "Man of Two Worlds" (Space Stories, Oct. 1952). Set on Mars like the Rocklynne story. This story happens to have a walk on by Conan of Cimmeria!
If you want swords in space, this should scratch that itch. This is probably the most important anthology of this sort of fiction since Swordsmen in the Sky by Ace Books (and edited by Donald Wollheim) going all the way back to 1964. This is a book chock full of pulp goodness. Indulge in fearless swordsmen, princesses in need of rescue, villains, and monsters.